For the first time in many decades, the export market for tea, rubber, cinnamon, jewellery and coir products of the Galle district has been gravely affected by the global economic downturn, causing numerous hardship for all those who are engaged in these industries.
There are nearly 200,000 hectares under tea in the whole island, out of which 88,000 hectares are in the low country while out of the total production of tea in the country 72 % of tea is produced by tea smallholders whose holdings range from two to 50 acres.
Some 150,000 tea smallholders in the Galle district have complained that even though the Government promised a fertilizer subsidy they are yet to receive it.Addressing a meeting of cinnamon producers held at Meetiyagoda, Ambalangoda - a major cinnamon growing area of the Galle district - former Tea Small Holders Association chairman and Galle district MP Gayantha Karunatilleke said though promised in the Budget, allocations have not been made for fertilizer subsidies. He complained that the Government was not having a contingency plan to handle the crisis situation the plantation sector was experiencing today.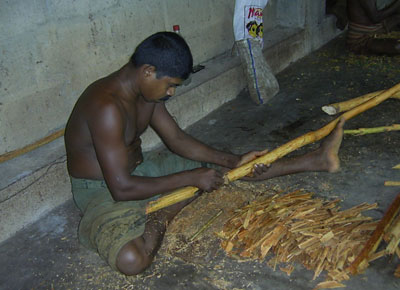 Jewellery exports and the cinnamon industry are badly affected by lack of demand in the world market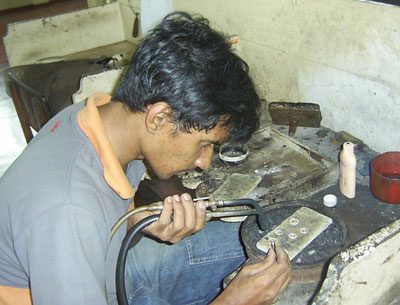 It was revealed at this meeting that cinnamon oil producers have to obtain a permit from the Central Environment Authority paying Rs.15,000 and another sum of Rs.3,500 as inspection fees to the officer attached to the Ambalangoda Divisional Secretariat. Paying a sum of Rs. 3,500 to an officer travelling the short distance from Ambalangoda to Meetiyagoda was very unreasonable, the cinnamon oil producers pointed out.
Mr. Karunatilleke said that in 1992, when the country was experiencing a severe drought affecting tea plantations in the low country the Government paid compensation to all those who were affected. In addition, a grant known as a Factory Working Capital Loan was given to all tea smallholder factory owners in the country as an incentive to uplift the tea industry, he said.
He said a metric ton of fertilizer would cost Rs. 97,000 but the Government had not clarified how a metric ton could be sold for Rs.47,000 as promised, causing a big loss to the State.
Meanwhile, tea smallholders in Talgaswela, Karandeniya and Elpitiya in the Galle district said a kilo of green leaf now fetched only Rs. 25 to 30 when a few months ago it fetched Rs. 50 per kilo.
Normally a woman tea plucker gathers only 15 to 18 kilos per working day but the small holder had to pay wages amounting to Rs. 300 per day. In addition, manuring of tea plantations has to be done on a regular basis to obtain a good harvest of green leaf.
L.D. Sumanawathie, a woman tea plucker in Thalawa, Kurundugahahetekma said as green leaf prices had dropped, she could lose her job. She said many of the smallholders in the area were now in the habit of plucking the leaf themselves without employing pluckers.
The cinnamon industry is yet another major livelihood in Galle district affected by the global economic downturn. Producers of cinnamon in Karandeniya, Ambalangoda, Elpitiya, Bentota, Hikkaduwa, Balapitiya and Baddegama electorates are the worst affected by the downward trend of prices fetched for their products.
Cinnamon exporters said there was no stable market for cinnamon products.. Mr. K.L.Karunaratne, Managing Director of L.B.Spices Trading (Pvt) Ltd., of Meetiyagoda, Ambalangoda said that the future of the cinnamon industry was precarious due to the present situation.
Meanwhile, tourist arrivals in the Galle district have dropped by 90% when compared to previous years, while the gem and jewellery industries are hit badly.
Some of the jewellery exporters in the Galle district complained the usual European orders had not been received and if the situation did not improve, they would have to close down their establishments.