At least seven soldiers and 20 LTTE cadres were killed at Dharmapuram on the Paranthan – Mullaitivu road, as Tiger guerrillas continued to offer pockets of resistance to the advancing security forces who are closing in on the last positions held by them, defence sources said yesterday.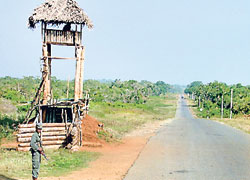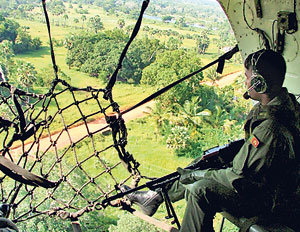 Scenes along the A9: Pictures taken by photojournalist Duminda Sanjeewa during a conducted tour
"The LTTE is no doubt on a steady retreat, but at the same time it continues to offer pockets of stiff resistance with the aim of slowing down the ongoing military onslaught," Military spokesperson Udaya Nanayakkara said.
He said that since the start of this year the military had lost some 20 men, while at the same time inflicting heavy losses to the other side.
"We are taking out at least 20 LTTE fighters or more each day, as they make silly tactical withdrawals and on many occasions they leave their dead behind," Brigadier Nanayakkara said.
Meanwhile the security forces made more gains this week as they were able to capture the sixth LTTE airstrip and three more towns including Chundikullun, thereby for the first time in nearly two decades gaining full land access to the Jaffna peninsula.
The other areas captured were Dharmapuram and the airstrip located south east of the Iranamadu Tank.