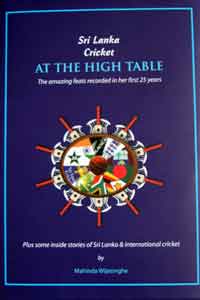 Cricket, scribe and analyst – Mahinda Wijesinghe has come out with his first attempt at hard cover presentation with his book, At the High Table. This book covers the Lankan cricket history since it joined the rest of the High Table Gang – England, Australia, West Indies, India, New Zealand, and Pakistan in 1982. Since they supported the re-admittance of South Africa and were partners in welcoming Bangladesh and Zimbabwe to the club.

The former Royal College and Bloomfield left arm spinner Wijesinghe talks about the Lankan achievements in the broader spectrum of cricket from 1982 to 2007.

In his book one of Mahinda's main arguments goes on to state -- For a nation that has been in the international scene for a mere 25 years the number of records and achievements by Sri Lanka's players are, to say the least, remarkable and unmatched by any other Test-playing nation during a like period. New Zealand, for instance, took 26 years to win their first Test (Sri Lanka had won 50 Test matches in a like period), India dawdled for almost 20 years, while South Africa registered their first win after 17 years, whereas Sri Lanka won her first Test 3 years after playing the inaugural Test, and 11 years later silenced all detractors by winning the World Cup in the most convincing manner of all time also becoming semi-finalists in 2003 and runner-up in 2007, losing on both occasions to eventual champions, Australia.

Currently, Sri Lanka has the unique distinction of simultaneously holding records for the highest total in all forms of international cricket, namely Tests (952/6 decl., against India at the R. Premadasa Stadium in Colombo in 1997-98), ODI's (443/9, against the Netherlands at Amstelveen in 2006) and in Twenty20 (260/6, against Kenya at Johannesburg in 2007-08); all of this within a mere 25 years of having first dipped her toes in the waters of the highly competitive international arena. Interestingly, Sanath

Jayasuriya top scored on all three occasions – 340 in the Test match, and 157 during the ODI, making it a hat-trick by pummelling 88 in the Twenty20 World Cup encounter. This is not all. Four different Sri Lankan batsmen have established two of the first three partnership records – and they are highest and the second highest partnerships to boot – in Test cricket. Australia is another nation that shares two records in this regard but then Bradman was involved in both of them! In a recent article by Englishman Tim de Lisle, leading cricket historian and editor Wisden Almanack (2003), assessed the overall strengths of all Test-playing nations by combing their current rankings in all three forms of the game, and found that Australia, as expected, was No.1 in the world, while Sri Lanka slotted in at No. 3. Establishing not less than 5 international records in the first-ever Twenty20 World Cup staged in 2007 must be ranked as a remarkable achievement as well.

At the same time you also can learn about his escapades with the ICC on the Third Umpire Concept, Webbing in Wicket-keeper's gloves and the weight discrepancy which occurred in the junior cricket ball when the weight of the ball was converted from ounces to grams.

Besides this, the 123 page glossy informative effort contains some of his articles that he has contributed to various journals locally and internationally through the years.

I feel it is a must for a collector of cricket information or for that matter to all cricket lovers at large.
The book will be launched at the BMICH on Tuesday the 30th of September.