One of the findings from the first T20 World Cup which was played last year was that this was a format for younger players. With Pakistan and India reaching the final with many young, untried players, they seemed to have got the correct idea. This also poved to be the case during the Indian Premier League tournament played in April this year.
Teams from Bangalore and Hyderabad who brought up the rear of the table consisted of many top class test and ODI cricketers. In this version of the game they were not as successful. In fact the Bangalore manager Charoo Sharma who was partly responsible for selections got the boot whilst the tournament was in progress.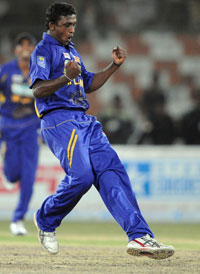 Sri Lanka has always been conservative with their selections, preferring to stick with known and proven players for the longer and shorter versions of the game. India too have been shy to experiment, sticking with the big names. When Greg Chapell was coach he made attempts to blood younger players. He met with a lot of opposition. Since his departure they have made bolder decisions and most of them have paid off.
Certainly to send M.S. Dhoni as leader, together with a bunch of young players to South Africa paid off. Maybe, then it was not intentional. The Indians did not pin much hope to finish as victors. Yet they did and it gave an opportunity for a new breed to emerge. Many of whom have moved on and established themselves in the ODI and Test sides. Dhoni himself has gone from strength to strength as a leader.
The Indian tour which concluded a few weeks ago demanded a lot from the players. Those who played in three tests and five ODI's are enjoying a well earned rest. Mahela Jayawardena who through his career has enjoyed an impeccable fitness record will look to establish the nucleus from this team to play in the next T20 World Cup in June next year in England. Muttiah Muralitharan and Chaminda Vaas have been rested from this trip to Canada. With Pakistan being the only tough opposition, the fifteen on tour must be afforded some cricket. All those picked have at some level proved they are suitable candidates for twenty over cricket. It requires aggressive players. Batsmen need to play run scoring strokes from the word go. To avoid dot balls has to be the objective. The more boundaries and sixes scored the better. Sharp running between wickets and being quick as well is essential. That's an area where young legs definitely have an advantage.
Bowlers are on a hiding to nothing in these games. Particularly on good batting surfaces all they can do is to bowl in the right areas, use suitable variation and hope for the best. At some point every bowler will have a bad day. That is to be expected. Fielding, means not just fielding well. Being exceptional is the requirement. Holding onto half chances, pulling off brilliant saves, by all on the field can make the difference between winning and not. Young bodies are more capable of doing that as opposed to older bodies. Doing that to bring results and doing it consistently is more the possibility for a young body.
Looking at the Sri Lankan squad to play in Toronto, my judgment indicates that only four players are under twenty five years of age. Four of them are beyond thirty and the average age must also be around that figure. That is more of an average age of a test team these days!
Those who are selecting cannot be blamed for that, because they have chosen a squad from the best to play this form of the game. It is mainly their record in one day cricket that has influenced selection. Also, the limited T20 exposure and performances in six-a-side games must have also been considered.
A definite criticism is not selecting a recognized wicket keeper. Young Kaushal Silva has in the past five years performed at every level that he has played at. Currently playing with the 'A' team in South Africa, he has had success there too. With Kumar Sangakkara having a break, recovering from surgery on a finger, it was the ideal opportunity to give Silva a break as a wicket keeper batsman.
Dhammika Prasad is another player whose name comes to mind. He missed the 'A' team tour to South Africa sighting injury. That could have been a cause for his non inclusion. If so, then Angelo Mathews should have been given the nod. He too has been excelling in South Africa. He has also performed satisfactorily at the lower age group levels.
The cupboard is not full with young players. This is mainly due to domestic tournaments not being established and not producing players of quality at a young age. They need some years to perform, because its experience that gets them there. Players like Thilina Kandamby, Dilhara Lokuhettige, Kaushalya Weeararatne, Thilina Thushara who are selected for this tour have taken a long while to mature. Jeevantha Kulatunge who gets an opportunity to wear national colours for the first time is thirty four years of age for all his efforts over the years he deserves a place, but it is not a medium of long term investment. It is time to take stock and invest in younger players who have the potential and have performed when the opportunity has been afforded. The time is ripe to throw some new faces into the ring.
Ranil Abeynaike is a former Sri Lanka cricketer and curator of SSC