By Harry Jayachandra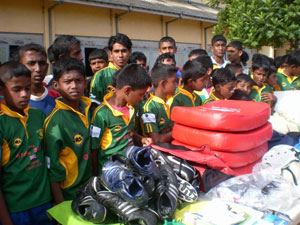 Happy Embilipitiya ruggerites inspecting their goodies
Last year The Sunday Times exposed the plight of the talented and skilled rugby lads of Embilipitiya MMV. One year on and a miracle has happened. Sri Lankan national Ravi Perera who is the coach of one the Elite Eight women's rugby teams in the United States of America saw the story and swung into action almost literally.. He highlighted to the people in his state basic equipment that these boys lacked.
The end result was arguably unprecedented as donations flowed in. International Rugby Board (IRB) accredited referee Chief Executive Officer of the Sri Lanka Rugby Football Union Dilroy Fernando collected the crates of equipment that arrived and promptly went the following morning to Embilipitiya.
He had the privilege of seeing smiles and the surprise on the faces of these deserving lads when they discovered what they had only dreamt of getting. All this was made possible by the Fullerton Youth Rugby Clubs from the United States of America who donated heaps of equipment needed by the impoverished yet talented Embilipitiya MMV. The items donated included rugby balls, jerseys, medical equipment, scrum caps and mouth guards.
Coach of the team Chanaka Lakmal said: "This will enable us to be more competitive in the schools circuit. As you know most of he boys come from farming families. And prior to our victory over Thurstan in their sevens tournament and the subsequent article, the boys had only one set of jerseys. Mouth guards, scrum caps and even essential items like boots were a scare commodity. The families of these boys can barely manage to put three square meals on the table let alone buying rugby equipment. This donation is both a morale and material boost for these boys".
Master in Charge of rugby at Embilipitiya Saman Gamage who also helps with the coaching of the team, speaking to The Sunday Times said; "Earlier we had to either depend on the generosity from either schools or Sri Lanka Schools Association whenever we had to compete in a tournament. We did get donations, but they were few and far between. Thus this is a massive boost for us. In addition, talented boys were quickly snapped by Colombo Schools. Thus getting all these items means we have a better opportunity of having continuity with the team."
He added; "Officials from Fullerton who came to donate the equipment also conducted both coaching and training programmes. And it turned out be a special occasion for Embilipitiya in particular and for rugby in the Sabaragamuva Province in general. The people who came were highly qualified and everybody from the coaches to the players learnt a lot.
One cannot place a price tag on what we were taught. Suffice to say that if more people like those from Fullerton come forward, we could develop this Province to be a force to be reckoned with.