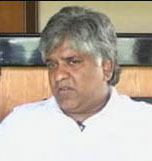 Arjuna Ranatunga
Is cash strapped Sri Lanka Cricket about to fall into its second financial abyss? According to Sri Lanka Cricket Interim Committee sources, Sports Minister Gamini Lokuge has requested them to go ahead and call for tenders for TV rights for Sri Lanka Cricket from January 1, 2009.
Earlier the Minister cancelled the franchise held by Ten Sports up to 2011 pointing to some flaws in the signed addendum by the then SLC chairman Jayantha Dharmadasa. However Ten Sports at that juncture did not take things lying low and threatened to sue SLC for the loss of contract. In response, Chris McDonald, CEO Ten Sports in an interview The Sunday Times, said, "This could hurt our prestige and World Wide reputation and we contemplate suing the SLC accordingly".
At the same time another SLC administrator had a different explanation. He said the minister only asked us to prepare the initial draft for calling for the tenders only. Nevertheless, it is known that the Ministry of Sports and Ten Sports are still having discussions of finding ways of settling the issue amicably. It is reported that they have held several rounds of talks on the issue.
Meanwhile the hastily prepared England tour by SLC Interim Committee chairman Arjuna Ranatunga from Mid April to End May next year subsequently ran into rough waters as it interfered with the Indian Premier League contracts signed by thirteen national cricketers.
The solution to the ensuing furore between the players and Ranatunga was that the Minister asked the SLC to pave the way for the senior players to take part in the Indian T20 tournament prior to the England tour. An SLC administrator commenting on the issue said "The cricket authorities of both England and Sri Lanka have put in their best effort to work out a solution to this stalemate, but so far we have failed. England from that end has proposed some dates, but, that would only aggravate the existing problem.
"Now we are also seeking ways of talking to the Indian authorities on the issue and a concession from that end only could bring in light to this very dark tunnel".
Another analyst who is following the happenings at SLC very closely commented "With the developments in the Lankan half in the recent past with regard to Indian relations, it is very difficult to believe that SLC would get a favourable reciprocation".
Meanwhile in England ECB has put breaks on ticket sales till the tour re-arrangements are over. It is also reported that the ECB is also not in favour of taking on a weakened or a second string Lankan side for the series. Sri Lanka is scheduled to play two tests, three one-day internationals and four side games between April 21 and 30 May 2009. The Indian Premier League, second edition is scheduled between April 10 and May 29, next year.