When king Midas was granted his wish and everything that he touched turned to gold there was no human being on earth as happy as he according to the good old book. However it did not take long for things to turn sour. Little by little the bed of roses in his garden, the best dishes he loved to eat culminating with his darling little daughter turning to solid gold and poor Midas was left with next to nothing in spite of all the gold in the whole wide world and more at his disposal.
Has the same thing happed to our lovely little game of cricket?
A few moons back when twenty20 cricket hit the billboards many a cricket lover did not take it seriously as it was originally meant as a vehicle to spread the game among the non-cricketing countries. It was an attempt to give the non-cricketers a cricketing version akin to their loveable baseball and Kentucky Fried Chicken.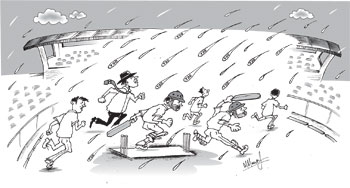 However down the line there was a bright little guy who felt that this virus also could be spread around the conventional cricketing world. He knew any surface sports lover would love something that could and would end no sooner than it begins and at the same time the business world that is full of TV cameras would grab it with both arms.
Even when we first heard that the ICC was intending having a twenty20 World Cup in South Africa in September 2007 and former South Africa fast bowler Fanie de Villiers who was in charge of the project crowing rather hesitantly about the tournament being a success it was not taken very seriously.
In the same vein India a few months prior to that, very unexpectedly failed to make the final round of the Cricket's World Cup which took place in the West Indies. They knew another disaster of that nature would spell doom (at least for a while) in that cricket crazy land. So appropriately the seniors gradually pulled out and rookie team led by a rookie captain who had less than two years experience in international cricket in Mahendra Sing Dhoni was sent to take the brunt. They were aware that they only had played only one T20 international prior to that.
However it may be that the twenty20 concept was conceived at a very auspicious time. Favourites kept rolling out and at the end were the arch rivals India and Pakistan pitted against each other on September 24th at the Wanderers Stadium, Johannesburg.
What more can you expect, in a final that even the most experienced film director would not be able to plot, Pakistani batsman Misbar-ul-Haq played the wrong shot at the wrong time and India won the inaugural twenty20 World Cup by five runs.
Cricket's twenty20 version turned to Midas' gold and now it is in the process of consuming everything in its path. However Zee Group was the first to act on the idea with the Indian Cricket League, with Kapil Dev and Co in its front. It did not take long for the ICL to gather momentum, with cricketers of the calibre of just retired Brian Lara signing on with the bandwagon and names like Shane Warne being touted. However this did not go with the BCCI and they hi-jacked the concept and shaped their own version and called it the Indian Premier League, with the official seal on it.
The first season of the ICL had its own sparks, but, the IPL turned the average cricket fan into a fanatic. According to a Lankan cricketer who took part in the IPL, now the fever has reached such heights, even the various states which had its teams are forming their own fan bases which is quite unlike India.
The IPL converted into the Champions League where only teams from a selected band of countries will be entertained, but, the Champions Trophy Tournament ironically a fifty overs tournament where all Test nations are taking part barring one, cannot find a slot. In addition to this the Stanford Cricket Circus is also winding its way through. But, mind you besides the T20 World Cup none of the others were/are true internationals unless they were played while a national team was officially on tour to another country.
Now however as England has become a victim of circumstances with dates being threatened of getting obliterated on their proposed hosting of Sri Lanka for a Test series to cover their cancelled Zimbabwe void the ICC machinery is set in motion.
The other day the ICC president Haroon Lorgat gave a glimpse of his own mind (Or was it the official ICC view?) He told the English newspaper The Guardian "All these tournaments are springing up and what we are trying to do is regulate them in a more effective way.
"A private businessman might have different ambitions but we have to protect the game of cricket. Twenty20 is an opportunity that people have spotted they can take advantage of, but that doesn't detract from what has been agreed by all members that we will not sacrifice nation-v-nation cricket. Everyone recognises its importance. People are not disregarding it." Why we see it this way is that even earlier the very large-hearted SLC chairman Arjuna Ranatunge tried to rescue the Pakistan board by offering an ODI series there as the Australians abandoned them. But, not a cat was worried, when the tour did not take place.
For the past almost one year Pakistan Cricketers are thirsty, trying to fix up a Test match or and ODI for that matter. But, nothing seems to be working. At the same time the unofficial or shall we call it non-international IPL, Champions League and the Sanford League are marching ahead without any hindrance.
Something is radically wrong somewhere.
Finally I will quote former Sri Lanka captain and now an ICL champion Marvan Atapattu "My argument is twenty20 cricket is the thing that will survive. It will not take very long. Once all these old guard people who wear the top hat and sit on those high chairs are no more, Test cricket will become a thing of the past. Even now, most of the time at Test matches it is only the playing few and the camera crew that are watching the proceedings."
At this we also humbly put forward our argument – We were brought up in a country where cricket is a lifestyle and a very living thing. We would not like to see cricket dying. For instance, when the champion's trophy was called off and Pakistan wanted to come over to play a series, the bottom-line came as a barrier and we missed a quality series. Instead we are on a useless four-day mission to Canada to play T20 cricket on some artificial wickets just for a few dollars more.
Please save our cricket for us. There is a huge school of thought that feels the ICC must see to that its full members have a good fill of International Cricket before they spend their gold coins in spreading the game in unknown territories.
At present the international cricket calendar is lopsided cricket lovers in Sri Lanka, Pakistan, Bangladesh and some other nations would vouch for that.