This year's Sumathi Tele Award for the Best Music Director was won by young music director Kapila Poogalarachchi. His award was for Ashoka Handagama's 'Negenahira Werale' teledrama on Tsunami and its impact. 'Sumathi Award' is the latest of series, he had been involved over the number of years.
Kapila had an interest in music as a student of Ananda College, Chilaw and won several awards in almost all the stage plays he joined as a music director.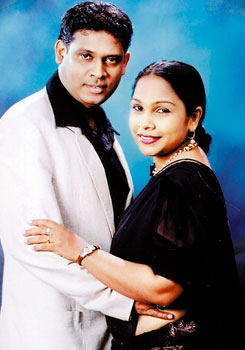 Kapila and his singer-wife Nelu
As a young school boy, Kapila joined Rajitha Dissanayake, one of the leading playwrights today in his first plays. Rajitha who was a student of St Mary's Chilawhired Kapila in most of the stage plays produced for drama competitions in Chilaw area and Christianity Cultural Committee in Chilaw and they most of them became award winners. The duo came to Colombo for higher studies and continued to make plays.
"While doing higher studies in music at the University of Aesthetic Studies, Kelaniya we had greater opportunities to produce stage plays," Kapila said reminiscing his past. The first play 'Sakwadawala' which introduced both Kapila and Rajitha to the Sri Lankan theatre world won the Best play at the Youth Drama Festival in 1996 and Kapila was given a merit award. Thereafter Kapila handled the music in all the award winning plays of Rajitha like 'Mata Wedi Thiyanna', 'Sihina Horu Aran' and 'Hansayinta Mang Asai' and they won Best Music for Kapila.
Entrance to the miniscreen marked Kapila's versatility to handle music in both stage and screen. His first teledrama 'Me Paren Enna', directed by Asoka Handagama in 2004 won the Best Music director award at both the Sumathi Tele Award and SIGNIS award. This followed Christy Shelton Fernando's 'Gal Pilimaya Saha Bol Pilimaya' in 2006 and in 2008 'Neganahira Weralen' by Handagama.
Graduating in music Kapila has studied many music styles like western classical, eastern classical, pop, jazz, rock and Karnatic. Kapila today is a professional musician as the head of the music section of Young Asia Television (YATV).
Continuing with music making Kapila is worried about the poor quality in the teledrama industry.
'In today's teledramas the music director has hardly anything to do. They are poor in themes, plots and presentations," the talented musician said complaining about the sorry state of teledrama industry in Sri Lanka. On the other hand people's interest in low quality music has become another tragedy in the music industry today. '
People have got used to digest anything they hear and they have hardly any knowledge to choose what is good and what is bad, what is interesting and what is not. And most unfortunately our audience gives priority not to the music but to its beats,' he lamented.
A talented organist and vocalist, Kapila has rendered his voice to a number of songs and has created music for many commercials. Married to well known singer, Nelu Adhikari, Kapila has done music for most of her songs and joined her in singing too.
Kapila's next dream is to join cinema. "I am still awaiting to get a good film to do music," Kapila said.
Hailing from Mahawewa, Kapila was grateful to his two music gurus Vencious Perera and Lalitha Adhikari.