Sri Lankan born singer Alston Koch, acclaimed by Glenn A Baker(International and Australasian Rock Historian) as the purveyor of 'Disco and Soul' music in Australia leaves this weekend for concerts throughout India.
Six Bollywood trained Indian dancers will accompany Alston through Mumbai, Delhi and Bangalore in a 'live' theatrical musical production event. Alston will also re-release his BMG/Crescendo album 'Alston Inc' during this period and will be a special guest on the world famous 'Bollywood' circuit with support from MTV (India).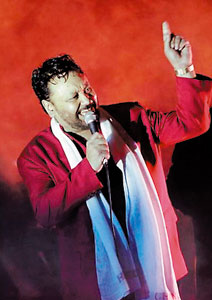 Alston Koch
Having signed to CREATIVE VIBES records (A.R.I.A winner & the most innovative 'online' & distribution recording label in current times) and Powerush Records in Europe a special music-video will also be commissioned during this tour for release later in the year in India which is fast becoming a major market for almost anything these days.
Recently he was welcomed by Asia Hotels Group Director and General Manager of the Baiyoke Group of hotels in Thailand Mr.Chaiporn Mahakan on his arrival for discussions for a concert tour starting off at the 'Nightclub in the Sky' on the 88th floor in the Baiyoke Sky in Bangkok. In earlier years Alston had performed through the renowned Dusit Thani Hotel Group in Bangkok, Pattaya and Phuket but this particular tour will see him inperformances throughout Thailand, Indonesia and Malaysia ending with a special finale' performance during the opening week of the Olympics in Beijing China.
Receiving a citation from the Governor of the Lions Club Jakarta Admiral R.M Moechtar in Indonesia for his compassion towards the less privileged and raising $US 250,000 when his song 'TRY AGAIN' stood on the top of the Radio Elshinta charts for 8 weeks in Indonesia last time around, Alston said he was looking forward to this tour as he had enjoyed performing and enjoying the hospitality & culture of these great nations in the past.
Alston first toured India in 1970 with the Sri Lankan based group 'The Jetliners' and later performed there for the Taj Mahal Hotel circuit with his band Dark Tan in 1980 and 1983 and then as a solo artiste in 1992 and later in 1994 and 1999 when he released his second album in India called 'Move to the Rhythm' on BMG/Crescendo.
The Australian Cricket Team were special guests when Steve Waugh and Shane Warne helped launch this album via satellite to the world from Alston's theme restaurant 'The Rock Café' in 1999 at Colombo via MTV Asia before his last promotional tour of India and the World. Alston took a 'sabbatical' of almost a decade immediately after this stint ignoring live performances from 1994 to 2007.
Alston was a special presenter at the 2005 MTV (Asia Aid) Tsunami Concert which included Alicia Keys, Kelly Clarkson, Robbie Williams, Shakira and Madonna to name a few, which was held at the 12,000 strong Bangkok Auditorium and telecast via MTV worldwide and CNN for UNICEF.
It is hoped that something similar to be staged either in Bangkok or Sydney will come out of these talks and an announcement will be made soon after the chief of a large Chinese consortium meets with Alston Koch in Japan next week with his team of advisors.
This launch can be seen on Alston's website: www.alstonkoch.com check 'album launch' in 'VIDEO' section of above website.