The whole world knows about Pinnawela Elephant Orphanage and travellers considered it as one of the best destinations in Sri Lanka. Though it is world famous, very few hotels operate around the area.
Hotel Ralidiya is one of the pioneering hotels in the area situated in close proximity to the Orphanage.
The Hotel came into operation in 1993 and is built in a very picturesque location on the banks of Maha Oya. Famous elephant bath in the Oya twice a day is the top attraction.
This small, but beautifully designed Hotel Ralidiya has well appointed five rooms, all with a view of Maha Oya. The proprietor of the hotel, K.K.D. Wickremasiri said he built this hotel fifteen years ago mainly to cater to the flow of visitors to the Pinnawela Elephant Orphanage.
'We were just operating as a restaurant at the beginning and we managed to cater for nearly 500 pax at one sitting. Business was booming at that time and later only I added five rooms. But the situation now is not very healthy. We are struggling to survive' said Mr. Wickremasiri.
Hotel Ralidiya is a popular place for its cuisine and homely services. 'Our staff is well-mannered and friendly. Good food and courteous service is the secret of our success' said Manager W Ajith Nishantha.
Hotel Ralidiya is also a popular honeymoon destination and known as a best wedding hotel in the region.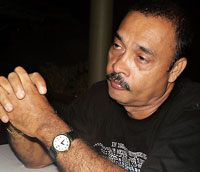 Wickremasiri
'We are doing pretty well with weddings. Can accommodate up to 1000 guests at both of our function halls on upper and lower decks' he added. Apart from Pinnawela Elephant Orphanage, this hotel is used as the base for excursions in the area.
Ancient temple at Kota Vehera and Tampita Viharaya, archaeologically important Galmessa and Dodamkohe are some of the popular places to visit, while in Pinnawela.
The other coming attraction is the Zoological Garden in Pinnawela. The proposed Zoo will be set up in a 100 acre land and the ground work has already commenced to move Dehiwela Zoo to Pinnawela.
The Pinnawela Elephant Orphanage was started in 1975 by the Department of Wildlife on a twenty five acre coconut property on the Maha Oya river at Rambukkana.