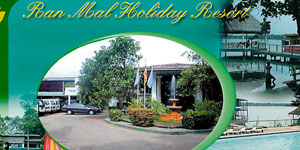 Popular Ran Mal Holiday Resort celebrates its 35th anniversary with a mega food carnival at the hotel premises on Saturday, July 26. This mega Food Fiesta and Bar-be que night kicks off at 7.00 pm to 11.00pm under the direction of Brian Perera, the Consultant for Food & Beverage operations.
He said, he should not allow this anniversary just let go without making an appropriate event. 'Thirty five years in operation for a hotel is a great achievement. It is time for celebrations and that's why we have organized this Carnival of Cuisine' he added. Mr. Shan Wickremasinghe of TNL has agreed to come as electronic media sponsor for this gala event.
Pioneer in this locality, Ran Mal Holiday Resort is first to explore the beautiful natural environs of Bolgoda to both foreign and local tourists. Tickets are priced Rs. 1000/= per person.