---
Toot and chug this Christmas
By Ayesha R. Rafiq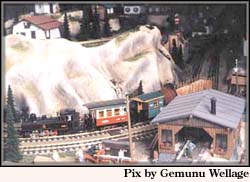 It's not the Orient Express or the Trans Atlantic, but it still is beautiful beyond words. An alpine village, a church wedding, village farmers, sawmills, coal loading stations, chalets, warehouses, restaurants and much more are brought alive right in the heart of Colombo when the switch is flipped to send the 'Christmas Train 2000' on its way to the new millennium at the fourth floor of the World Trade Center this Tuesday.

The train concept is the brainchild of Irishman Gerry McEligott who has been doing international train displays for the last 11 years in many countries. The concept's origin lies in Japan where a group of homesick expatriates decided to cheer themselves up during Christmas by doing something that reminded them of home. Thus, the first train of its sort was displayed in 1988 at the Guam Hilton, then the Seoul Hilton in Korea, the Nagoya Hilton in Japan, China and now at the World Trade Center in Sri Lanka with the Colombo Hilton as co-sponsor.

The entire model consists of seven engines pulling 45 wagons along hills and dales, past old stone castles converted into restaurants complete with guards in the turrets for atmosphere, sawmills where beer-bellied lumberjacks take a break while swigging a beer, dairy farms where families tend to the farm and garden, a newly married couple posing for family photographs outside the church etc.

At dusk, the street lamps will come on while all the little houses and buildings switch on their lights and you may even be able to glance through a lace curtain trimmed window into a little chalet.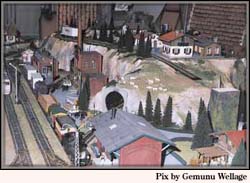 But this miniature Eden doesn't come cheap. A flip of the switch and approximately Rs. 2.8 million worth of train chugs into action, tooting and chugging steam from the engine, while at the end of the track workmen wait ready to load on the coal for another journey, across the alpine village covering a floor area of 15 by 35 feet. The carriages have each been sponsored at a cost of approximately Rs. 70,000 by companies such as Carlsberg, FedEx, Sri Lanka Telecom and DELL computers.
The project is being managed by Hospitality International and its tireless publicity manager Dharshini Sumanasekera and presented by Overseas Realty Ceylon Ltd. Entrance is free for all, and part proceeds of the promotion will go to charity.
Children and adults alike, this is an opportunity no one should miss. But be careful, once you get there you may not be able to tear yourself away.
A 10 metre Christmas tree will also be put up in mid December, sporting 1400 bulbs. Bulbs will be available for sponsorship and may even win you a prize. A Christmas motor show will be another of the promotions at the World Trade Center on December 11 and 12, with a display of 'old crocks' vintage cars and with companies such as United Motors having promised to display their newest models of cars such as Volvos and BMWs, it seems like December 1999 at the World Trade Centre is set to be quite a bash.