---
'We are having a good time'
What makes these young foreigners come here as volunteers?
By Nilika de Silva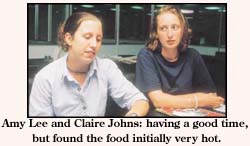 Young people who venture thousands and thousands of miles from home and hearth for the sake of a career or to gain experience to widen their horizons are indeed extraordinary. To re-plant oneself in an alien culture, in search of fulfillment of career goals is not easy. Nor is it any easier to take off straight from school, leaving behind family and friends to find one's true potential.

What do they feel about living and working in a foreign land, especially with a war raging in some parts of it? This is what The Sunday Times found out last week.

Amy Lee and Claire Johns, both 19-year-olds from England, left their parental nest to take up a challenging year in Sri Lanka. Part of Project Trust, these youngsters and eight others are spending a year in Sri Lanka attached to the non-governmental organization, Weeraya Suva Sansadaya in Rambukkana teaching English to villagers. The NGO engaged in many other projects is headed by Milton Illangantilleke

Amy and Claire are part of 150 United Nations Volunteers stationed throughout Sri Lanka, including the strife-torn north and east, getting to know the country and its people the hard way. These volunteers are actively engaged in diverse fields, sharing their experiences with the people and also enriching their lives. Among them are cultivators of Ayurvedic medicines, English teachers, social workers dealing with mentally and physically handicapped children and AIDS victims and archaeologists. They came from all parts of the country to Colombo yesterday to celebrate Volunteers' Day.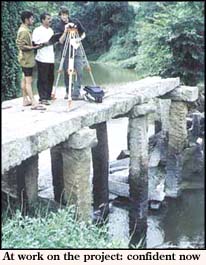 Amy and Claire related how they found themselves surrounded by unknown faces within hours of landing in Colombo on September 13. But now, "It's really good, we are having a good time," they chorus, looking at my doubtful expression.
"Well, we did go through jet-lag followed by culture shock because we live in much more basic conditions than what we are used to back home. Here we wash at the well." And how about the food? "At the beginning we couldn't eat any of it, it was very, very hot, but now we eat lots of food," they said. "Amma" makes sure it's not too hot for them.
Weren't their parents worried about sending them to Sri Lanka, a country which hits the headlines mainly due to the war in the north and the east? "They just told us, 'Don't go north!'," Amy and Claire smile.
Amy and Claire who work in 12 villages around Rambukkana are living with a ready-made local family — parents, an elder sister and brother. Amy's classes are held in church, a disused forestry building, an agriculture centre and a children's orphanage, while Claire has "school" in a house, community centres and a temple. Once a week they both teach at a Montessori.
"It was hard at first because just four months ago we were students," Amy said. "Suddenly we found ourselves faced with a class of 70 students," Claire added. But now they have both settled in. On holidays the children take them to visit interesting places in the area, temples and such like.
"Recently we went to Pinnawela," Claire said. "It was lovely." The girls look after the children, but sometimes it's vice versa, they giggled. "The kids say, 'Teacher come, come and pull us on and off the bus'." Cycling around the area and jumping into buses and trains, these young women are seeing Sri Lanka the right way. First hand.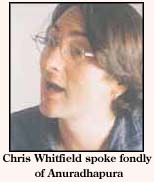 Another foreigner, Chris Whitfield (36) is a VSO (Voluntary Service Overseas) volunteer working for the Archaeological Department, developing an information system and a Global Positioning System (GPS). Having arrived in Sri Lanka in February last year, Chris first worked in Anuradhapura for six months. Now he is based in Colombo, but travels twice a week to Pothuhera. And how do you travel? I ask. "By train." All these guys seem to be on track.
Chris who worked for five years on a dig in England before entering university to do a degree in archaeology says he was first drawn to it at the age of 14, while poring over a book on Stone-henge in England. When Chris was in Anuradhapura he made many friends and visited people's homes whenever he had free time on his hands. "Life was definitely slower there. Colombo is like a separate country," he said. Soon after he came to Sri Lanka doubts wracked him whether he'd be good enough to do the job, but one and a half years later talking of the GPS he worked on with Tom Dawson, another VSO volunteer, Chris says, "When the project finishes I think it will be one of the best in Asia."
He seems nostalgic about Anuradhapura and speaks fondly of cycling around this ancient city seeing the sun setting over the Abhayagiriya. He is awaiting four friends from England to celebrate Christmas right here in Sri Lanka.
For Amy and Claire it's Christmas on the beach, as part of the large 10-member "volunteer family" from Project Trust.