Contents
---
Gala Odyssey to welcome new millennium
By Sunil Jayasiri

The Holiday Inn Hotel Colombo is going to welcome the coming millennium with new features. The festive program named Gala Odyssey, will be from December 11 onwards at the hotel premises.
The hotel will provide the patrons a grand cruise with lots of fun bringing in family togetherness, traditional seasonal fare of food, wines and beverages and fine musical entertainment in keeping with the spirit of the season. Holiday Inn Director Operations Mr. Shanthikumar, said at a press conference recently that " knowing the significance of the year end, this year, my team and I have brought in all our past experience together to come out and be the "talk of the town",".
The festivities will start with "Apollo II", the cookie hut that will open on 11 in the main lobby and " The Santa" will be stage in the main lobby from 23 Dec. to 25 Dec. The Christmas carols come alive from 23 to 25 daily between 8.00 p.m. and 9.00 p.m.
The "Yeletide Fiesta", which is a family affair with a six course menu at the Gardenia Coffee Shop will go on from 23 to 31 December.
The Christmas Eve Candle Lit dinner "Stars Shine Down" a gala buffet dinner with traditional Christmas fare will be on 24. On the night of the Christmas day there will be a Gala Dinner "Blue Moon". " Blast Thru" is the new year's eve Dinner dance and the singer will be Desmond De Silva, who will be flown down by courtesy Sri Lankan Airlines. The ticket for the Blast thru dinner and dance is Rs. 8888 and dance only Rs.5555. Every table of ten will pick up a complimentary bottle of Black Scotch Whiskey. 17 air tickets for the first time in Sri Lanka will be given as bonuses in the raffle draws.

---
KAW toys with new idea
By Kumaradasa Wagista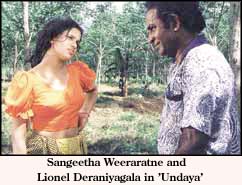 Veteran filmmaker K. A. W. Perera is anxious to produce a children's film as his next venture. His latest film 'Undaya' (Bullet) is set to be released in fifth circuit after 'Mandakini'. Although he has made films during the last four decades none of them were screened under the adults only tag. Making a film for children is not a recent idea. "Making a children's film has been in my mind for the last several years. I feel we have not done justice to the younger generation by not providing them films made specially for them" he said.

Referring to a recent incident which received wide publicity in the media how a 10 year boy died while going to perform a stunt he saw in a foreign TV film, he said parents of the victim are also responsible for allowing children to see thrillers packed with action.

Extorting money, kidnapping children and adults, demanding ransom, brutal killings, sex and robberies is now a legacy introduced to our society by foreign TV telecasts.. As feature films are previewed by the Public Performances Board (PPB) before release any unsavoury shots incorporated in them are censored before release to the public. But it is not so in TV serials specially in telecasts belonging to the private sector. Although these are telecast during late hours yet adults see them.

This is due to the fact that there is no national policy framed for the electronic media.

Titus Totawatte's 'Handaya' is one of the children's films that impressed filmgoers in the country. But even copy of a film like 'Handaya' has not been released maybe that the negative has been destroyed by vandals.

Films to suit children are a neglected subject in our country. Several Indian children's folk stories have either been made into films or teleserials. 'Chanda Mama', ' Kabuliwalla' are just two such films produced for children.

The National Rupavahini is not making an effort to produce children's fare. Rupavahini was a gift by the Japanese Government in 1979 to promote cultural and educational activities. But now SLRC is more commercialised that the main purpose it was to serve.has been lost. "I agree that a certain amount of commercialism is required to maintain a broadcasting station like SLRC. But not at the rate it is operating now' he said.

K .A. W. has already finalised a script to produce a film based on children cum youth from 10 to 18 years titled 'Sugathapala Sir'. He said a few adults too will play a few roles in it.

"My experience as a school teacher for 7 years and later producing the 'Handa Mama Radio' magazine after I joined Sri Lanka Broadcasting Corporation.has given me food for thought of writing this script." he said. "Several youth who participated in this programme are doing well today occupying high positions in cinema and TV fields." He recollected yesteryear films like Sydney Poiter's "To Sir With Love' and 'Blackboard Jungle'.

The main obstacle in producing this film is the lack of funds. "I intend producing 'Sugathapala Sir' as a feature film and not a teleserial. as I may decide to retire after making it" he said.

He was happy that the government has decided to reduce the entertainment tax as it will encourage more filmgoers to see movies. However exhibitors grumble that many local bodies do not even replace a fused bulb in a lamp post or collect garbage near cinema halls.

---
Lata acclaimed for her role in films
Song queen Lata Mangeshkar has received three unique gifts on her 70th birth anniversary.

The melody queen has been nominated to enter the Upper House of the Indian Parliament, according to Indian press sources. She will succeed versatile film actress and dance artiste Vyjayanthimala Bali whose term ended recently. Names for three more vacancies that occurred simultaneously have been submitted for approval by President K. R. Narayanan.

The nomination is given for the contributions Lata Mangeshkar rendered to the Indian film industry as a musician, playback singer, music director, film producer during the last five decades.

She is one of those in the Indian film industry who has earned foreign exchange for India in many ways.

An International perfume manufacturing company recently launched a perfume after her in Mumbai recently. The perfume named 'Lata Eu de Parfum' will be distributed all over the world.

At an auction for the perfume, it was reported, the hammer fell down for the highest bid of 3.05 lakhs. The offer was made by film producer Bharat Shah and the proceeds were credited to charity.

However, although the singer loves perfumes she was not comfortable with the idea of a perfume being launched in her name. She gave the greenlight as she could not ignore the requests made by people.

Reportedly, the melody queen suprised the paparazzi at an art gallery recently when they saw sets of quality photographs shot by Lata Mangeshkar on exhibition. The song queen who claimed to be only an amateur had clicked the camera as a hobby was delighted to see them being appreciated by thousands of visitors including school children.

The exhibition was held at the newly inaugurated art gallery in Kalamandir. "I do not want any admiration as modern technology is so advanced that any amateur photographer can shoot quality photographs" she humbly said.

These photographs included a variety of subjects like landscape to seascapes and wild life, different moods of little children, sources stated.

A highlight is Lata Mangeshkar clicking a photograph of herself with the help of the self timing automatic click. Also a set of photographs of her father Master Dinanath Mangeshkar taken some eight decades ago which were also among the exhibits which was another attraction among the visitors.

The exhibition also comprised six oil paintings of the melody queen's sister Usha Mangeshkar.

---
Jayanath aimed for perfection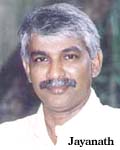 After two and a half decades of hibernnation cinematographer Jayanath Gunawardena spoke about the present state of our film industry.

Films cinematographed by him have been screened recently and to be released shortly.

Vasantha Obeysekere's 'Dorakada Marawa' Udayakantha Warnasuriya's 'Bahubariya' Linton Semage's ' Padadaya' and ' 'Theetha Yathra' are the recently released ones. Chandraratne Mapitigama's 'Sathya Devi' and Nishantha de Alwis's ''Nagaran' await release. Being trained in the craft by the versatile cinematographer Donald Karunaratna while he worked as an assistant in about 20 feature films Gunawardena has achieved new heights. . The other cinematographer who trained hin was Sumitta Amarasinghe. I am not a born cinematographer but I came up to the position where I am now by hardwork and studying the craft. " he said. This is another profession where both theory and practice is necessary. However a good amount of creative knowledge is needed in framing a shot. In lighting a set according to its situation. Mood lighting is another aspect where that creative knowledge is necessary."

The director and cinematographer should always have an understanding of the type of visual that is to be exposed. "That is the very reason that the director, cinematographer, production manager and the assistant director meet and discuss the work schedule for the next day." he said.

His debut film as a cinematographer was Dharmasena Pathiraja's 'Soldadu Unnahe' with Joe Abeywickrema and Geetha Kumarasinghe in the lead roles , "Even after fifty years of our cinema industry most of our films are below standard when compared to films produced in many other countries". He says that we see this difference when we see movies at foreign film festivals. We find it difficult to compete due to the high technology standards in most of these films.

On the other side we should be proud of what our technicians produce with available equipment which are obselete to say the least.

He is a product of Kadawatha MMV while his mentor was studying at Gurukula Vidyalaya.

"I have worked on several films with Jayanath. I have found him to be always on the ascending side where the craft is concerned and a dedicated worker. He has a good sense of lighting and endurance. which is a necessary quality in any film technician " film director Vasantha Obeysekere said. Jayanath Gunawardena is the cinematographer in director Obeysekere's 'Salalu Warama' which is also now in concluding stages.

Jayanath Gunawardena is very sensitive when speaking on the future technicians in film industry. " Many do not want to enter the local film industry as they do not foresee a bright future.

Further the sort of dedication and sacrifice needed when studying any subject under an expert is not found amongst many of today's apprentices." he said.

As cinematographer Gun-awardena was trained when films were produced in b & w it was easier to work in colour when the trend turned towards the production of colour films.

---
Tribute to 50 years of cinema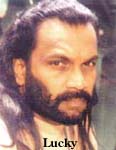 A sister organisation of Cinemas Ltd, K. G. (Group) o f Industries is telecasting a 20 episode teledrama, 'Kemmura', on National Rupavahini to commemorate of 50 years of their involvement in film industry. It is scheduled to be on air from December 12.at 7.00 p.m. It is stated that this slot will be exclusively reserved for the telecast of local teledramas in future.
Lucky Dias, Malini Fonseka, Cletus Mendis, Shanthi Lekha with child artiste Samanala Fonseka and many more artistes play in it.
For the first instance in Malini Fonseka's acting career she plays the role of an astrologer - Sudu Menieo- in this teleserial.
It's written by Sunanda Silva and photographed by Sunil Perera. Rohana Weerasinghe has directed music. Ananda Fonseka has directed it.
''Kemmura' is produced by Philicia Deen on behalf of Malathi Films and Senin Productions.

---
Comedy on boarding house life

A full length comedy comprising 100 episodes is scheduled to be on Swarnavahani from December 10.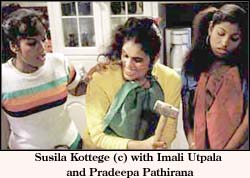 Titled 'Hatara Kenderaya' the story is centered around a boarding house. The boarding mistress is a widow named Catherine (Susila Kottege). Menaka (Imali Utpala), Sherani (Pradeepa Pathirana) and Nickie (Ravindra Yasas) are the boarders in the lodge. As Nikie resembles Catherine's dead husband Wickie she believes that her husband is reborn.
As Sisilin (Mercy Edirisinghe) a neighbour too had a soft corner for Wickie, she too liked to associate with Nickie., who dislikes the pet pup in the boarding lodge being called Nickie.
This teledrama reveals a series of humorous incidents by these characters in this boarding house.
'Hatara Kenderaya' (The Horoscope) is scripted by Sunil Ratnayake and Herbert Weerasinghe.
C. L. Fonseka, Melani Asoka, Ignatuis Gunaratna, Sandipa Seumani, D. B. Gangodatenna with many others act in this drama.Nilantha Chularatna is director of Photography. Nishantha Priyadarshana and Premasinghe are the editors. Kanchana Dissanayake and Lalith Ratnayake are the assistant directors.
Sunil Ratnayake of Tele View and Sarath Senaratna have directed it. Sunil Ratnayake has produced this drama on behalf of Teleview. Shan Dissanayake is the co-ordinator.

---
SADISI: a Sinhala cinema work
National Film Corporation (NFC) has opened a Publications and Information Unit at Bandaranaike Memorial International Conference Hall (BMICH) Colombo.

The first publication from this Centre is a quarterly Sinhala film magazine titled ' Sadisi' ..The organ will be made available to the public at a nominal price through bookstalls in Colombo and provincial cities.

"The main idea behind the publication of' Sadisi' is to educate filmgoers on local and international cinema, to instil in the audience on better appreciative standards so that they will be trained to see quality films", Sadisi' editor Sunil Mihindukula said.

This Unit will also give valuable information on films both local and foreign and details of international film festivals. Orgainsational work on the Presidential Film Festival is also done in this office.

Mr Mihindukula had returned from a visit to Chennai making a research on film studios which produced Sinhala films in the very inception and filmmakers had much to say about them. "Most of the studios which produced Sinhala films in Chennai are now closed. The reason for closure is film directors dropping shooting sequences in artificial sets constructed in studios." he said.

According to him Neptune Studios is now a Ladies College. Vahini where most of our films were produced is converted into a hospital. Citadel Studio is now a missionary school while Central Studio in Coimbature is an oil stores.

However Sunil Mihindukula was much delighted when he heard what many South Indian filmmakers reminicised anecdotes and incidents that occurred during production in those days. Director A. B Raj who had directed many of our films had spoken to Mr Mihindukula in Sinhala. He had praised the punctuality of our artistes which has disappeared in many artistes presently.

'Weera Wijeya' was a film which introduced Jeevarani Kurakulasuriya was released for Christmas in 1960. It was directed by Sethu Mathawan who was also happily related humorous incidents that took place when production was been done. Filmmaker L. S. Ramachandran who did many local movies is yet among the living. Unfortunately Mr Mihindukula could not meet him. Cinematographer Lini de Costa who migrated to India in early nineties is living in Chennai. Former Ceylon Studios Art director J. A. Vincent is also in Chennai. The maiden issue of ' Sadisi ' is scheduled to be out on January 1, 2000.