---
Chop, chop, chop...
And large areas are destroyed before Christmas
By Tharuka Dissanaike and Renuka Sadanandan
In the thick wet mist we made our way up the winding road to Pattipola. Past the railway station and the sleepy farming hamlet, past the Ambewela farm and into the brooding forests that lead up to the Horton Plains National Park.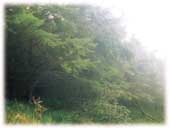 The jeep that had chugged its way uphill ahead of us comes to a sudden halt. The officials and field staff of the State Timber Corporation leap out, motioning us to stop. Then we see why. As the mist shifted we could see rows and rows of sweet-smelling cypress in a thick cluster by the roadside.
"We have never cut the trees from this site yet," J.B. Ratnayake, Regional Manager, State Timber Corporation (STC) said. "The trees look good for harvesting," Mr. Ratnayake looks questioningly at the Forest Department Officer accompanying the group. He nods assent. Yes, this plantation certainly looks ripe for cutting. The trees would be transported to outlets in Colombo and Negombo to meet the great demand for 'Christmas Trees' during the season.
Although all timber felling is at a standstill at present, the STC, under a special directive from the President will bring down 4,000-5,000 cypress trees to be sold this Christmas. These are sourced in Nuwara Eliya and Bandarawela. Although divided into two districts, the trees are cut mainly from.
The thick forests in the Pattipola, Ohiya, Boralanda areas which surround the Horton Plains National Park.
And after the chopping, the forest plantations are left bare. Contrary to popular belief, the trees we decorate every Christmas are not branches of huge old cypress trees. They are small trees in their own right and are cut according to height and branch spread. Once chopped off the trunk, the tree develops shoots, which may take anything between five to 10 years to grow back to a height where they can be chopped again.
"An entire tree is destroyed, when it grows it is cut again," Ratnayake said. In many cases the redeeming factor is that cypress is often grown with many other varieties of trees and there are very few real cypress plantations around. But Christmas time means 5,000 of these beautiful trees disappear from the forests.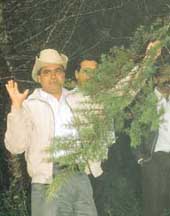 "It is a shame," Chandana, the Forest Officer with us said shaking his head. "We plant these trees with such care and they are just cut for a few days of festivity." Worse, several hundreds simply rot away, rejected by 'discerning customers'.
For the Forest Department it is a sad time when they have to go with officials of the STC to identify which of their cypress plantations are ripe for cutting.
The cypress trees are often high up in protected forest areas, reached by foot, after several hours of trekking through leech-infested undergrowth. The trees are then marked and counted. Chopping down starts late, just in time to transport them to Colombo and Negombo, where the public eagerly awaits to purchase the best tree to decorate during Christmas.
"Some hotels and large organisations order their trees ahead and if we don't deliver the right size and height, well, there is hell to pay," said Ratnayake.
Timber Corporation Officials said that supplying Christmas trees is undertaken more as a service than with profit intentions.
But S.B.Ekanayake, Chairman, STC does not deny that the exercise contributes to their coffers.
"It certainly is a high profit venture, even if the STC sells trees much cheaper than private suppliers."Every year the State Timber Corporation earns some Rs. 2 million off their Christmas trees. Of course they still pay government taxes and a share of the money goes to the Forest Department.
"Normally trees are priced at their height. With variations from a couple of feet to 15 feet, the normal price is around Rs. 100 per foot," Ratnayake said.
Many private suppliers too have made it a habit to bring down trees and some branches to be sold in predominantly Christian areas. But this year with the on-going suspension of tree felling, it is unlikely that private vendors will be permitted.
Christmas celebrations have evolved through the years to be heavily dependent on the presence of a tree. Decorated with brightly coloured trinkets and blinking lights, the tree carries with it a certain magic related to Christmastime. But one must ask the difficult question. Is it really worth the destruction that goes on in another part of the country? How much longer will it take mother nature to replace what one Christmas takes away from our montane forests?
The biggest danger signal is that with repeated cutting, it is becoming more and more difficult for the STC to find trees to cut. "The trees which we rejected last year have to be cut now." The Corporation has now established nurseries and their own plantation of five hectares of cypress to supply the ever-growing demand.
Cypress maxicarpa is an exotic species, which was introduced to the country, possibly during the British. The species, which thrives in the high elevation forests, has that distinct pleasant smell, which is one reason why people want cypress as their choice of a Christmas Tree.
"It also has that conical shape and the dark rich green colour. Yes, it is a beautiful tree. More's the pity that we have to virtually destroy it," Ratnayake said.
---
Change the attitude
There is a way to prevent the destruction and yet have your Christmas tree. "First people have to change their attitudes," Mr. Ratnayake said. "The more they demand perfectly conical, fresh and big trees, the more the destruction."
His opinion is that if people would be content with branches which could be propped against a wall or in a corner since they are not perfectly shaped, the number of trees razed down will be drastically reduced.
Secondly people could start looking at other trees instead of cypress, which takes so long to grow. In certain distant areas the Casurina or Kasa branches are used instead of cypress. In other countries fir and different varieties of evergreens are used as Christmas Trees.
Forest Department officials opined that it would be best if the public could start growing their own trees instead of looking at cut ones of any variety. Not only will the forests be saved but people would be encouraged to grow trees too.
Forest Department is the main supplier of cypress, and plants are available for as little as Rs. 10-15. The STC will begin selling plants off its own nursery next year. "A cypress takes a long time to grow. But it is worth it. It will grow even in Colombo and you can trim it to stay small and neat or let it grow to be 10 or 15 feet tall," a department official said.
---
More Plus * Inner liberation on the dusty road * Listening with hearts * The true message of Christmas
Front Page| News/Comment| Editorial/Opinion| Business| Sports | Mirror Magazine