---
Information Officer falls in anti-Tiger propaganda war
London mission dispute goes to courts
In the aftermath of the Hotel Galadari Bomb, Mr. Kulatunga told a British wire service reporter it was the money raised in Britain that bought the weapons used in the attack, and if any British tourist had died, the people of Britain would have to hold their govt. responsible.
By Frederica Jansz
Sri Lanka's moves to counter LTTE propaganda in Britain have suffered a temporary setback with the Foreign Ministry dismissing, information Counsellor Aruna Kulatunga in a dispute that has now gone to courts.
Mr. Kulatunga on Friday filed a fundamental rights petition in the Sri Lankan Supreme Court. His lawyer J.C. Weliamuna said that pending consideration of Mr. Kulatunga's plea for leave to appeal, the Supreme Court has issued a stay order suspending the letter of termination till January 12.
Mr. Kulatunga in his petition to court is seeking his reinstatement and Rs. 5 million as compensation, saying he has been sacked with no reason being given other than inefficiency and without a chance to reply.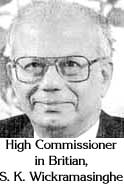 A Foreign Ministry official told The Sunday Times that High Commissioner S.K. Wickremasinghe had in a report claimed that Mr. Kulatunga's performance was not upto standard and that he did not conform to guidelines.
Investigations by The Sunday Times reveal a dispute between Mr. Wickremasinghe and Mr. Kulatunga had developed over some remarks and steps taken by the Information Counsellor.
It is learnt that Mr. Kulatunga has been dismissed for issuing some explosive remarks to the media and the LTTE.
In the aftermath of the Hotel Galadari Bomb, Mr. Kulatunga told a British wire service reporter that it was the money raised in Britain that bought the weapons used in the attack, and if any British tourist had died, the people of Britain would have to hold their government responsible.
The journalist, reported the statement as "The Sri Lankan High Commission today blamed the British government for being partially responsible for the attack by Tamil Tigers......"
The other incident where Mr. Kulatunga is supposed to have blundered is when he attended a meeting organized by the LTTE at Chatham House in London on October 15, this year, and spoke to Visuvanadan Rudrakumaran, the LTTE's chief political advisor, and told Mr. Rudrakumaran that his comments about self-determination were quite interesting.
Mr. Kulatunga had made the assumption that Mr. Rudrakumaran was saying Eelam was no longer on the agenda. This, Mr. Kulatunga reported verbally to High Commissioner Wickremasinghe. Later that afternoon, Mr. Kulatunga received a phone call from Mr. Rudrakumaran where he reportedly said the LTTE was ready to accept a facilitator instead of a mediator for any talks. He had asked that this be passed onto Mr. Kulatunga's superiors.
However, the guidelines for the Information Counsellor do not allow for the facilitation of negotiations with the LTTE.
Meanwhile, Mr. Kulatunga is reported to have been openly introducing a senior army officer whose presence in London was supposed to have been kept confidential because he is the Chief Intelligence Officer at the High Commission.
The Sunday Times learns that Major General Chula Seneviratne was to take over the post from Chris Obeysekera.
At a meeting of the International Federation of Sri Lankans (IFSL) last month in Britain, Major General Seneviratne attended as an observer together with Mr. Kulatunga and some others from the Sri Lanka High Commission.
Author and defence analyst Rohan Gunaratne gave a lecture at this meeting, after which a member of IFSL had asked where government troops now stood in the Wanni. To which Mr. Gunaratne had replied that the High Commission's new Intelligence Chief, Major General Chula Seneviratne was the best person to answer that question. And answer he did.
This incident too was brought to the notice of High Commissioner Wickremasinghe, and Defence Secretary Chandrananda de Silva. The Defence Secretary in a telephone call reprimanded the Major General for exposing his role. The Sunday Times learns that Major General Seneviratne has been recalled to Colombo.
By this time the relationship between Mr. Kulatunga and Mr. Wickremasinghe was rapidly deteriorating. What finally nailed Mr. Kulatunga was an explosive private e-mail sent to him at the mission. The message was allegedly derogatory of Mr. Wickremasinghe, and was brought to his notice.
Meanwhile representatives from the Human Rights Group for the Victims of Terrorism in Britain have written to President Chandrika Kumaratunga, appealing that Mr. Kulatunga be re-instated.
Of the five Information Counsellors selected last year for special assignments in our missions abroad, two have failed legal action against the government.
Earlier Sugeeswara Senadhira filed action after his appointment to the mission in Stockholm was cancelled allegedly on the grounds that a book written by him was critical of government policies.
The post of information counsellor for some of our key missions abroad was created by the PA regime to counter LTTE international propaganda.
The Foreign Ministry was so concerned that it earlier wanted to give a contract to a reputed British PR firm, Manning Salvage and Lee (MSL), in 1997 to counter anti-Lanka propaganda by the LTTE.
It is now well known how MSL brought in a foreign camera crew, and produced a documentary on Sri Lanka as a destination for dirty sex. As a result MSL lost the licence to project Sri Lanka's image abroad.
With the LTTE campaigning hard in the west, it was then decided to appoint Information Counsellors, with journalists being given preference.
Last year five Information Counsellors were appointed, including one for New Delhi. But the counsellor appointed to New Delhi, Vipula Wanigasekera, was later sent to Kuala Lumpur and the post in the mission in the Indian capital remains unfilled.
The Sunday Times learns that High Commissioner Mangala Moonesinghe has objected to an Information counsellor being posted in New Delhi. He feels the good results achieved so far in countering LTTE propaganda in India may possibly be undone by inexperienced recruits.
Meanwhile, Mr. Senadhira's fundamental rights case is being heard by a three-member bench. An out of court settlement has been considered but Mr. Senadhira told The Sunday Times that no real offer had been made to him. He has asked for Rs. 2.5 million as compensation. As the recruits for these posts were raw in terms of diplomatic work, training for recruits included a one-month stint at the Foreign Office with several briefings.
They however claim they were never specifically instructed that no contact was to be made with the LTTE once posted at the relevant missions.
---
MP's secretary shot at
The secretary of a Kurunegala UNP MP was shot by unidentified persons in the Pannala Police area on Friday night and he was denied treatment at a town hospital because of alleged threats, party sources said.
Piyal Attanayake, secretary to MP A. H. M. Alavi, was later admitted to Ragama Hospital where he underwent emergency surgery.
UNP sources said the hospital staff of Sandalanka Hospital in Pannala, had received a telephone call not to admit the patient. The relatives of the patient fearing that he could be attacked again rushed the patient to the Ragama hospital.
---
More News/Comment * Canadian money buys LTTE arms * Two options for Thonda * Double pay for state bank bosses * Athas case referred to High Court
Return to News/Comment Contents
Front Page| Editorial/Opinion | Business | Plus | Sports | Mirror Magazine