Where do we go?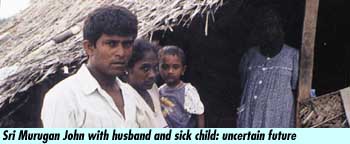 At a refugee camp in Puttalam, Sri Murugan John watches helplessly as her18-month-old son, Rasa vomits the milk he drank in the morning.
"He has been like this the whole day after I fed him breast milk," says John, cradling the frail, bare-bodied infant outside her hut at Malpura village in the Puttalam district.
As darkness falls and refugees prepare to spend another cold, dark and damp night inside their tiny homes on Poya day earlier this month, Rasa's father, Rasadurai Sivakumar is worried. "The hospitals are closed today because it is a government holiday. We can't get any medicines. I don't know what to do."
The small camp of about 30 families is located amidst filthy drains and murky pools full of water from the overflowing Puttalam lagoon, a few metres away.
Two days before, the water had flooded some homes, forcing affected residents to sleep in their neighbours' huts. Water-borne and other diseases are also rampant among the refugees.
Sivakumar's family lives in abject poverty since fleeing the fishing village of Battalanguda (off the Kalpitiya coast about 30 km away from Malpura village), which has been attacked by Tamil separatist guerrillas.
Rasa must wait till the next day for free medicine from the nearby government clinic, as his father can't afford private doctors and medicine.
Malpura is among the poorest of refugee camps in Puttalam, where up to 100,000 mostly Moslem refugees have temporarily settled since 1990 when rebels drove them from the north.
Those living in this overcrowded camp do odd jobs as coolies in more affluent households or help in small vegetable gardens, but often go days without work and depend on government rations worth a meagre 1,200 rupees per family of five per month.
"It is a hard struggle but we must survive," says John, a skeletal mother of two. Ironically John and her husband are Tamils, whose rights the rebels say they are protecting. The rebels often raid Battalanguda village, surrounded on three sides by the sea and only accessible by boat, for food and other essentials.
The fate of the Puttalam refugees is uncertain. Most live in pathetic and pitiful conditions. A few refugees, however, like Ahamed Maharoof, a retired school principal, are better off and - with no hopes of returning to their village - have even bought land in Puttalam.
"Yes, I would love to go back, but I don't think that is possible in the near future," said Maharoof, now director of a non-governmental agency helping refugees. His agency, Rural Development Fund is based in Puttalam and is helping in the rehabilitation of refugees and teaching of vocational skills.
Maharoof lived in Mannar district, further north from Puttalam, until the call from the rebels came to leave their homes and land.
Tamil Tiger guerrillas wanted Moslem residents out of the north, suspecting they provided information to government forces. But Moslems assert it was a planned strategy of ethnic cleansing to back demands that the north is the traditional homeland of the Tamils.
In recent times, the rebels have apparently asked the Moslems to return to their northern homes but refugees like Maharoof are not budging until the so-called announcement is backed by a personal message from LTTE leader Velupillai Prabhakaran, giving his guarantee that the Moslems won't be harmed again.
"Unless Prabhakaran speaks of our problem and his desire for us to return, there is no point even in considering any other appeal," he said.
Tamils and Moslems form about 18 and seven percent, respectively, of the population of 18 million, while the Sinhalese, account for 74 percent. The ratio is reversed in the north in favour of the Tamils with 81 percent, Moslems 10 percent and the Sinhalese - many of whom have now fled the north - about seven percent.
At another camp at Alankudi village, a few km south of Malpura, children cheerfully run around, playing hopscotch or with marbles, occasionally squabbling over something, while a group of elders huddled under thatched huts, discuss the future.
"I feel we are destined to stay here," says Meera Saibo Samad, a fisherman from the war-torn northeast village of Pulmoddai, who like many others, wants to return once the war ends.
"But will the war end, sir?" he asks, forlornly. There are several refugee camps listed under A, B, C, D and E categories at Alankudi, a beachside settlement, where about 350 families are grouped separately according to the northern areas they come from.
For instance Hawwa Umma, a middle-aged mother of six school-going children is in C camp, which has people from Mannar district. Reluctant at first, like most Moslem women to speak to strangers, Umma's life reveals one of drudgery and hard work.
A single mother, after her husband died of a heart attack a few years ago, Umma toils at a vegetable garden throughout the week from the crack of dawn till late evening daily, earning a measly 80 rupees a day to feed her hungry children. Her camp neighbour, Mohamed Sulaiman chokes back tears, describing how he left behind a job as a security officer in a private firm and now works as a poorly-paid coolie.
There are the fortunate few like Maharoof whose status as government servants, teachers or businessmen helped them to quickly move out of camps and into more comfortable homes, rented or purchased with their own cash. But for a majority of the 800,000 refugees across Sri Lanka, displaced by the violence, life is a struggle for bare survival.
They live in government-run camps or stay with relatives and friends, undergoing severe hardship. The government, stretched for funds, provides them with insufficient dry rations, while a sprinkling of non-governmental agencies help in other ways.