Make some room for these people
Christmas is almost here...just a few days more, but where is the spirit of the season? As a child I remember the excitement and the preparation. We were not rich, but Christmas was special. A few new clothes and the anticipation of a visit from Santa Claus.
The chill wind as people gathered in church for midnight mass. The hauntingly beautiful carols.
There was the year, as an eight-year-old, I had read Charles Dickens' "Christmas Carol" and how the impoverished family of Cratchits had only a goose and not turkey on Christmas Day. And I longed to eat turkey.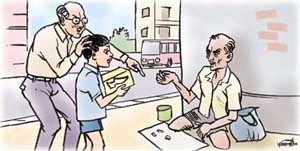 I remember, my father and mother indulging my wish and buying turkey for me and my brothers and sister at enormous cost. They must have sacrificed their new clothes to buy turkey for us, as usually we had chicken. But that was just once.
If ever we asked for something unreasonable my father would recall an oft-repeated story. As a child of 10 he had wanted a new pair of shoes one Christmas. My grandfather, a practical down-to-earth man had said he would buy the shoes for the new school year and not at Christmas. Maybe he had to await his salary at the end of the month to invest in a pair of shoes.
But my father had been adamant. He had cried and made a fuss.
The next day my grandfather had taken him to the Fort, and my father had gone happily, in anticipation of his new pair of shoes. They passed several shoe shops, but my grandfather had not walked in. Up Chatham Street, he had stopped, with my father in tow. Pointing to a youth begging for coins from Christmas shoppers on the street, my grandfather had taught one of life's hard lessons to my father, when he said:
"You're crying for a pair of shoes, but that man doesn't have legs."
A lesson learnt forever. Yes, we long and yearn for so many things and we teach our children to do the same.
And for most of us Christmas is the time to go on a binge, not only on food but also on toys and clothes. It seems as if Christmas is synonymous with materialism.
A casual glance at the advertisements and one gets the feeling that Christmas is only for those with money. Take children's parties. Yes, I do agree that Christmas is enjoyed most by children, but does this mean that the simple joys of childhood can only be gained by expensive tickets for "kiddies' parties" organised by five-star hotels or international fast food chains, where a whole lot of spoiled brats who don't even know each other — the only link being their parents' vulgar riches — come in their garish finery to experience "Christmas".
The other day, the organisers of a family Christmas party at one of the schools in Colombo, had requested parents to pay Rs. 50 for a small gift for each child to be distributed by Santa Claus.
One mother had scornfully queried, "What are you buying for Rs. 50. I will not bring my children to this cheap party, but will take them to this ...... hotel."
Is Christmas only for the rich? I ask once again. Don't we realise that for most children the price of the toy is irrelevant. I find that my five-plus daughter and two-year-old son are happiest when playing with knick-knacks — a broken doll, a few sticks, small chipped pots and pans, pieces of paper, bitten-off pencils. That's what they treasure, though the clutter annoys me sometimes.
What happened to the good old family gatherings at Christmas, where generations meet, exchange small gifts, have a little cake and wine and a delicious lunch, laugh over the past and try to predict the future.
Isn't that what Christmas is all about — warmth, love, caring, sharing... family reunions and fond memories? Not only getting, but also giving.
The celebration of the birth of baby Jesus — in a manger, covered only in swaddling clothes, with only cows and sheep for company — around the world, so many years after should get us thinking. What is the message?
To whom did the angels first deliver the good news that Christ was born....to the humble shepherds. Just pondering about the nativity brings about a revelation. The only "wealthy" people who visited baby Jesus were the three kings or wisemen. Everyone else was from the poorest of the poor, and the place of birth should give us a clear message — a manger with all those cattle and sheep, the lowliest abode one can choose.
Why? Wasn't it because He came for the poor, the humble, the sinner and the distressed. People who had nothing. That's why the message of Christmas seems to be so poignant. Therefore, as we rush around buying gifts and making the final preparations for Christmas, let us spare a thought for the have-nots.
When buying an expensive toy for our children, let us think of the thousands of children who don't have one square meal a day. Then maybe we would buy a less expensive gift for our fortunate children, and give a little something to another who is not as fortunate.
Then we would be making room in our hearts for those whose faces depict the face of baby Jesus — the little beggar child with hardly a rag to cover her frail body, the woman road-sweeper who cannot make ends meet with her hard-earned wage, the man with one leg who stands at the streetcorner.…