---
Nuke in the neighbourhood
India offers to negotiate CTBT on its 'own terms' as testing series is complete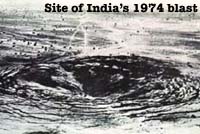 Even as international sanctions were an nounced, India on Wednesday conducted two more underground nuclear tests at the Pokhran range, completing its planned exercise begun Monday last, and offered to negotiate the Comprehensive Test Ban Treaty (CTBT) on its own terms.
The sub-kiloton tests, carried out at 12.21 p.m., were of the low-yield variety, meant for weapon calibration. They were the most difficult of the tests conducted so far, experts said, as they involved using the least amount of fissile material to gain the maximum impact.
With the successful conduct of these tests, India has caught up with the nuclear weapons powers, as it now has all information and data enabling it to conduct computer-simulated tests not barred under the CTBT in its present form, sources in the government said.
India, they added, would like to be "recognised" as a nuclear weapons state by the Big Five, giving India the respect and responsibilities that go with that status. "The tests have been carried out to generate additional data for improved computer simulation of designs and for attaining the capability to carry out sub-critical experiments, if considered necessary. The tests were fully contained, with no release of radioactivity into the atmosphere. This completes the planned series of tests," an official release said.

As adverse reaction came in from various world capitals, Prime Minister Vajpayee presided over a meeting of a high-powered committee that took stock of the situation. Despite the imminent sanctions, the meeting took the view that the situation was "not alarming," sources in the Prime Minister's Office said.
That India was confident of coping with the likely impact of the sanctions was clear from Mr Vajpayee's remarks to newspersons at his residence when he said that the country was ready to face economic sanctions. He hoped that the "friendly countries" would not resort to sanctions, adding: "If they do, we are prepared."
"A lot of thought has gone into the action and we are not trying to be populist. The security of the nation was topmost in our mind. We did not take this step to threaten anybody," the Prime Minister said.
Mr Vajpayee maintained that India "believes in a nuclear-free world but it cannot be discriminatory or one-sided," and the country does not accept the argument by some nations that they alone have the right to protect themselves.
A big leap
Not only is the testing of the two sub- kiloton nuclear devices military-spe cific, but it marks a significant technological leap as it now provides the armed forces with the choice of having a wide array of lethal tactical nuclear weapons arsenal, senior Indian defence ministry officials said. The testing of sub-kiloton - less than 1,000 kg - devices has demonstrated India's capability to miniaturise nuclear bombs, thus providing for both greater flexibility and capability for the manufacture of an arsenal ranging from 500-kg to 1,000-kg nuclear warheads for the Prithvi and Agni missiles; nuclear-tipped precision guided munitions (PGMs) for fighter aircraft; nuclear-tipped artillery shells; specialised demolition devices for use by special forces; and submarine-launched missiles, sources said.
Preparations for carrying out a series of nuclear tests had been on for more than a year and was not an overnight development. A Bengal Sapper Army engineers regiment had been engaged in drilling tunnels, digging underground pits and other construction activities for more than a year to facilitate the testing. Personnel of this regiment had been restricted and they were authorised by the headquarters for any equipment and resources on a no-questions- asked basis.
Unedited version of the above stories can be viewed at the Times of India, online edition, May14, 1998
---
Radio activity tests should have been done

Dr. Granville Dharmawardena, Director, Radio Isotope Centre, University of Colombo and consultant to Monash University on Nuclear Radiation Safety speaking to The Sunday Times said that the nuclear weight of the weapon tested on Monday amounted to 50-100 kilotons, whereas the bomb that destroyed Hiroshima was only 12-13 kilotons. As a scientist, Dr. Dharmawardena said, he opposes the nuclear tests conducted by India.
"They should not have done it," he said.
However, Dr. Dharmawardena said there was no independent verification of the nuclear testing. "We have only the Indian government's word to go by. We don't know if their claims are 100 percent true and if the tests were as successful as claimed."
Dr. Dharmawardena said that there should have been air radio activity measurements done here in Sri Lanka by the Atomic Energy Authority to detect any rise in levels of radio activity in our atmosphere. He said that whatever radio activity in the atmosphere would be carried with the wind direction.
He added that if the tests were done 2000-3000 feet underground, there was little chance of radio activity escaping into the atmosphere. At that level, he said, an atomic explosion would just carve out a large hole by melting sand, stones and rock of something like 100 feet diameter. There will be a large hole created underground with radio activity. As long as this is contained and not released to the atmosphere, it is generally regarded to be safe.
---
More Plus * Koslanda: Same story
Front Page| News/Comment| Editorial/Opinion| Business| Sports | Mirror Magazine