---
Lankan Perine here with top models
By Yvonne Gulamhusein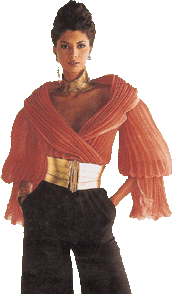 Paris is the nerve centre of the fashion world where the best established names present two annual Haute Couture and Pret a Porter- shows - The spring/ summer and autumn/winter collections.
On the ramps of Paris, Milan and New York, super models work round the clock with very little time between showings. Coming into this star-spangled category is Perine Fernando, the Sri Lankan model.
Every spring and fall when the Collections appear in the cities of Milan, Paris and New York, arbiters traffic opinions. The media, like bird-watchers on the lookout for anything with wings, go from show to show to find amidst the more than 200 Collections, a flurry of ideas that can migrate out into the great beyond. Speaking a language of their own, a kind of advanced dialect of 'fashionese' peppered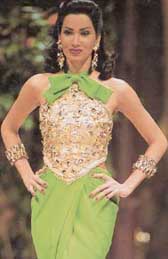 with terms such as ruching, shirring, drawstrings, ruffles and fringes they monitor each event.
Paris Designer Showings take place throughout the day at different locations. Yves Saint Laurent, in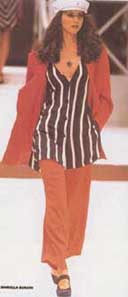 my view, the best of them all presents his creations in breath taking settings. The auditorium is always packed to capacity and no one would think of missing his glittering show. The models who take to the ramp in his fashion collection consider themselves privileged. The show is by invitation only.
Showings are most always accompanied by parties. At times breakfast comes with champagne and croissants and there are also midnight buffet dinners - where one could meet with designers and models. At one of these I met Perine Fernando with other models smartly dressed in casual clothes and we had a delightful exchange about Sri Lanka and fashion shows.
And now YSL is to be on the Colombo ramp.
"Mode de Yves Saint Laurent" comes to the Colombo Hilton on Sunday May 24. This gala dinner fashion show will be presented at the Serendib Ballroom with a beautiful collection of dresses by this master of fashion. Perine Fernando leads YSL's team of 10 models from Paris. A repeat theatre-style show is on May 25.
---
A stunning revelation
By M.T.L. Ebell
The next few weeks passed in a whirl. The arrangements for the May Dance progressed smoothly. I could work again with Rouanne back to help me. I think she welcomed the extra activity. She was silent a lot of the time, but she worked very hard. If she had any spare time left she would go off to the Dean's house. She spent a lot of time with Mrs. Dean. I felt a bit hurt that she didn't talk as much to me, but then I was very busy too. The only problem was that she and I did not get enough free time together, no not even when drinking our milky coffee at night, for me to tell her about my speaking to Mike. Anyway, it's virtually what she advised me to do earlier, so I felt encouraged by that.
Soon, the day arrived. The hall looked very impressive. All round the walls were festooned with gay streamers and clusters of balloons and paper flowers. Across the main doorway was a large banner. At the two edges we had collages of couples dancing. In the centre was the legend *MAY v DANCE*. I thought that we'd made it too corny but everyone else loved it. Mike was on the Food Committee and I hardly caught a glimpse of him for a good two hours. Feeling disgruntled I stepped out onto the balcony and plonked down on a seat there. I was in the shadow and felt it suited my mood. I had made big decision, yet how could I carry it out if I didn't even see Mike?
"1 never even see you outside lecture room! I can't go on like this!"
I froze.
Unfortunately, it wasn't Mike "desperately seeking Susan" but Manny speaking vehemently to Rouanne. I didn't catch her reply to which Manny said, "I know we agreed to a two year separation, but it's not necessary to stick to it now, is it? I knew, before the first month was over, that we had made a big mistake."
"That's why I arranged a transfer here. Almost bribing Hardcastle to take part in this transfer programme. He didn't retire, you know."
"I know, you told me already. It's not that. I know we made mistakes. However difficult my father was to us, we were married and we should never have agreed to his master plan to lead separate lives for a while to find out if we wouldn't be happier permanently apart. I can't imagine how pig-headed we both were not to have realised that."
"We are married."
I very nearly rolled off the seat. I realised that I shouldn't be there, hearing this but I'd eavesdropped too long to go away now. I shrank back and listened. I couldn't help myself Rouanne and Manny married! How had they hidden it for so long?
''I don't know how we've hidden it for so long," Rouanne said. "What did we hide? We never met, never spoke alone. Never were alone!" "That's the only way we could keep up the . . charade or whatever you may call it. I'm glad I went back home. My father was very weak but we were able to speak a lot. At least I was able to speak to him. He had to listen. I think he was sorry, in fact he told me he was. He called himself a warped, jealous old man. He couldn't keep me forever but he couldn' t bear to share me. He was sorry he couldn't make up with you too, but he told me he'd written to you."
"He'd sent it to the States. It arrived here on the day I returned. I read it after I rang you."
"You haven't told me what he said."
"Much the same thing. He asked me to forgive an acid old man, pining for his wife and clinging to his daughter. He asked me to take care of you if that's what you want."
"Oh, it is." She put her hand on his chest to hold him away. "But not now, not here. I can't suddenly change from being 'Rouanne' into a married person. I just can't! It all seems so melodramatic somehow. We'll have to wait. Not for the whole two years but at least until the Examinations are over. Will you wait until then?"
I could not see Manny's face but his voice was rueful. "All right," he said, "until the Exams are over. We'll invite them all to dinner and we'll tell them."
They went back in. After a dazed moment I rose to follow. The noise hit me as I entered the room. The floor was crowded with dancers and I lost sight of my best friend - and her husband! This was the hottest news I'd come across. I was dying to shout it out to everybody. Maybe I could go up to the bandstand and announce it over the sound system. They could wait, but could I? Would I?
Someone pounced on me. It was Mike. "Let's dance" he said . He looked different, very happy and excited. "I want to talk to you, but not here. It's too noisy.
Will you meet me at the Pub tomorrow evening? Please say you will. 8 o' clock okay? Then let's dance.''
I lost myself in a rosy dream about what he would tell me tomorrow. I decided not to confront him today. He was right, it was too noisy. And I was happy that he seemed to be taking the initiative.
I wouldn't say anything to anybody about Rouanne and Manny. Right now all I could focus on was tomorrow,( or was it today?) 8 pm!
(to be continued)
---
Only love will last
My darling daughter,
I was watching the little boy next door taking great pains to build a Vesak lantern, and my mind went back to that time when you spent a hour designing and crafting a lantern. How much of effort you put into it, and when it was finished you were not happy till we hung it on the highest branch of the mango tree. I can yet remember how you came rushing, in the evening to light the lantern and the hours we spent watching it swaying gently in the wind, casting its soft glow on our upturned faces and on those who gathered to gaze in wonder at your beautiful lantern.
But that night it rained and the wind blew strong, the next morning I heard you crying and sobbing - your beautiful lantern was only a mass of twisted bamboo reeds and torn soaked paper. I tried to hush you, but you were so disappointed. To your little mind it appeared as if the very Master whose story you had woven into the lantern had let you down. Ultimately to quieten you I took you to the temple and the old monk wiser than all of us spoke to you gently. Can you remember what he said those many years ago? He recalled the stanza said when offering flowers and reminded you that even as the beautiful flowers perished, so too would our bodies. In the same way he said the broken Vesak lantern taught the lesson that nothing we build for ourselves in this world would remain. What will last is the love and compassion we show to others. I can yet remember how wide-eyed you gazed at him and seemingly accepted what he said.
Today myself old and weary, I watched the little boy next door, and I thought of how right that old monk had been.....I hope daughter, that when the world with all its many attractions, ambitions, joys and successes tempts, you will remember the torn broken Vesak lantern and the words of that old monk so many years ago.
– Ammi
---
More Mirror Magazine * Way to go Sanath * Colouring your hair
Front Page| News/Comment| Editorial/Opinion| Business| Plus |Sports