India draws closer and pledges 'full support' to Sri Lanka
View(s):
External Affairs Minister's visit produces positive results; New Delhi gives momentum for Lanka's request for IMF assistance
Fresh talks with Tamil parties; President gets much-awaited invitation to visit India
Nominations close for local polls; Elections Chief announces March 9 for local polls, but raging debate on whether the event should be held due to financial constraints
By Our Political Editor

India appears to have bolstered Sri Lanka's economic and political sectors reviving new hopes for an earlier recovery.
The stock market rose to buoyant levels, as a missive from New Delhi to the International Monetary Fund (IMF) confirmed willingness to extend financial assurances and resurrected an ethnic reconciliation programme that was virtually dead before birth.
All this was the result of the two-day visit to Colombo by External Affairs Minister, Subrahmanyam Jaishanker. He and an official entourage were going back to New Delhi after a visit to the Maldives when they stopped over in Colombo.
Last Monday, (January 16), India formally confirmed directly to the IMF that it was willing to give financing assurance. This is a milestone for which Ranil Wickremesinghe will want to take credit, and justifiably so.  That a great deal of diplomatic efforts had gone into it behind the scenes is little known. Indian confirmation was sent by Rajat Kumar Mishra, Additional Secretary, Department of Economic Affairs, Ministry of Finance, in a letter addressed to IMF Managing Director Kristalina Georgieva. A copy of the letter was released in Colombo days ahead of the visit of External Affairs Minister Jaishanker.
"We hereby confirm our strong support for Sri Lanka's prospective EFF (Extended Fund Facility) supported programme and commit to supporting Sri Lanka with financing/debt relief consistent with restoring Sri Lanka's public debt sustainability under the IMF-supported program and ensuring that the programme is fully financed as projected by IMF staff. This financing/debt relief will be provided by Export Import Bank of India," India said.
Japan and the Paris Club have already confirmed their willingness to give financing assurances. The Chinese Government is likely to follow suit latest by mid-February or it could be as early as the end of January, according to well-informed sources. Once the Chinese assurance is confirmed, Sri Lanka will reach out to the IMF Board for approval for the EFF. The board approval will follow within the next four to five weeks. The first tranche of the $2.9 billion will be released immediately thereafter. This is likely to come by the end of March at the earliest but could possibly be dragged into April, these sources said.
This will enable Sri Lanka to reach out to multilateral lenders like the World Bank and the Asian Development Bank. There is potential for a total of $5 billion to $6 billion that could be generated from these multilateral lenders.
Re-accessing capital markets will take another 12-18 months after debt restructuring. The terms of the debt restructuring could be negotiated over the next six to nine months, post EFF, these sources added. Although a legal suit was filed by a collection of private creditors, they have now indicated that they are willing to take a haircut if an agreement can be expedited.
An ambitious ethnic reconciliation programme, touted as one that would be finalized by February 4, the anniversary of the country's 75th year of independence, it did not materialise. On January 10, Tamil political party leaders delivered an ultimatum that the government should heed the demands they had put forward or face a boycott by them.  Their contention was that the President was empowered to do so, and no new legislative measures were necessary. President Wickremesinghe, who was in Jaffna on the Thai Pongal day, however, declared that the 13th amendment to the Constitution would be fully implemented in the next two years. Heavy security surrounded his visit. Women whose next of kin were missing hurled buckets of cow dung mixed with water at the Police. Security personnel formed a human chain with their uniforms drenched. They grinned and bore the humiliating experience  with little or no reaction. If President Wickremesinghe had told Tamil political parties on January 10 that he would have Justice and Constitutional Affairs Minister Wijeyadasa Rajapakshe respond to their demands by January 17 (Tuesday), it did not materialise. In effect that meant that the talks have broken down. This is how the change came about.
In the wake of Minister Jaishankar's visit, a telephone call went out on Thursday from the Presidential Secretariat to Tamil National Alliance (TNA) spokesperson Abraham Sumanthiran. This was inviting the TNA for a discussion on Friday afternoon. That was a resumption of the talks for reconciliation. Quite clearly, the Sri Lankan side knew this was an issue which Jaishankar would raise, and an answer was ready at hand – that the talks were resuming on Friday afternoon.
TNA leader Rajavarothayam Sampanthan and Sumanthiran were locked in talks with President Wickremesinghe for an hour at the Presidential Secretariat on Friday afternoon. Taking part were Foreign Minister Ali Sabry, newly sworn in Forestry and Wildlife Minister Pavithra Wanniarachchi, Fisheries Minister Douglas Devananda and a team of senior officials. Minister Wanniarachchi was directed by President Wickremesinghe to prepare a Cabinet Paper to obtain ministerial permission to release private lands confiscated by the Wildlife Conservation Department immediately. Among the other important decisions taken were:
Five of the prisoners now being held without charges will be released on February 4, the 75th anniversary of independence.
Ten other prisoners against whom charges have not yet been filed will be released once the Attorney General's Department prepares the required documents.
The implementation of Land and Police powers will be devolved to the provinces.  This is when a Land Commission is set up.
Of the ten, nine Deputy Inspectors General will be assigned to be managed by each Provincial Council. The remaining one will be for the Colombo Metropolitan area.
Once these are carried out, other matters relating to devolution and constitutional changes, discussed earlier, will be resumed.
As was expected, Jaishankar did emphasize during his talks with President Wickremesinghe on Friday that the government should "fully implement" the 13th Amendment to the Constitution. Not surprising when this amendment came about at the intervention of then Premier Rajiv Gandhi's government. It was considered as an instrument of devolution and mooted after the July 1983 ethnic violence. Jaishankar, who was backed by Indian High Commissioner Gopal Baglay and officials from New Delhi, also made clear that Provincial Council elections should be held as "they are critical for devolution and stability."
An equally significant matter is the invitation from Indian Prime Minister Narendra Modi. It was delivered to President Wickremesinghe by EAM Jaishankar. The fact that he was keen to visit New Delhi since assuming office has been the focal point of attention by the Colombo-based diplomatic community. Foreign Minister Ali Sabry is still a novice, and government circles are saying that all credit should go to Milinda Moragoda, Sri Lanka High Commissioner in India, for working hard towards a Wickremesinghe visit to New Delhi. Consultations are under way for deciding on a date.
A diplomatic source said, "India's actions are a faithful reflection of the economic challenges Sri Lanka was facing and its commitment to help. India has so far poured in four billion dollars. This clearly signals India is with Sri Lanka."
Jaishankar met with Tamil political party leaders at India House, the official residence of the Indian High Commissioner, at Thurstan Road. He also met with the business community to speak on the need for enhanced growth. This week, both India and Sri Lanka agreed to increase ceilings prescribed in the High Impact Community Development Project (HICDP) framework agreement. It was originally signed in May 2005 and, among other matters, envisaged "…… 21 projects covering all provinces viz., Northern, North-Central, North-Western, Western, Southern, Central, Uva, Sabragamuva and Eastern Provinces of Sri Lanka. They include construction of primary schools and colleges, vocational training institutes, universities, hospitals, rural sanitation, cultural heritage, rainwater harvesting, social housing for poor, agricultural warehousing, tourism, and civil aviation infrastructure support.
"The HICDP scheme has been designed to contribute to the developmental aspirations and needs of Sri Lanka. The projects undertaken are always demand-driven and entirely based on the requirements of the Government and the people of Sri Lanka. Further, all overheads and administrative costs for implementing these projects, as indeed any other projects under the Government of India grant, are absorbed separately by the Government of India and are not included in the project outlay. The scheme is entirely on-budget and implemented through various line Ministries of Sri Lanka, thereby indicating the depth of our development cooperation with Sri Lanka. HICDP reflects the abiding commitment of India to work closely with the Government and people of Sri Lanka for shared progress and prosperity."
Nominations closes; polls announced for March 9
Jaishankar's visit came amidst the raging debate on whether the local council elections could be held. Nominations called for by the Election Commission ended at noon yesterday. Election Commission Chairman Nimal G. Punchihewa, has already declared that a date for elections will be March 9. This is whilst the Regulation of Election Expenditure Bill was passed in Parliament on Thursday by a majority of 61 votes amid accusations by the opposition that the government was attempting to use it to delay the elections.
The bill was passed by 97 votes to 36, after Chief Opposition Whip Lakshman Kiriella asked for a vote. The Samagi Jana Balawegaya (SJB) and National People's Power (NPP) voted against the bill. They were joined by Prof. G.L. Peiris, Dullas Alahapperuma and Weerasumana Weerasinghe, who are part of the recently formed National Freedom Alliance composed of former coalition partners of the government.
The opposition demanded a vote after Justice Minister Wijeyadasa Rajapakshe rejected an amendment moved by the opposition noting that provisions of the Act shall not apply to elections proclaimed before its enactment.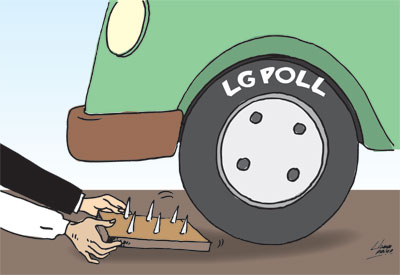 Opposition parties claimed the amendment was needed to ensure that interested parties cannot go to court to stay the conduct of the local elections on claiming that it was being held in violation of the new Act. The government argued such an exception was unnecessary.  The three petitions – two of them seeking a Supreme Court order to hold elections and another not to hold elections – have been taken up by the Supreme Court and hearings continue.
Finance Ministry Secretary Mahinda Siriwardena has filed an affidavit in connection with the petition filed by Colonel (Retired) W.M.R. Wijesundara. The affidavit states that the Treasury would find it extremely difficult to raise the funds for elections at this moment.
The affidavit mentioned that monthly the government requires Rs 90 billion for salaries and another Rs 28 billion for pensions and Samurdhi payments. Another Rs 28 billion would be needed for medicines, fertilizer, and essential items monthly. However, earlier Saliya Peiris, PC appearing before the Supreme Court on behalf of the Election Commission in respect of two other petitions assured that all arrangements were underway to conduct the elections.
The petition filed by Col Wijesundara will be taken up on February 10 while the other two petitions will be taken up on February 14. One of the petitions has been filed by SJB General secretary Ranjith Madduma Bandara and Prof G.L. Peiris while the other has been filed by MPs Dayasiri Jayasekara, Lakshman Kiriella, M.A. Sumanthiran and Anura Priyadharshana Yapa.
A formidable section of the government is opposed to the conduct of the local council elections. They cite the lack of funds due to the ongoing economic crisis. However, their opposition critics claim that they were fearing a total defeat and therefore did not want to have the elections. On Friday, Finance State Minister Ranjith Siyambalapitiya, held a news conference to explain the government's position. Edited excerpts of what he said:
"Through the past year's budget proposals, the government tried its best to stabilise the economy. It is still a challenge for the Treasury to settle essential expenses. Sustainable solutions should be found gradually. Political stability is an essential factor for that. We are trying to find solutions and relief for the inflation that has affected people to some degree. Fertiliser and the purchase of paddy from farmers need to be given attention. We are giving all this relief during a time we are even unable to pay salaries for state employees. The IMF relief and the political stability would greatly help to provide more relief and allow economic growth systematically.
"Within such a period it is very difficult to go for an election as it would be an extra expense on providing infrastructure. It would greatly upset the economic situation. It is clear it is not the time to have such an expense. The Treasury does not have funds to at least cover the necessary expenses. Therefore, thinking of ways to cover future expenses too is an issue that needs to be resolved.
During 2022, the whole expenditure was Rs. 2,124 billion, and 66 percent of the expenditure or Rs 1,415 billion was on salaries, Samadhi, and pensions. During the same year we had to bear debt payments of Rs. 2,873 billion. However, the income was Rs 1,958 billion. The shortfall was financed by state debt. Through those loans Rs. 2,026 billion was obtained by treasury bonds.
"As the government's income is not enough to cover the expenses, the dates for the essential expenses and the dates of main income flowing to the Treasury are also some of the main issues faced when managing the Treasury. We do not know when they come.  To control the situation, new circulars on reduction of non-essential expenses/slashing expenses and directives are being sent, and actions taken to make the essential payments such as salaries during days that government receives payments; but pensions, samurdhi and other social protection payments on the scheduled day, maximizing of state income collection, providing health, security services and medicines and fertilisers in the least essential amounts."
There will no doubt be many a historic moment in this year when Sri Lanka marks the 75th anniversary of its independence. One cannot forget that whilst efforts are being made to resolve some issues, others that are lingering due to mismanagement, like for example the daily power cuts, continue. That it could increase in a year when the country's 75th year of independence is marked is causing more fears to the people.
More funds and staff for secretariat investigating alleged human rights violations in Lanka 

A development that will have an adverse impact on Sri Lanka came last Monday (October 10 last year).  Johannes Huiesman, Director at the Office of Programme Planning and Budget Division of the United Nations, wrote to Human Rights Council Secretary Hui Lu explaining the budget implications arising from draft resolution A/HRC/51/L.1/Rev.1 of the Human Rights Council.

Huiesman explained that primarily, to implement the mandate of the two key Operative Paragraphs, OP8 and OP19, the Office of the High Commissioner for Human Rights (OHCHR) will need 16 staff and their related expenses, which will cost USD 6.092 million over the next 24 months to September 2024.

1. Under the terms of operative paragraphs 8 and 19 of draft resolution A/HRC/51/L.1/Rev.1, the Human Rights Council would:

(a) Recognise the importance of preserving and analysing evidence relating to violations and abuses of human rights and related crimes in Sri Lanka with a view to advancing accountability, and decide to extend and reinforce the capacity of the Office of the High Commissioner to collect, consolidate, analyse and preserve information and evidence and to develop possible strategies for future accountability processes for gross violations of human rights or serious violations of international humanitarian law in Sri Lanka, to advocate for victims and survivors, and to support relevant judicial and other proceedings, including in Member States, with competent jurisdiction (OP 8);

(b) Request the Office of the High Commissioner to enhance its monitoring and reporting on the situation of human rights in Sri Lanka, including on progress in reconciliation and accountability, and on the impact of the economic crisis and corruption on human rights, and to present an oral update to the Human Rights Council at its fifty-third and fifty-fifth sessions, and a written update at its fifty-fourth session and a comprehensive report that includes further options for advancing accountability at its fifty-seventh session, both to be discussed in the context of an interactive dialogue (OP. 19).

Interestingly, Huisman wrote on March 22, 2021, in relation to the then resolution 46/1 that the OHCHR will need only 12 staff for the next 18 months and their related expenses were to cost USD 2.856m. The 5th Committee at the UN General Assembly cut the budget by some 0.75m requested for that implementation. This cut was to be applied to the nine months of 2022 budget allocation.

However, in this new budget request for this 51/L1/Rev1, a further USD 0.567m has been allocated for the remaining three months of 2022. This will wipe out the suggested cut that was made against the budget for 46/1.

This new budget request allocation is as follows: 2022 (next three months) USD 0.567m, 2023 (12 months) USD 3.398m and 2024 (nine months) USD 2.127m, totalling a staggering USD 6.092m.

Travel cost included in this budget request is as follows:

2022

One trip of 5 working days within Europe by two staff for information collection.

2023

One trip of 5 working days within Europe by two staff for information collection.

One trip of 5 working days to Colombo by three staff for awareness raising and information collection.

One trip of seven working days plus weekend to a regional location to be defined by two staff to organise and participate in consultations with victims and information collection.

Two trips of five working days to Sri Lanka by one staff to hold consultations in preparation for the oral updates, written update to the HRC.

2024

One trip of 5 working days to a regional location to be defined by two staff for information collection.

One trip of 5 working days to North America by two staff for information collection.

One trip of seven working days plus weekend to a regional location to be defined by two staff to organise and participate in consultations with victims.

One trip of 5 working days to Sri Lanka by two staff to hold consultations in preparation for comprehensive report to the HRC.

These lists give details of travel to Sri Lanka by various staff at various points in the next 24 months and some of these are to collect information. It is not clear whether the visits include evidence gathering.

Other costs include Satellite images/analysis and commissioning with UNITAR/UNOSAT (one in 2023 and one in 2024). This is clearly to collect, analyse and save evidence of satellite images obtained during the height of the war.

UNHRC requested amount was approved on December 30 last year by the UN 5th Committee.

Sri Lanka's Permanent Representative to the UN, Mohan Peiris said that the government was surprised that staggering additional funding is being sought to implement a UNHRC resolution. He expressed his objections to the 23rd plenary of the 5th Committee.

The ongoing investigations will lead to several member countries of the UNHRC imposing sanctions on those against whom there is fresh evidence gathered. The Sri Lanka High Commission in Ottawa (Canada) was unable to prevent sanctions being imposed on two former presidents and two former military officers though the measures, at least where the military officials, were long coming.
Buying or selling electronics has never been easier with the help of Hitad.lk! We, at Hitad.lk, hear your needs and endeavour to provide you with the perfect listings of electronics; because we have listings for nearly anything! Search for your favourite electronic items for sale on Hitad.lk today!