Studying Inside a Noisy Factory
View(s):

Recently, I heard a true story about a labourer whose daily income was only thousand rupees (Rs.1000/=), out of which he had to spend six hundred rupees (Rs.600/=) on fuel for his motorbike so that he could get to work and go back home. All he had left was four hundred rupees (Rs.400/=), which he had to use very carefully as that was all he had to feed three meals for his family of four members. I was shocked. Also, I realised that this exhausting situation applied to each and every one of us. Life has never been this challenging to us Sri Lankans ever before.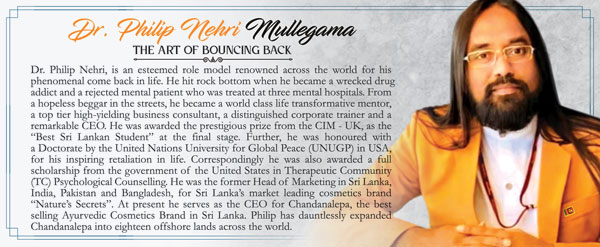 Nearly five million Sri Lankans are currently in need of food assistance. A recent research revealed that 86% of households are using coping mechanisms such as reducing the food intake and skipping meals. Amidst such a chaotic situation, I would like to encourage you to set your focus on your ultimate dream even though the current situation may be too bad and sad. If a student sets a goal to enter the university but he's compelled to study in a very noisy factory, he is left with just two options: First is to simply give up his dream of getting into the university and settling for less. The second option would be to hang on to his dream courageously and commit hard towards it however much the surrounding is noisy.
Yesterday, I called a trishaw to go from my place to Moratuwa. The driver was amazed to see someone walking out of a beautiful mansion  where two luxury jeeps are parked, yet I opted to go by trishaw. I have no issue at all, as my intention is not to seek the acceptance of the society but to drive towards my dreams. We have decided to save money in every possible aspect and ignore pride, status and our lifestyle in order to focus on our vision.
In life we go through situations that are completely out of our control that there is nothing much we can do to change it overnight. Yet, there is one thing we all can do and that is to change our strategy and mentality in fighting against it until we reach the desired destiny. Three of my Managers have been realistic enough to leave their vehicles at home and come to the office by train. It may look as though you are losing the comfort of your earned lifestyle yet, what is more important is not your temporary comfort or maintaining your life's standards but sticking to your original dream so that you could drive towards them however much the situation may get tough.
Many people have been living in a dream world far beyond their capacity and they have been awoken all of a sudden. People laughed at me when I started my life for the second time and attended CIM classes with the youngsters. I was so determined that I ignored all the voices that surrounded me and focused and glued myself to become the best in Sri Lanka in CIM- UK. Obviously, there were so many external and internal distractions, there were even a countless number of thoughts that kept telling me from within that it is too late to start and I have got nothing it takes to get where I want to go. It was simply similar to studying inside a noisy factory.
You should never allow the enemy known as discouragement and disappointment to invade your mind at this turbulent time. Me and my wife were to deploy some big plans, but this economic crisis has made them seem so unrealistic. Yet, we are determined to pursue them together even though we might get a bit delayed. We will certainly not waver away from our original vision, we would rather alter the mission by hanging on tight until the storm ceases. No storm would last forever. Winter has its own time span, so does Summer. So, the current situation also has its own life span, even though it may take two years or so, let us hang on tight and fight hard without losing hope  till the end.
I thank God that it is us who are at the front end of the battle and not our children. Therefore, let us battle with a courageous frame of mind so that our children will have a better future. If you grant permission for discouraging and disappointing thoughts to invade your mind, those thoughts will sicken your mind. Just as a powerful virus can knock you down physically, so can discouragement knock you down mentally. If you are knocked down mentally then the battle is over. Therefore, the most important thing at this juncture is to safeguard your mind. Vaccinate your mind with encouraging thoughts. Encourage yourself by reminiscing the battles you have fought and won in history. Recall how your parents battled when you were small and how they gifted you a beautiful life.
My father hailed from a poor family, but he completely turned over the destination of his generation by fighting hard. He did not receive anything from his parents when he started his life. He was living on rent at Kandawatte, Nugegoda. My father fought life so strongly that he went on to build three houses of his own. He was a courageous man who never gave up. Even though he had nothing in his hands he was strong, courageous and determined to do good for his children. Therefore, refuse discouraging thoughts and reject giving up thoughts. It is better to attempt to climb the tree and pluck some fruit for your family than dying underneath the tree without even trying.
Discussing about politicians is not going to do us any good. It is as though we are just letting a wound bleed whilst we keep shouting at the person who knocked us down with his vehicle instead, we must go to a hospital to receive the required treatment so that we could save our lives. Corrupt politicians will reap what they sow. I have seen the ending of many politicians who have not even been able to get their complete bodies into a coffin. Some who obtained so much power and wealth have lost their mind today and are urinating everywhere in their own beautiful mansions. They will surely reap what they sow. There is no way that they could reap sweet potatoes by planting climbing – lily (a poisonous plant in Sri Lanka widely known as Niyagala). Therefore, let us no talk about them, as it consumes our valuable time unnecessarily whereas we could utilise that time to fight our battles courageously.
Be quiet for some time before you approach the noise, focus on your original plan firmly. All that your enemy wants is to panic you. You cannot study inside a noisy factory unless you make your mind calm and quiet and surrender it to your final objective. You must surrender the noises to adapt to your vision, if not your beautiful vision will surrender itself to the noises. I am consistently determined to maintain my focus. There may be times we may drift away when the noise is too loud and strong but we must make sure that we turn back towards our vision swiftly, failing which all this little little drift aways will lead us to a desert where there is no hope and no life.
Many wallow in murky depths as a result of not getting the correct alignment of "What I Want based on What I Have". This is the reason I said these catastrophic situations have become an eye opener to many that it has pushed them down to understand the reality. Let us train our children to live within their means and seek triumph rather than living beyond their means just to seek the attention of the outside world. Remember one thing, when you are lost no one will come to assist you, not because they are bad but because they also have plenty of their own issues on their plates.
All of us should have begun cultivating vegetables in our home gardens a long time ago. Sometimes we do not understand the value of medicine until we are wounded. Therefore, let us contribute towards a fresh thought revolution in this country, so that our children will have a prosperous Sri Lanka where they will be able to give to the world even though we their parents are begging from the world today. In conclusion of this article I would like to remind you to "Determine to study even in a noisy factory until you achieve your goal".
For comments: e-mail –
philipnehri@chandanalepa.lk / voice – 0779 526 496        
HitAd.lk is the best and biggest mobile phone market in Sri Lanka, and we guarantee you will find what you need here from our extensive listing of mobile phones for sale in Sri Lanka. Whether it's a budget-priced smartphone for communication, or higher end features with advanced connectivity, there are many different options from which to choose from on our site!