Bright IT grad Chameera does Sri Lanka proud
View(s):

Chameera De Silva is a final year student studying Bachelor of Software Engineering at the Asia Pacific Institute of Information Technology (APIIT) who is studying for " Emerging Technology" has done Sri Lanka proud by getting selected as a finalist for the 18th International Wireless Communications and Mobile Computing Conference (IWCMC 2022) in Dubrovnik, Croatia where he presented his research on "Performance Analysis of Machine Learning Classification Algorithms in the Case of Heart Failure Prediction". Earlier this month, he was a finalist at the Advanced Analytics Symposium organised by Octave on May 20, 2022 sponsored by the blue chip company John Keells-IT

Top IT Graduate Chameera De Silva of APIIT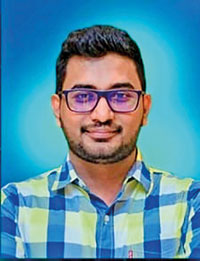 APIIT which identified the potential of Chameera in the very first year, went on to present another research study in the final year paper on the topic "Trusted remote patient monitoring using IOT based on blockchain" which was selected to be presented at the 3rd Industrial Electronics and Applications Conference (IEACon) in October 2022. The event is organised by IEEE Malaysia Industrial Electronics (IE) / Industrial Applications (IA) Joint Chapter and co-sponsored by IEEE Industry Applications Society. Based on the research Chameera went on to develop a product – Medize (Trusted remote patient monitoring using IOT based on blockchain) was presented to SLASSCOM National Ingenuity Awards 2022.
He is a member of the Institute of Electrical and Electronics Engineering (IEEE) and also a member of the IEACon Technical Programme Committee.
The magic at APIIT is that students are encouraged to grow and link to the Industry to give innovative solutions to the end consumer said the Chairman APIIT Bandula Egodage. Our Lecture panel consist of the Industry professionals from Sri Lanka, Silicone Valley in the US and top IT professionals from Australia he said.
HitAd.lk is the best and biggest mobile phone market in Sri Lanka, and we guarantee you will find what you need here from our extensive listing of mobile phones for sale in Sri Lanka. Whether it's a budget-priced smartphone for communication, or higher end features with advanced connectivity, there are many different options from which to choose from on our site!