AOD Design Camp 2022: a multi-disciplinary design-immersive learning event like no other
To give O Level and A Level students a glimpse into the exciting future-proof world of design
View(s):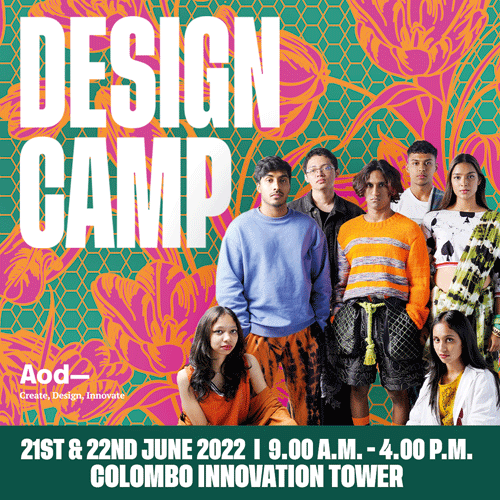 Long gone is the career scape of black or white professions, as we make way for a post-COVID work environment led by innovation and resilience. The scope of what a designer can bring to the table has expanded exponentially over the years, with only greater potential for a future buoyed by digitization.
As part of its mission to create a new generation of future-proof innovators through world-class design education, the Academy of Design (AOD) is excited to bring back its highly anticipated Design Camp – an immersive two-day educational event aimed specifically at motivated high school students looking to pursue a career in design. Both O Level and A Level students are encouraged to register for this design-immersion experience; an invaluable opportunity to explore the creative process and even get a head start on their design portfolios. The only prerequisite? Curiosity!
Design Camp 2022 will not just introduce students to the basics of design, but will also –through insightful presentations and several engaging workshops- raise awareness on the impact design can have on every aspect of the human experience. At this multi-disciplinary event, participants will be working closely with AOD's own internationally qualified faculty and successful alumni, as well as industry leaders, getting also the opportunity to collaborate with peers in a fun and inspiring environment.
A series of eleven hands-on workshops -guided by foundational design principles and with contemporary design-centric themes- have been scheduled for over the course of these two days.
At the Comic Strip workshop participants will learn how far just three words can stretch into a rib-tickling story; and in Between the Pages the art of collage, incorporating subtext and context of stories from the daily papers. From The Handloom's Tale workshop, students will get down to the basics of Sri Lankan handicrafts, using recycled materials to create their own eco-friendly clothing line. The Perfect Post is a unique photo shoot doubling up as a learning experience, and How To Viral: 101, a fun TikTok challenge quite unlike any other, which will educate on the essence of promoting a product. 1000 Pictures. 1 Story is a stop motion animation workshop; the tenet of motion graphics, and Reuse, Recycle, Revamp, as the name suggests, is a DIY program revolving around sustainability in fashion. The Great Gallery of Faces workshop helps participants understand the beauty and complexity of faces, and educate on the evolution of self portraits. Blueberry Blueprints will be an innovative and fun fruit-centric take on architecture, and from the Green Screens: The Everything Sheet workshop, students will get better acquainted with how the green screen in film production can construct fantastic cinematic feats. Design Days 2022 then culminates with a well-deserved Movie Night; of course the surprise film of choice too, design-themed.
Additionally, all aspects of Design Camp will tie in with AOD's movement 'The new local is Global' – one that celebrates the value of Sri Lanka's rich heritage and how it can be incorporated into contemporary design.
Hosted at the Colombo Innovation Tower (CIT) –AOD's address and buzzing hive of all things creative-, Design Camp participants will also be able to partake in scheduled guided tours of the university's campus; exploring its world-class facilities and infrastructure, visiting individual academic departments, interacting with faculty and students, and in general getting an unparalleled glimpse into what student life is like at AOD.
Throughout the event, career guidance sessions will also be made available for potential design students looking to get expert advice on the next step of their academic pathway, and the many undergraduate programmes offered exclusively by AOD alone.
All BA programmes at AOD are fully accredited with the globally-ranked design specialist Northumbria University, UK; a successful decade-long collaboration that has produced over 1000 + successful alumni, many having made a name for themselves across a broad spectrum of industries, both in Sri Lanka and across the globe. Also as a result of this partnership, all AOD students graduate with 100% internal UK degree from Colombo; during their study period given unrivalled exposure at global showcases, access to world-known design personalities, and opportunities to partake in enlightening international student exchange programmes.
Testament to the multi-disciplinary offering at AOD, the university's portfolio of three-year full-time undergraduate programmes encapsulates all design disciples. These include the BA (Hons) Fashion and Textile Design and BA (Hons) in Fashion Design & Marketing, BA (Hons) Interior Architecture Design, BA (Hons) Graphics & Visual Communication Design and the BA (Hons) Motion Graphics & Animation Design.
Even O Level graduates, already convinced that they want to pursue a design career, can get a head start by signing up for AOD's eight-month Design Foundation programme. Here, young design aspirants will not just get an introduction into the various design disciplines, but will also develop the skills required for their tertiary education. More importantly, Design Foundation students will be able to make a more informed decision than others when it comes to picking their undergraduate degree of choice.
AOD invites all O/L and A/L graduates to sign up for its 2022 Design Camp, which will take place on Tuesday the 21st and Wednesday the 22nd of June, from 9am to 4pm at the Colombo Innovation Tower. For more information, or to register you presence for an immersive two days of activity, workshops, and discussions on the many different aspects of design, call or WhatsApp 077-5727772email
info@aod.lk or walk in between 9am and 5pm Monday to Friday – Colombo Innovation Tower, No 477, R A De Mel mawatha, Colombo 4 www.aod.lk
HitAd.lk is the best and biggest mobile phone market in Sri Lanka, and we guarantee you will find what you need here from our extensive listing of mobile phones for sale in Sri Lanka. Whether it's a budget-priced smartphone for communication, or higher end features with advanced connectivity, there are many different options from which to choose from on our site!