Slight downward trend in cases – DG
By Kumudini Hettiarachchi and Ruqyyaha Deane
We shouldn't let down our guard but take health precautions
View(s):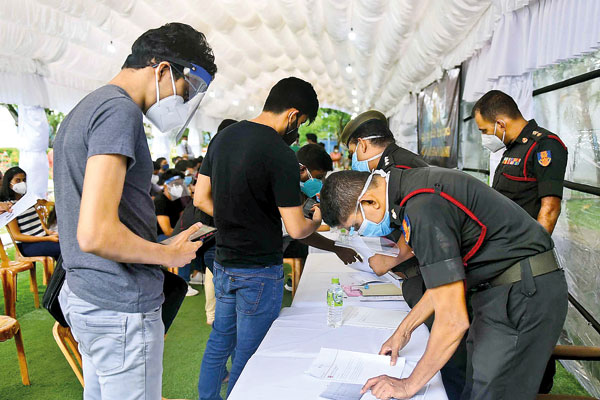 There seems to be a slight downward trend in the number of COVID-19 patients being reported but there is no room for complacency, said a top health official on Thursday.
Assuring that he was not referring to the recent numbers as the testing had dropped due to strikes by healthcare workers since last Sunday, the Director-General (DG) of Health Services, Dr. Asela Gunawardena said that by Thursday the testing had come back to normal.
Recently, there have been a series of strikes first by nurses and later by Public Health Inspectors (PHIs), paramedics and allied health workers.
With the strike being called off on Wednesday, the testing was going back to the usual rates. Thereafter, one day 10,008 RT-PCR and 3,257 Rapid Antigen Tests had been done with 1,243 COVID-19 positives being identified, it is learnt.
The DG said that though the numbers in the early part of the week did not reflect the true situation, before that there seemed to be a slight decline, with the caseload being between 1,500 and 2,000. But people should not let down their guard. They should strictly follow the health measures of masking, hand washing, social distancing and avoiding gatherings.
Delta variant
Dr. Gunawardena said that so far 19 infections from the Delta variant including those in Dematagoda and the construction site at Colombo 2 from where people had gone to places like Gothami Road and Colombo 2, 5 and 9, had been identified. Three returnees from abroad who were in quarantine had also tested positive and found to have this variant.
"We have traced the movements of those found outside the quarantine centre and also all first contacts," he said, pointing out that some had been kept in quarantine for as long as 21 days. Currently, only two of the infected are left in an Intermediate Care Centre and as an added precaution those with Delta are isolated separately.
RT-PCR testing of the first contacts of those infected by the Delta variant found a few positive cases but they were all having the Alpha (United Kingdom) variant, it is learnt.
He said that unlike the severe disease being spread by Delta in India, so far there seems to be a contrast in Sri Lanka. Even though there may be some spread of the Delta variant in Sri Lanka, it seems to be less virulent than the clinical picture in India at the moment. The affected people here are mostly asymptomatic (without symptoms) or have very mild symptoms.
However, Dr. Gunawardena cautioned that genetic sequencing of samples takes a while and there is a lag time for the results to come. We should not be complacent. Though the Delta variant cropped up in India in October last year, the epidemic erupted in March this year. So we needed to be very vigilant and not let our guard down.
How about Lambda?
As a precaution against the Lambda variant (C.37) which had first been detected in Peru in December 2020, Dr. Gunawardena said that Sri Lanka has halted the inflow of tourists or returnees from South America, some South African countries, India and Vietnam.
The World Health Organization (WHO) deemed Lambda a 'variant of interest' on June 15, this year.
While this variant is associated with higher transmissibility, resistance to antibodies and a higher mortality (death) rate, health experts around the world have said that more data are needed to establish this fact.
Lambda is dominant in South America and has also been detected in over 30 countries including Mexico, the United States of America, the United Kingdom, Germany,Spain and Malaysia.
Deaths of three members of the same family
When asked about the deaths of three members of the same family –father, mother and son – from Muruthalawa in the Peradeniya area, the Director-General said that the ministry got all the medical records and looked into the matter.
The Sunday Times learns that the father (71) had first contracted COVID-19 but not gone to hospital for about eight days. When finally he was admitted, he had been in a "bad state" with very low oxygen saturation. He had co-morbidities such as hypertension and diabetes and  been in the Kandy National Hospital's ICU for three weeks with the staff battling to save his life. He had died of COVID pneumonia.
Dr. Gunawardena said that the mother (68) and son (39) had been admitted to the Peradeniya Teaching Hospital. The mother too had co-morbidities such as chronic kidney disease (CKD), heart failure, diabetes and hypertension and had succumbed, once again of COVID pneumonia, after two weeks in hospital including seven days in the ICU.
Meanwhile, the staff had also made a major effort to save the son who was in hospital for 21 days. He had been admitted with dyspnea (shortness of breath) and even though he did not have any co-morbidities, he had got COVID pneumonia and gone into septic shock brought on by bacterial sepsis.