North in the grip of armed gangs again
By S. Rubatheesan in Jaffna
View(s):
Attacks and contract jobs carried out like in South Indian movies  
Investigations show involvement of Switzerland-based groups linked to Aava; social activists express fear over disintegration of  society  
On a Wednesday night two weeks ago, 14 youngsters were seen riding motorbikes at a relatively high speed. They turned into a narrow lane in Kondavil, a suburban area of Jaffna.
The facemasks they were wearing were different from the clinical masks recommended to minimise the risk of contracting COVID-19. Theirs were covering their full faces. The hilts of the improvised machete or Aruval were protruding out of their shirt collars from behind – as seen in violent South Indian gangster movies. They also carried other improvised weapons.
They stopped outside a house where music videos were being made in a small room turned into a makeshift recording studio. The youth here had once been on good terms with the motorbike gang.
The armed gang attacked those who were in the studio mercilessly and damaged vehicles parked in the premise.
The studio owner, a 26-year-old youth from Trincomalee, was targeted in particular. The deep cut he suffered in the attack almost severed his right hand from the wrist. It was re-attached in a four-hour surgery carried out by medical specialists at the Jaffna Teaching Hospital.
According to Jaffna police, the reason for the attack is a music video posted on YouTube. It was an ugly portrayal of "traitors".
With narcotics drugs easily available, liquor consumption on the rise, youth unemployment prevalent, the Northern Province is a tinderbox for youth violence. The youth seem to emulate heroes and glorified villains in South Indian movies.
A cursory glance at the gangsters' social media posts reveal that they have no qualms over publicly threatening those whom they do not like and they even proudly show off their improvised weapons. One such sharp weapon is made of motorbike disc brakes.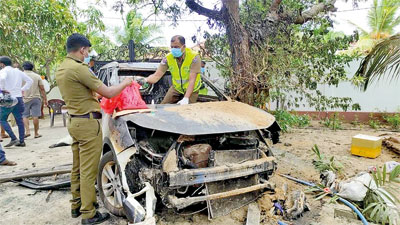 Four days before this incident, on June 26, the north was shocked by another horrific violent incident. An armed gang had entered a house at Selvapuram in Mullaitivu and mercilessly attacked its occupants, including women. The gang set fire to the vehicles parked in the premises and damaged valuable items.
With the arrest of six persons allegedly involved in the attack, police revealed this week that the contract for the attack had come from a Switzerland-based diaspora group with links to the notorious Aava group, which once ruled Jaffna's underworld until it was neutralised by the law enforcement authorities.
Money had come from the Switzerland-based group along with instructions for the attack.
The police initially suspected a dispute over a family matter or monetary dealing behind the attack.
According to police, the six suspects have in their statements admitted that they carried out the attack. Based on the statements, police recovered three of the five motorbikes and some improvised machetes.
The suspects were produced in the Mullaithivu Magistrate's Court on Thursday and released on bail due to COVID-19 regulations.
In recent years, the north has become a major hub for narcotic drug smuggling activities. Hundreds of kilos of Kerala cannabis — locally known as Kerala Ganja (KG) smuggled from India's southern coasts are seized on a regular basis by the law enforcement authorities.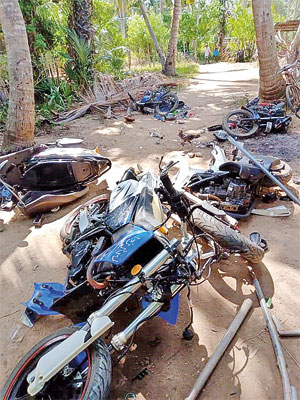 On Thursday, sailors attached to the Northern Naval Command seized 98.5 Kg of KG with a street value of Rs 29 million when they raided a fishing boat in the seas north of Kovalam, Jaffna. Three suspects were arrested.
The Navy believed that the cannabis had been loaded into the fishing boat at the International Maritime Boundary Line (IMBL) between India and Sri Lanka, where patrolling is slack.
Police believe that not only some fishermen but armed gangs are also part of the narcotics drugs distribution network. A 28-year-old youth was attacked by an armed group at Maruthanaarmadam in Jaffna on Wednesday following a dispute over a drug deal.
Like many Jaffna peace loving residents, former Northern Provincial Council chairman C.V.K. Sivagnanam, is also concerned about the growing violent incidents that show signs of social disintegration in the post-war North. He said residents live in fear, wondering whether they would be the next victims. They do not know who is attacking them and for what reasons.
"It is established in some cases that the attacks have been carried out as contract jobs from overseas-based people or local residents who wanted to settle scores with others. Police should track the root elements," Mr. Sivagnanam said.
Calling for tough measures within the law to eliminate the threat, he called on lawyers including those who are actively involved in Tamil nationalist politics, to take a principled stand before representing the suspects arrested over violent incidents.
But often members of armed gangs escape the long arm of the law by undertaking illegal trips to South India via Mannar.
On July 2, three notorious gangsters on the police watch list were arrested by the Tamil Nadu police when they reached Southern India.
All three suspects – also wanted by the Sri Lankan authorities for murder, gang violence and other crimes– are to be deported shortly.
Onetime notorious leader of the now defunct 'Aava' gang now lives in Switzerland with his family.
Jaffna-based civil society activist and political commentator Mahadeva Nilanthan told the Sunday Times that this 'violent' behaviour of youth who prefer a gangster lifestyle was an indication that social and cultural structures of the community were disintegrating in the aftermath of the war that ended in 2009.
"These structures and community values are yet to be reinstituted in the post-war north but our political parties and civil society organisations have failed miserably to address these issues and give leadership to fulfil the needs of our youth," Mr Nilanthan said.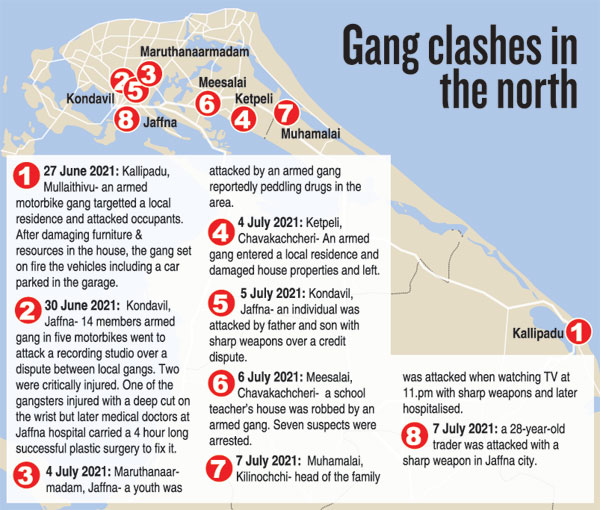 Police step up surveillance to arrest gangsters; but key obstacles remain

As concerns grow over the reemergence of sword-carrying gangs in the North, police have stepped up surveillance and intelligence gathering activities to nab the suspects despite many shortcomings and challenges the police face in the north.Some of the key obstacles that remain unaddressed are the shortage of Tamil-speaking police officer and lack of public trust in police, especially with regard to complaints about criminal activities.

Senior Deputy Inspector General (SDIG) P.P.S.M. Dharmaratne who is in charge of the Northern Province told the Sunday Times most of the suspects involved in the recent violent incidents had been taken into custody after three police teams were deployed to probe attacks.

"Most of these incidents are isolated ones either involving personal disputes or clashes between gangs. The recent incident in Jaffna was the result of internal gang disputes while the team that carried out the attack in Mullaithivu is from Jaffna. We have arrested most of them and looking for ten more suspects," DIG Dharmaratne said.

Asked whether these attacks were directed by masterminds, the Northern Police Chief said police investigations were underway to find the elements behind these attacks.

Another senior police officer told the Sunday Times on the condition of anonymity that some of these suspects were closely connected to regional politicians and lawyers.

The senior police official recalled another incident where an attack was carried out on the residence of a man who was abroad but later police investigations revealed that the man hired the sword gang on a contract in order to get political asylum in a foreign country.