New police units to crack down on drug trafficking, extortion and crimes against children
Police say incidents of organised crime in south show downward trend
By Damith Wickramasekara
View(s):
Several special operations units are to be established to crack down on rising incidents of drug trafficking, extortion and crimes committed against children.
The new units will be established by Inspector General of Police (IGP) Chandana Wickramaratne on the instructions of Public Security Minister Sarath Weerasekara, said newly appointed Senior Deputy Inspector General (SDIG) – Crimes and Traffic, and Police Spokesman Ajith Rohana.
The units are expected to begin operations by the end of this month.
Police, however, claim that incidents of organised crime and underworld activity, including shootings, have declined sharply over the past six months.
The last shooting incident that police have linked to underworld activity happened in January, this year, when two men on a motorbike fired at a three-wheeler in Panadura, killing one person, SDIG Rohana said.
No other incidents linked to organised criminal gangs have been reported since then, the SDIG said. He added that investigations into the shooting of a person in Kataragama on Tuesday evening have revealed that it was a result of a personal dispute between two parties.
He, however, acknowledged that there was no positive response from the public during the most recent amnesty declared to hand over illegal firearms.
While incidents linked to organised crime has declined in the south, SDIG Rohana noted several armed gangs similar to the so-called 'Aava' Group are still active in the north (see above story). Nevertheless, he claimed that such groups cannot be classified as organised criminal groups.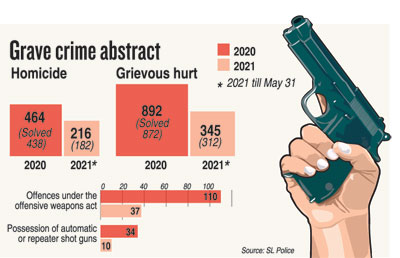 "Most of these gangs are made up of groups of friends aged 18-19 years. They are heavily influenced by South Indian films which depict how such gangs operate. They aren't linked to any terror group or underworld gangs. They don't have guns or bombs and rely on swords and knives. However, their activities are a concern and several police teams have been deployed to track them down and arrest them."
Police are also focusing more on technological evidence as they intensify operations to tackle various crimes, SDIG Rohana said. Accordingly, focus is being directed at video evidence, such as CCTV footage and videos recorded by eyewitnesses, and analysis of phone records and voice recordings he further claimed.
Police meanwhile, noted that statistics point to a drop in the number of crimes classified under 'grave crimes.' Accordingly, there have been only 216 homicides up to May 31, this year as compared to 464 throughout last year. A total of 182 of these incidents reported this year have already been solved, police say. There have been 345 incidents of grievous hurt reported this year as at May 31. A total of 312 of these incidents have been solved. There were 892 such incidents reported last year, with 872 cases being solved.