SLIIT in Groundbreaking Initiative joins AWS Academy to equip Students with In-Demand Cloud Computing Skills
View(s):

SLIIT announced another groundbreaking initiative of its participation in AWS Academy, an Amazon Web Services (AWS) programme that provides higher education institutions with a ready-to-teach cloud computing curriculum.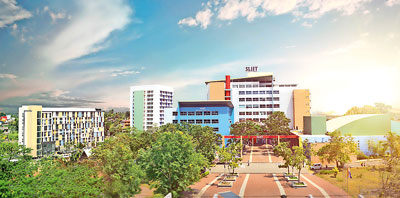 The AWS Academy curriculum is developed and maintained by AWS subject matter experts, ensuring that it reflects current services and up-to-date best practices. Courses are taught by AWS Academy-accredited educators who in AWS technology.
Beginning end-February, SLIIT will commence delivery of the AWS Academy Cloud Foundations Programmethat will prepare students to pursue careers in the fast-growing cloud computing space and industry-recognized AWS Certified Cloud Practitioner Certification.
This introductory course provides students a detailed overview of cloud concepts, AWS core services, security, architecture, pricing and support. The duration of the course will be four months and delivered in class, online and/or hybrid.
Mr. UdithaGamage, Director Development and Engineering Services, SLIIT said, "We are proud make the AWS Academy curriculum available to our students. The rapid rise of cloud computing is creating a growing number of high-quality jobs at organisations around the world, and the technical skills that students develop through this programme will position them well for their careers today and in the future."
SLIIT understands the importance of building a talent pipeline of the next generation of professionals equipped with cloud skills. The programmes will serve as a catalyst for students to be able to develop their knowledge andto pursue opportunities in careers in cloud computing. SLIIT as a premier instituterecognised for teaching excellence is driving the change in enabling technology-led growth in Sri Lanka.
Dr. Nuwan Kodagoda, Head, Department of Computer Science and Software Engineering, Faculty of Computing, SLIIT noted, "The AWS Academy which will provide training to key cloud certifications which are well accepted in the Industry. This will help develop the next generation of cloud computing professionals. Our goal is to build a pipeline of AWS-trained professionals who can help drive innovation as cloud computing becomes the new normal."
For further information on the AWS Academy Programmeoffered at SLIIT, contact 077 330 0066 or email romi.f@sliit.lk