AMDT School of Creativity, a globally recognised Creative school in Sri Lanka
View(s):

Education is the passport to the future; Tomorrow belongs to those who prepare for it today. With so many students now seeking to enter the world of work, it is becoming more important for them to gain the right skills to secure a job when stepping into global careers.

AMDT School of Creativity, being the pioneering institution for Creativity in Sri Lanka, offers undergraduate courses in some of the most popular Creative disciplines in the world. These courses are awarded by Falmouth University (a university that's recognised as one of the top 50 Creative schools worldwide) and Pearson (UK's most recognised awarding body).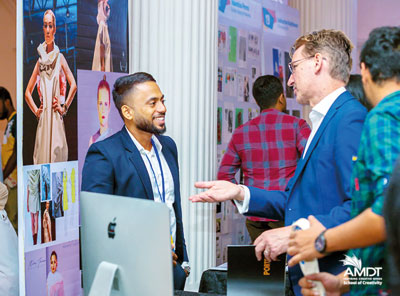 The most popular undergraduate courses
Graphic Design, Animation & Visual Effects, Fashion Design, Interior Design, Creative Advertising, Photography, Creative Multimedia, Web & App Development, and much more updated in the website (amdt.lk)
AMDT, shaping young talent to solve real-world problems
Through its presence in the Creative education sector in Sri Lanka for the past 15 years, AMDT School of Creativity has built its reputation in the Creative industry for shaping young talent to meet industry standards through modern strategic thinking and applying Creativity to solve real-world problems for people, communities, and brands. Guiding their students from the basics of Creative thinking to the most advanced techniques and processes in the relevant field, AMDT provides its students with the opportunity to engage in real industry briefs and projects to work on, sharpening their approach to solving real problems.
Taught by the finest minds in the Creative industries
AMDT's teaching techniques focus on improving the practical application of Creative thinking in addition to its internationally recognised course content delivered by some of the finest minds working in today's Creative industries with numerous years of experience collaborating with many brands and projects. This makes learning very relevant to what's out there in real life. Students will be guided to develop talent, obtain skills, and build-up their personality to face their future careers confidently.
AMDT closely works with Creative talent, experts, academic teams, agencies, and industry leaders all around the globe to ensure its curriculum always meets the demands of the industry.
The courses are well planned and custom-designed to fit every career in the respective Creative discipline; which is also a major reason why AMDT's students get hired by companies even before they graduate! With a good focus on helping build their best portfolios of work through individual and group projects, AMDT's students get exposed to a competitive learning environment that prepares them to harness the best of their skills and abilities. Students have submitted their work to international Creative festivals such as Cannes Lions, Spikes Asia, D&AD, and Animation film festivals, are some of them.
Class schedules are flexible: part-time and fulltime
Their class schedules are flexible. They offer part-time and full-time study options where classes are held during weekdays and weekends that allow you to study the courses without disconnecting from your work or family.
AMDT School of Creativity is a place for everybody!
Being well known for its diverse Creative communities, AMDT welcomes students from all around the world and believes that Creativity is not bound by any culture, religion, or cast, setting an example and showing the world that anyone can become Creative as long as they have the commitment to learn, explore, challenge, and experiment. Students do feel that AMDT is their second home. You get to meet people with original thinking and various perspectives helping you not only get inspired but also to collaboratively work with and network.
Falmouth University – opening doors to greater possibilities right here in Sri Lanka
Falmouth University, a 117-year-old truly Creative university rated Gold for teaching standards and among the top 50 Creative schools worldwide.
Falmouth University hones its reputation worldwide as one of the best Creative universities to study arts, design, animation, film, interior, games, and many more creative disciplines.
AMDT School of Creativity offers Falmouth University's degree courses right here in Sri Lanka opening doors to greater possibilities for students in Sri Lanka to collaborate and take part in international festivals, events, jobs, and much more exciting opportunities.
Falmouth University is recognised by the University Grants Commission of Sri Lanka. For more than 100 years, Falmouth University has been a hub of Creative thinking and design innovation. Today, their portfolio of undergraduate and postgraduate courses represents the breadth of the Creative Industries, from art, design and fashion, to gaming, music and film.
Falmouth University was listed under the 2020's Top 50 Creative Media & Entertainment Schools and Colleges in the World. Its specialisms of Creative innovation; Creative thinking, problem-solving, communication, and storytelling, will be key to future economic and cultural success both at a local and global level. Falmouth University's programmes are built on the principle of open innovation – the idea that the grand challenges of our age can be addressed most effectively when tackled collaboratively across disciplinary boundaries. They focus on delivering impact for lives and economies through the development of new knowledge, solutions, services, and products.
Falmouth University is rated TEF Gold which is considered as the highest quality standard in the UK's higher education system by the British government based on its teaching quality, learning environment, student satisfaction, and also the educational and professional outcomes achieved by its students.
The best facilities to bring out the best in you
With the desire to be at the forefront of technologies, AMDT ensures that its studios and digital labs are equipped with the latest software technologies and facilities. The practical teaching methods such as real projects and field visits combined with the classroom sessions make sure that the student gets an in-depth understanding of both theories and practical applications in the course they're interested in.
To learn more about AMDT School of Creativity, visit www.amdt.lk or call or WhatsApp 114-381-981. You can visit the premises at 317A, Galle Road, Colombo 04.