Transforming young women into inspired future leaders
View(s):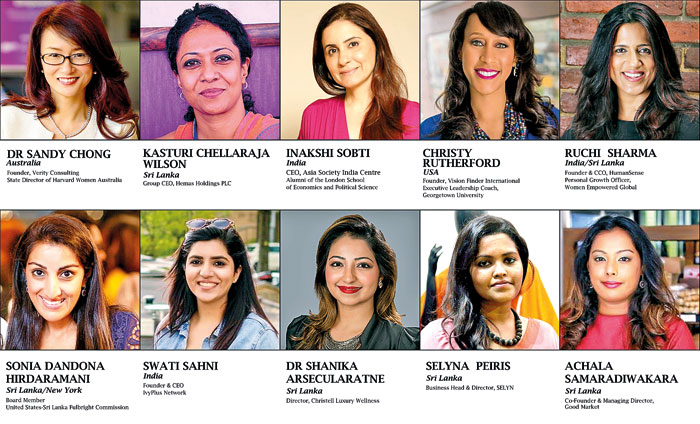 Academics Group, Sri Lanka's first cross-sector education think tank and Ivy Plus Network, a global professional network of alumni from Ivy League and other leading universities worldwide present the IVY Girls Lead (IGL) Sri Lanka edition.
A 10-day online certificate programme designed to inspire young girls to become leaders of positive impact. The programme runs from 8th to 18th December 2020 from 6pm to 7.30 pm virtually. IGL gives young leaders insight into themselves, their interpersonal relationships and their skill dynamics so they can become accomplished in any field they choose. The online programme comprises of group discussions, self-analysis and activities and importantly a 3 months mentorship support. https://www.ivyplusnetwork.com/girlslead
The programme will feature some of Sri Lanka's most successful women leaders and innovators who have excelled in their fields. In addition, the programme will also provide a platform for aspiring young females to interact with internationally acclaimed women leaders.
Katuri Chellaraja Wilson (Sri Lanka), Group CEO, Hemas Holdings PLC. First female Group CEO of a public quoted conglomerate in Sri Lanka; an Alumnus of Harvard Business School.
Dr Sandy Chong (Australia), International multi-award winner in consultancy, education and philanthropy. A Harvard alumnus and State Director of Harvard Women Australia.
Christy Rutherford (USA), Founder, Vision Finder International. A globally recognised leader, keynote speaker, leadership coach and author and a Harvard Business School Alumna.
Inakshi Sobti (India), CEO of Asia Society India Centre, An Alumna of London School of Economics and the former Head South Asia, Community Initiatives of Harvard Business School India Research Centre.
Sonia Dandona Hirdaramani (New York/ Sri Lanka), Member of the Young Advisory Council for the College, Class Agent International Vice-Chair, Regional ARC Chair and Class Correspondent of Columbia University and a Board Member of United States-Sri Lanka Fulbright Commission.
Swati Sahni (India), CEO & Founder of Ivy Plus Network. An alumnus of Harvard, educator and a successful entrepreneur, worked in the education policy space for over a decade with organisations including UNICEF, World Bank and Ministry of Human Resource Development in India.
Ruchi Sharma (India/ Sri Lanka), Founder & CCO of Human Sense, Personal Growth Officer of Women Empowered Global. An international multi-award winning creative leader, speaker and a mentor.
The programme will also feature following speakers from Sri Lanka who would share their inspiring stories with programme participants.
Achala Samaradiwakara, Co-Founder & Managing Director of Good Market Global
Dr Shanika Arsecularatne, Director, Christell Luxury Wellness
Selyna Peiris, Business Head & Director of Selyn.
IVY Girls Lead Sri Lanka will
feature but not limited to:
Self-Knowledge: identifying core values and strengths
Positive Affirmation: practices to build confidence
Emotional Wellness: self-care and stress management
Finding Purpose: reflection and self-awareness
Active Citizenship: action plans for community service
Strengthen Voice: learn effective communication techniques
Ideas for Projects: presenting and executing a passion project
Project planning: group activity to work on action plans for projects
Gender Stereotypes: explore help girls to realize their true potential
Leadership: definition of leadership
Leader Within: help identify personal and authentic leadership
Career Discovery:  focus on disciplines and careers
Lean In: interaction with guest speakers who are 'women in leadership'
Creating Network: learn how to build healthy relationships in life
Digital World: learn to manage yourself in a digital word
Goals: learn about SMART model of goal setting
Conflict Transformation: skills to be a leader
Community Service Project: pitch social entrepreneurship projects for social impact
For further information and course details, students and/or parents could speak to Academics representative on +94 768 909 983 or email: hello@academics.lk. Alternatively could access the registration links provided in the article for the program. Participation is limited: Registration closes on 4th Dec 2020.