BCI Campus, Negombo announces the launch of undergraduate degree programmes
View(s):

Negombo gets a new campus

The BCI Campus, Negombo (Benedict XVI Catholic Institute) announced their new degree programmes at a media briefing held on the 30th November at the Archbishop's House in Colombo. The media briefing was presided over by His Eminence Malcolm Cardinal Ranjith, Archbishop of Colombo and Founder of BCI Campus; Rev.Fr. Quintus Fernando, Rector – BCI Campus; Prof. Ajantha Dharmasiri, Chairman/Director – Board of Management, Post Graduate Institute of Management (PIM); Lalith Senevirathne, Group CEO – Sri Lanka Telecom; and Mr. Eardley Perera, Member – Governing Council, BCI Campus/former lecturer – Post Graduate Institute of Management (PIM).

At the briefing, it was officially announced that BCI Campus has been granted the Degree Awarding Status by the Ministry of Education with the Extraordinary Gazette (2201/4) published on 9th of November 2020 and now offers degree programmes in Business Management – BBM (Hons) and Information Technology – BSc.  (Hons). The first student intakes will commence their studies in January 2021.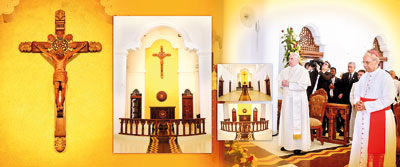 Addressing the media, His Eminence stated that the aim of establishing this institution was to widen the educational opportunities to provide a wider scope in the educational sphere to produce a healthy and matured generation in the future. Thus, many students will be able "to receive the higher education they deserve, and make it affordable without compromising the quality of content and delivery". His Eminence also stressed the fact that it will be operated as an entity that is not profit oriented and instead will focus on upgrading the skills, competences, and attitudes of its graduates.
Speaking of the new degree programmes Rev. Fr. Quintus Fernando – Rector of BCI Campus said, ''this occasion marks a major milestone in BCI's journey as the institute now becomes a UGC approved degree awarding institute. BCI Campus was started 6 years ago with a unique and holistic approach to higher education which emphasises on developing students' professional/academic knowledge and skill sets whilst also mentoring them to assert their dignity and integrity as true human beings. We are determined to produce world class graduates who are equipped with the right knowledge and skill sets to meet the evolving demands of the job market. But most importantly they will also be quality human beings with great values instilled in them. In this regard, BCI Campus is turning a new leaf in the country's higher education''
BCI Campus has been offering several higher education programmes in English, IT, and Professional Qualifications and has served well over 17,200 students since its inception six years ago. The institute also recently launched 'BRIDGE', a special pre-university bridging programme recommended by the Ministry of Higher Education.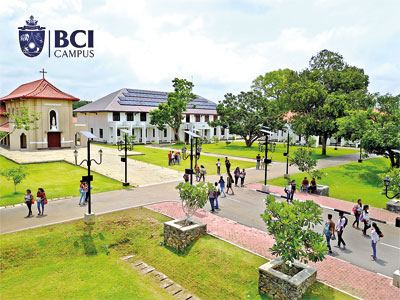 BCI Campus focuses on providing students with more than just academic opportunities as the institute is dedicated to shaping well-rounded, responsible, knowledgeable, confident, and ethical individuals that can excel anywhere in the world at their chosen vocation. To accomplish this BCI is staffed by a team of highly qualified education professionals, with many years of experience and a dedication to teaching that goes well beyond the classroom. They are complemented by a team of support staff who ensure perfectly efficient operations.
Modern facilities of the campus provide the students all the tools, technology, and resources they need to succeed. In fact, the buildings and surrounding environment are designed to provide a holistic community of learning, fellowship, and wellbeing. The campus offers a world-class facility, which is endowed with gorgeous natural gardens and includes plenty of greenery. This in turn guarantees a locality with the right ambiance, which encourages a mindset open to knowledge and promotes personal growth.
A visit to the campus will also give you a chance to see the university's comprehensive, purpose-built, facilities, and amenities which incorporate state-of-the-art technology. As enrolment of students for these programmes has commenced, students as well as parents are invited to visit BCI for further information or initiation.
Students and parents can also obtain more information via www.bci.lk  or calling us on  031 2035100 / 070 6035100