WAY MAKER
Date: Saturday, 19th October 2019, Time: 5.30 p.m.
View(s):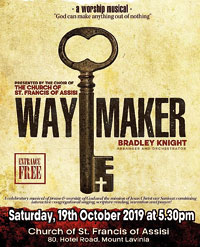 "See, I am doing a new thing!  Now it springs up; do you not perceive it?
I am making a way in the wilderness and streams in the wasteland." Isaiah 43:19
Arranged and orchestrated by Bradley Knight, 'Way Maker' is a dynamic worship experience, inspiring new beginnings, rediscovering timeless traditions, connecting with God's truths and lifting up His name! It is a musical for everyone, especially for those lost, hurting or in the midst of difficult circumstances and even those who are searching and seeking! It is a proclamation that Jesus is the only WAY, the TRUTH and the LIFE!
The service starts off with a known favourite "Every Praise", which invites everyone to join in to 'Sing Hallelujah!' and praise our God in one accord, declaring all the way that God is our Saviour, Healer and Deliverer!
The setting immediately moves to a more dramatic atmosphere with "Holy, Holy, Holy! Lord God Almighty." This particular song sheds a spotlight on the Awesomeness of God and how the saints cast down their golden crowns and even the Cherubim and Seraphim fall down before HIM! – In awe and worship! What a sight to behold!
"Holy Spirit" is a soft melody that calls us all to taste and see the sweetest of loves where we are all set free and our shame is undone in Jesus' name – it speaks to us of how God's presence overcomes and floods the darkest of places and replaces it with His priceless gift of Hope!
"He is our Refuge and Strength – HE IS MORE THAN ABLE!" – In a time where we are caught up in the rat race of life and pulled down by the weight and pressures this world has to offer, 'Be Still and Know' is a reminder that sometimes all we need to do in faith is to stand still and see HIS glory come!
"Were You There?" powerfully brings out the message of the crucifixion and more importantly the resurrection of Christ and what it means to you and me… Forever a symbol of hope, salvation and eternal life!
No worship experience is complete without the age-old hymn "Amazing Grace" – and although this version has slight differences to it, the message remains the same – The world thirsts for God's deliverance and grace… and when it descends, we fall silent before it in amazement and awe!
The title track "Way Maker" sits right in the middle of the worship experience. This track puts into words and music who God is to us (His church) – He is a God who DOES NOT STOP working! – Long after we've given up and have thrown in the towel – He persists, He does not fail, He is the light in the darkness – OUR WAY MAKER!
"What a Beautiful Name" talks of the beauty, wonder and power in the name of Jesus – The name above all names! Beautifully arranged to bring out the message that God is the Alpha and the Omega – Unparalleled and unrivalled in absolutely every way!
"Great is His Faithfulness" is a poignant reminder to all of us that God is with us even in times of loss, pain and heartbreak, with His gentle voice, urging us to remember to "Lift your head – Morning is coming, there's more to the story…". The congregation is then moved to proclaim in one heart and voice, "How Great Thou Art!" which highlights the splendour of God's creation and power – a great hymn that has crossed generational, denominational, and international boundaries – truly a hymn for the world.
"Every Giant Will Fall" is an upbeat track toward the end of the musical that declares that NOTHING IS IMPOSSIBLE for God – A truth that rings out over fear and lies – A truth that breaks every chain of the past!
Finally, the stars shall unfold… Declaring His entrance… "We Shall Behold Him" – when Jesus Christ comes again! This brings us to the grandeur and majesty unfolding the Kingdom of the King of kings who reigns forever and ever – the "Hallelujah Chorus".
The Vicar and Choir of St Francis of Assisi extend a warm invitation to one and all to join us in this inspiring and soul-stirring worship experience on Saturday the 19th of October 2019 at 5.30 p.m. at the Church of St. Francis of Assisi, No. 80 Hotel Road, Mt. Lavinia.
All are welcome! Entrance is free! Bring all your friends along!