Visit the NZ Application Week, organized by Rivil International (www.riviledu.com) on 14th, 15th and 16th October 2019
View(s):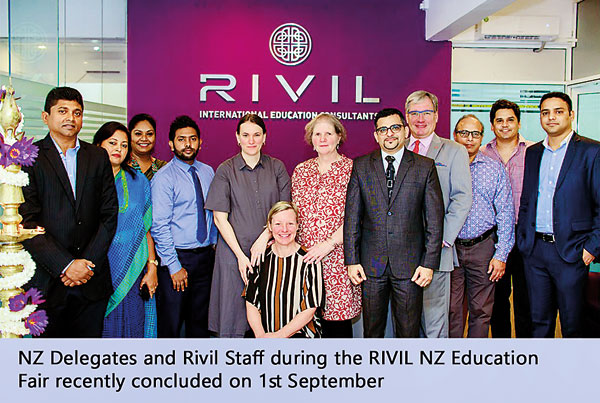 New Zealand is one of the most attractive and welcoming study destinations in the world. New Zealand is also known as one of the best countries in the world to live. Two of its key metropolitan cities, Auckland and Wellington, have consistently ranked among the top cities with the highest quality of life. New Zealand's international student population has grown rapidly in recent years, with students from over 180 different nationalities, such as, the United Kingdom, India, Philippines, Fiji, China, South Africa, Germany, Japan, Malaysia and the United States, pursuing their higher education in all parts of the country, making it one of the most culturally diverse and vibrant places for Sri Lankans to study.
New Zealand Universities are ranked among the top 3% Universities in the World offering high quality education with outstanding research facilities. New Zealand Education and qualifications has an emphasis on Applied learning maintaining a highly practical learning experience for students. There are 8 NZ government owned Universities, all of them which rank among the top 3% in the world.
Mr. Jinendra Dias, Director of RIVIL INTERNATIONAL shared with us that the recent policy changes on the post study work visa by the Immigration Minister of New Zealand has made NZ to become the best study destination for international students and also it helps international students to gain relevant industry exposure & become competent in the international job market. The current Immigration policy allows international students to obtain a 3 years post study work visa after completing a Bachelor's Degree, Master's Degree or PhD in NZ.
RIVIL INTERNATIONAL is the only Sri Lankan agent representing all the 8 NZ Universities offering free visa consultation and guidance.
Students and parents are welcome to meet the International Representative of the following Institutions at RIVIL OFFICE, MOUNT LAVINIA on the following dates and times,
n Waikato Institute of Technology – Monday, 14th October, (11 am to 12.30 pm) – www.wintec.ac.nz
n Lincoln University – Monday, 14th October (3 pm to 5 pm) – www.lincoln.ac.nz
n Unitec Institute of Technology – Tuesday, 15th October (11 an to 1 pm)  – www.unitec.ac.nz
n New Zealand Tertiary College – Tuesday, 15th October (3 pm to 5.30 pm) – www.nztertiarycollege.ac.nz
n Professional Business & Restaurant School (PBRS) – Wednesday, 16th October (11 am to 2 pm) – www.pbrs.ac.nz
New Zealand itself is truly beautiful. New Zealand is renowned for its natural resources, its breath-taking scenery, its peacefulness, and the friendliness and hospitality of its people. The country is conveniently close to Asia, Australia and the South Pacific and has a reputation for being a safe and relaxing environment to live in.
Rivil International Education Consultants will assist students from the University application to the final visa process including accommodation and airport pickup arrangements.
There are lots of career opportunities for prospective students who would like to obtain a New Zealand qualification. Also students applying for Research Degrees (PhD) at NZ Universities are offered the NZ Domestic Student Rates (Approx. NZ$ 7000/- to 8000/- per year). RIVIL INTERNATIONAL assists all the PhD students from securing a supervisor to gain admission to their preferred NZ University. New Zealand has become the most popular study destination among Sri Lankan PhD students.
Rivil International Education Consultants would welcome Students and parents to meet the representatives of these prestigious NZ institution and please contact Rivil International Education Consultants on 011 4341888 or visit WWW.RIVILEDU.COM for further assistance.