Meet World Famous French Universities – Think France Education Fair 2019
View(s):

For the first time in Sri Lanka – Engineering, BioMedical, Business Grande Ecole

France remains to be one of the most developed countries in the world. France is a member of European Union and is of the most visited tourist destination in the world. The Eiffel Tower, Notre Dame, Louvre, Montmartre, Arc Triomphe, Versailles, and River Seine remains to be the most popular destinations.

The French economy is well developed thanks to the support from industry and service sector. France has the world's 6th largest economy and it has the 2nd largest economy in the European Union. The main exports includes machinery and equipment, Aircrafts, Plastics, Chemicals, pharmaceutical products, Iron and steel and Beverages.

University Education in France

Little known fact to many Sri Lankans is that France has one of the best education systems in the world.

The Public University Education system in France provides affordable education in multiple study areas. The Grande Ecole system which is similar to IV league system in USA is supported by well developed industry with near 100% employability, excellent careers and salaries. There are specialized Grande ecole's for each area of industry, Engineering, Technology, and Business Management. The unique funding supported by the industry partners make education both an affordable investment and career opportunity.

There are study opportunities in the following areas.

Engineering – Aeronautical, Mechanical, Mechatronics, Civil, Computer, Robotics, Electrical, Electronic, Automobile, Telecommunication, Embedded  Systems Engineering, Big Data and many, Digital Technologies ,Building & Eco cities, Space Engineering and many more.

Bio Medical Sciences – Microbiology, Molecular Biology, Bio Technology, Genetics, Pharmacology, Food Science, Bio Informatics, Bio Medical Science and many more.

Business  and Management – International Business, Marketing, Management, Entrepreneurship, Event and Sports Management, Accounting, Finance, Human Resource Management, Economics and many more

Leading universities in France
ESIGELEC Graduate School of Engineering
EPF Graduate School of Engineering
ESTP Graduate School of Engineering
Sup'Biotech Graduate School of Biotech Engineering
Sup'Biotech Graduate School of Biotech Engineering
Montpellier Business School
Rennes Business School
IPAC Business School
Affordable France – Minimum Investment and Maximum Career Advancements in France
The cost of education in France is extremely affordable and it is only around 25% of the cost of education in other developed countries that Sri Lankan students apply for their higher education. The moderate course fee is supported  by extremely affordable cost of living and state support for housing.  Students are encouraged to get valuable industry exposure which will lead to employment upon successful completion of the degree programs.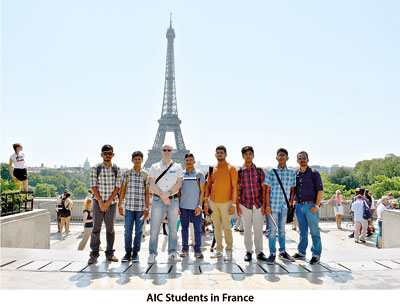 Grande ecole's in France are funded by many leading industries. Because these industries fund, students only have to pay  50% of their tuition fee. this way industries and the students  have a very close relationship where student gets a 50% Scholarship and  industries can attract the most inelegant students to join there company.  For past many years this has become a practice in France.
Scholarships to France
AIC Campus is the leader in French University Education in Sri Lanka. AIC is partnered with a group of leading Universities and Grande ecole's in France and offers merit based scholarships for students according to their A/L results. There are many Scholarship schemes on offer and students can apply for these programmes after consultation with AIC Campus admission advisers.
Living in France
France has a rich culture, language, society which makes it a leading country in the world. Students can experience the unique French Culture, French Cuisine and French way of living. Students can travel to famous tourist destinations both inside France and in other EU countries. French Industry is so developed and students have options of part time employment to gain valuable work experience and be a part of French system of living.
Admissions for 2019 intakes have opened now. Students and parents are encouraged to directly contact AIC Campus for admissions and inquiries.
16th of October 2019
AIC Campus Colombo
No. 154, Havelock Road, Colombo – 05.
17th of October 2019
AIC Campus Kandy
No. 21, Srimath Kudarathwatta Mawatha, Kandy.
18th of October 2019
AIC Campus Negombo
No. 349/2, Main Street, Negombo.
Contact 0774 464 169 for a
professional consultation.