Gateway's Scrabble Champion youngest to win a trophy
View(s):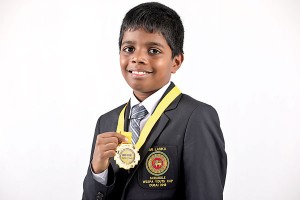 Adheesha Dissanayake of Gateway College has been the youngest player to take part in the Sri Lanka Masters Scrabble Tournament and also the youngest to win a trophy in the history of this event.
He did so by edging out a former Sri Lanka Youth Team mate, Pasindu Malawaraarachchi in the finals of the plate division 6 games 5.
Adheesha, is yet to celebrate his 11th birthday. This year, he became the youngest player ever to take part in the Premier Players Tournament which is restricted to the highest rated players in the country. He did admirably well in his first appearance winning games against former national champions Lakshan Wanniarachchi, Jayaska Baranage, and Indunil Amarasinghe.
Adheesha was also the youngest player at the National Scrabble Championship for three years in a row and he has secured a place in the top ten in both 2019 and 2018.
In January he was the second youngest player at the prestigious Capgemini International Scrabble tournament in Bangalore and finished as the only under 18 player in the top ten by securing fifth place.
Most notably Adheesha has been selected to represent Sri Lanka at the World Youth Scrabble Championships (known as the WESPA Youth Cup) in Kuala Lumpur Malaysia – again as the youngest player from Sri Lanka. He will return to the venue where he secured the title of world under 10 scrabble champion this November.
The Sri Lanka youth scrabble team was runner up at the Presidential Sports Awards for best upcominging team and Adheesha once again became the youngest to receive a certificate at the event.