Celebrating gender diversity and inclusivity
Swinburne at the forefront
View(s):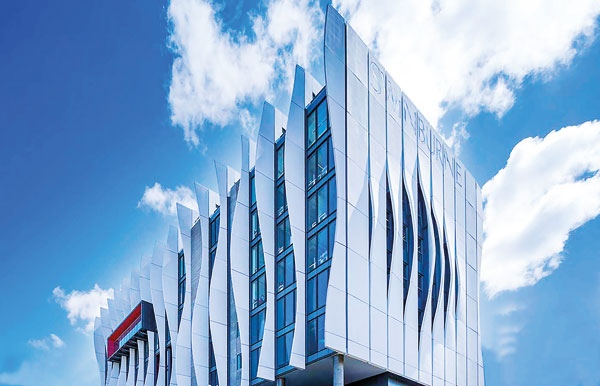 Swinburne Pride 2019 has been confirmed as the biggest yet, with a record 500 students and staff participating in the Fair Day and Pride March.
The celebration of diversity, love and pride took place at Swinburne's Hawthorn campus on Thursday 22 August, and this year's theme was 'family and relationships'.
Staff, students, community members, family and friends visited stalls held by LGBTI community organizations including Wear It Purple, out for Australia, Living Positive Victoria and Thorne Harbour Health. Over 100 people participated in the Pride March around campus.
Swinburne supports the LGBTI community
Speaking at the Pride March, Vice-President (Engagement), Jane Ward, reinforced Swinburne's commitment to the LBGTI community.
"Swinburne Pride is an important event for the Swinburne community. Swinburne Pride gives us a chance to come together and celebrate the diversity and strength of our LGBTI community," Ms Ward said.
"The LGBTI community is made of many people's, each with their own views, histories, struggles and celebrations."
"Swinburne is committed to a trans-friendly culture, free from discrimination and harassment, where all staff and students are treated with dignity and able to realize their full potential in a fair and inclusive workplace and learning environment."
Why Delay? Act Today?
A well reputed local provider of globally recognized higher education qualifications, the Nawaloka College of Higher Studies (NCHS) is committed to equipping Sri Lankan youth with global opportunities from education leaders in the world. It is in keeping with this objective, that NCHS has partnered with the prestigious Swinburne University of Technology.
Located in the heart of Colombo, the NCHS campus consists of modern facilities, providing students with an international learning environment.  With the commitment for inclusivity and equality at the forefront, as well as a strong commitment to provide high quality education, NCHS offers distinctive benefits that are tailor made to suit the needs of each individual student.
Global Education at
your doorstep
Providing students with a plethora of opportunities, NCHS has also partnered with the Ulster University, UK ,  California State University Monterey Bay, California State University San Marcos, California State University Bakersfield, California State University Sacramento, California State University Northridge, California State University Fresno, California State University Humboldt and the State University of New York at Albany.
In keeping with the high standards of education, the study programmes conducted at NCHS are identical to that of Swinburne, Australia and its other partner universities, and follow the same curriculum, methods of teaching and evaluations, ensuring high quality and international standards. In addition, the facilities at NCHS are built according to the specifications of the partner universities, ensuring that the students are provided with globally competitive facilities and standards from inception.
Meeting the needs
of the Industry
The programmes offered are designed by the industry leaders in collaboration with educators with the highest international qualifications. These identical industry-informed and industry-engaged study programs at NCHS are specially designed to combine rigorous academic studies with practical knowledge essential for the academic and career success of the students.
To learn on how you too can plan your future together with a prestigious Swinburne program at NCHS, call
0777 899 998/0115 899 998 or email info@nchs.edu.lk