Why Students Are Increasingly Selecting The Monash Pathway At Ucl?
View(s):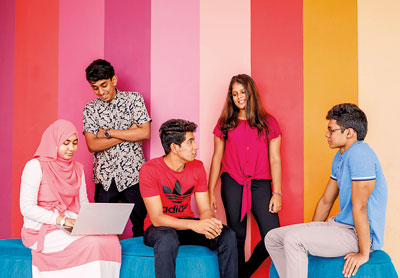 Universal College Lanka (UCL) holds the unique distinction of being the only transnational education institute in Sri Lanka which provides a guaranteed pathway to the prestigious Monash University through its exclusive partnership. Monash University is a TOP 60 University in the world and ranked 59th in the world (as per the QS University Rankings 2019). It also a Group of Eight University in Australia being a highly research-oriented University who regularly updates their syllabuses, modules and teaching methodology based on their research findings. We would like to present a few key factors behind our success.
The Only Guaranteed Pathway programme to Monash University
Students who enrol at UCL for the Monash University Foundation Year after O' Levels or Monash College Diploma programmes in either IT, Science, Business or Engineering after A' Levels secure a guaranteed pathway to Monash University in Australia or Malaysia. We have successfully transferred more than 200 students in the past three years to complete their globally recognised degrees at Monash University.
Academic Quality and Excellence
With its uncompromising commitment to higher quality higher education, UCL has produced over 100 Global Awards of Excellence recipients in the past three years. Monash Global Awards of Excellence are awarded to students who have achieved the highest average for a subject among all other Monash College providers world-wide, including Melbourne, Australia.
The main reason behind this success is our exceptionally qualified and competent faculty lead by our Dean of Academic Affairs Dr. Dhananjay Kulkarni PhD (University of California, USA), MSc (University of California, USA) BEng (University of Pune, India), who are committed to ensure that our students are provided with the coaching support and the learning experience required to excel in their programmes of studies. Our faculty are all approved by Monash University and possess at least a MSc/MBA or PhD/ Reading for PhD in their respective fields of expertise and have several years of experience teaching in many reputed degree programmes including Monash. It is worth noting that 80% of our lecture panel are in-house full-time lecturers who are always available for our students. Their commitment, dedication and efforts have been proven worthwhile with outstanding student achievements at UCL and at Monash Australia.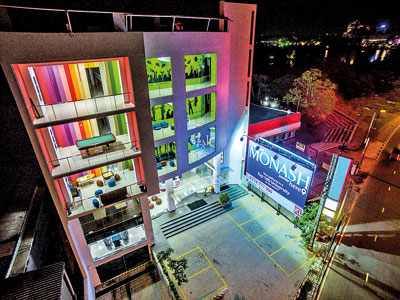 An interesting fact about our faculty is that the Programme Coordinators for the 'Monash College Diploma' (MCD) Programmes and Monash University Foundation Year (MUFY) are alumni from Monash University. The experiences they have gathered during their tenure at Monash University have been extremely useful in adding value to teaching methods via innovative ways and provide a superior learning experience to our students.
At UCL we adopt the small-group teaching methodology where we maintain internationally recommended classroom sizes. This small-group teaching method enables our lecturers to give their utmost attention to each student thereby our students receive 100% individual attention during every lecture. This classroom set-up enables effective interactions among lecturer and student, encourages more group discussions between students and ultimately leading to a great student-lecturer relationship which we always strive to achieve.
An Unmatched Campus Life
Our vision is to produce resourceful, enterprising and sought-after graduates. We believe that to bring out the best in every student, a Campus must provide students with an experience that would allow them to develop their soft skills apart from the technical skills they acquire via their studies. We are committed to providing a holistic experience of an Unmatched Campus Life that focuses on extra-curricular activities including a range of sports such as Basketball, Football, Futsal, Badminton, Rugger, Cricket, Netball, Swimming, etc., speechcraft programmes to enhance communication and leadership skills, foster team work and inculcate social responsibility as well. The UCL Student Council works closely with the UCL management and faculty to organise and conduct both indoor and outdoor events and activities to develop student engagement and enhance the student experience at UCL. enhance the student experience at UCL.
UCL conducts the Monash University Foundation Year (MUFY) and the Monash College Diploma (equivalent to the first year of the degree) in Business, Engineering, Science and IT. If you are looking at commencing your journey to greatness with a TOP 100 University in the World, call us today on 0774 777 000 or come visit our state- of- the- art campus at No: 503, Sri Jayewardenepura Mawatha, Sri Jayewardenepura to find out more information about the next intakes. Follow us on Instagram (UCL_SriLanka) and Facebook (Monash at UCL) and check out our YouTube Channel (UCL Sri Lanka) for more updates on all activities and events.