Advance from Diploma to Degree with a Globally Recognised SQA Qualification
View(s):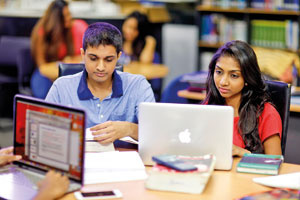 ANC Education provides the utmost priority and support for parents and students who are deciding the next big step after O/L and A/Ls.  If your Childs goal is to graduate from a well-recognised university that is very affordable, offers a short course cycle and is accepted worldwide, then a very successful route to study is the Advanced Diploma Programme offered by ANC that enables entry into the Advanced Degree Programme of a world-class British Degree in Business.
ANC joins hands with SQA (Scottish Qualification Authority) and University of West London (UWL) and offers Advanced Diplomas for after O/L & A/L students to gain direct entry into an advanced degree programme and become qualified from a Top 50 UK University with a world-class British degree that guarantees entry into the corporate sector.
Advanced Diploma in Business
Advanced Diploma in Psychology
Advanced Diploma in Computer Science
Advanced Diploma in Hospitality Management
Worldwide Recognition
SQA is an international awarding body with a global reputation for quality. It boasts 100 years of experience in qualification design and offers a range of advanced diplomas with practical approach to learning in a wide range of subjects. SQA works in partnership with schools, colleges, universities, and industries within the UK and internationally. SQA is accountable to the British government and works in close partnership with approved centers to ensure that the standards of its qualifications are consistently monitored and maintained.
SQA Advanced Diploma are widely recognised around the world as being the equivalent to the first two years of undergraduate study and by obtaining a SQA qualification the student gets the opportunity to start the final year of a bachelor's degree qualification from leading education destinations around the globe such as UK, Canada, USA, Australia, New Zealand, Hong Kong and even South Korea.
Some of the leading universities, which recognise the SQA qualifications are:
Australia: Swinburne University | Griffith University | Central Queensland University
USA: Full Sail University | Marquette University
Canada:  Royal Roads University |Thompson Rivers University | Trinity Western University
New Zealand: Auckland Institute of Studies | Open Polytechnic of New Zealand
Scotland: Edinburgh Napier University | University of Dundee | University of West Scotland
England: University of Manchester | University of Chester | Northumbria University,Heriott Watt University | University of West London
Diploma to Degree
Diploma to Degree is a well-established and proven route to progressing directly into the third or final year of an honours degree. Many students have chosen this option which is a cost effective route to studying abroad saving over 75% of the cost you are assured of a learning experience that offers value for money at ANC.
University of West London
University of West London (UWL) is ranked a Top 50 UK university (Guardian University Guide 2019) and has maintained its standing as the No. 1 Modern University* in London and is placed at No. 4 in London overall. *A modern university is a university created in, or after, 1992. UWL was ranked No.1 modern university in London when compared to all other modern universities ranked in the Guardian University Guide 2019 (GUG).
The GUG does not itself rank modern universities separately.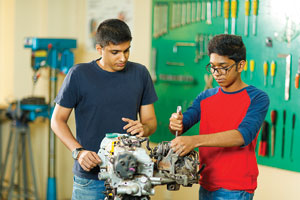 UWL offers challenging and innovative academic programs closely linked to employment with very high employment rate estimated at 98 percent of its graduates in employment within six months of graduating. The latest National Student Survey (NSS) confirms the University of West London (UWL) as the best modern university in London recording 85% for overall student satisfaction. UWL's reputation is stronger in several fields, including law, business, psychology, hospitality, and music in terms of student satisfaction, career prospects, industrial connections and teaching standards.
ANC has secured articulation agreements with the UWL to allow Advanced Diploma graduates entry into the 3rd year of a Bachelor's degree (Hons) in International Business / Hospitality Management as they progress from one level to the next to achieve their qualifications from a world-class British degree. Furthermore, these business graduates can continue on to complete a UWL Master's degree (MBA).
ANC's Guaranteed Paid Student Internship (GPSI) Program
ANC's Guaranteed Paid Student Internship (GPSI) program, is a pathway that supports young people to develop practical and transferable skills, experience real responsibilities in an interesting and diverse environment and identify their strengths and career ambitions. ANC students are encouraged to gain hands-on experience in their chosen field of study through a partnership between ANC and leading brands in Sri Lanka; MAS Holding, Virtusa, Samsung, DIMO, Hilton, Cinnamon Hotels & Resorts, Hayley's and so on. Psychology students are also encouraged to have hands-on experience in an environment structured to support their learning goals. Past students have interned in hospitals, schools, NGOs, government organizations and HR departments.
The Advanced Diploma program is a proven successful route for students to go from Diploma to Degree and graduate with a globally recognized qualification. Parents and students can be assured of excellent standards of education and a level of service, support and guidance for after O/L & A/L students that is far above expectation as ANC prides in going beyond to make sure every student is comfortable and is supported in every possible way to ensure a successful transition and an enjoyable higher education journey after O/Ls & A/Ls.
For more information, contact 077 78 444 87 or visit us at www.ancedu.com| No.308 – 310, R. A. De Mel Mawatha, Colombo 03, 126, Maya Avenue, Colombo 06, 322, Peradeniya Road, Kandy or follow us on Facebook: https://www.facebook.com/ancedu/ and "ANC_Education" on Instagram.