A Tailor-made MBA for CIMA/ACCA/CA Passed Finalists from University of West London (UWL)
View(s):

Accelerate your global career prospects…

Deciding to study for an MBA  is a big decision especially when you are already qualified in CIMA, CA or ACCA. Professionals that are working in financial or management accounting have a specialized skillset which is important in their profession however it's just one of many skillsets that you will utilize once qualified with a Master's in Business Administration.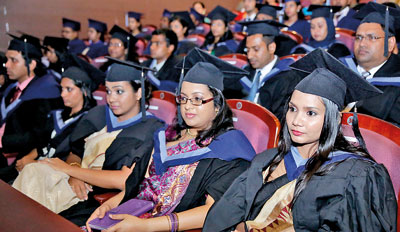 When undertaking this tailor-made MBA, you're entering a new world that will expand your horizons. The subjects that you'll master like global marketing, digital business and strategy will provide the ability to plan strategically for the future of a company while being able to effectively analyze a business situation and make quick decisions. These are vital skills that companies seek in high level employees. You will be given the opportunity to hone your skills in this regard which will set you apart from other accountants in the industry.
A host of career opportunities opens up to graduates with an MBA under their belt. It is the knowledge you possess and how well you can help businesses move forward that will forge a better career path for you with an MBA.
ANC School of Postgraduate Education commands a leading edge in the domain of postgraduate education in Sri Lanka today. Its long-standing partnership with the University of West London (UWL) has enabled thousands of business professionals and young graduates to earn world class post graduate qualifications in the shortest span of time, without travelling overseas, for quality education.
The University of West London together with the Chartered Institute of Management Accountants (CIMA), ACCA and CA Sri Lanka offers its tailor-made MBA for CIMA/ACCA/CA passed finalists, and this accelerated programme delivered at ANC Education could be completed within one year on a part time basis. UWL grants exemptions of 50% to CIMA/ACCA/CA qualified professionals as part of the tailor-made MBA programme.
Top 5 Reasons to Pursue the Tailor-made MBA of UWL?
Develop priceless management skills – Learn and apply the latest management techniques to hire the right people, make the tough calls at the right time and the ins & outs of company operations.
Get free access to a large business network – Make use of the great networking opportunities to interact with industry leaders, colleagues, professors and alumni that share valuable management knowledge and experience.
Start your own company from scratch – An MBA's real advantage is its proven versatility to start your own business as an entrepreneur or help existing businesses grow.
Worldwide recognition of your credentials – An MBA graduate regardless of the location can pursue many careers in the global job market with a world recognised degree that will increase your business credibility.
Global business mindset – adopt the mindset of fortune 500 business leaders and stay on par with industry trends and advance faster to better-paid jobs.
CIMA/ACCA/CA MBA-Course Content
Managing People
Global Marketing and Digital Business
Business Ethics in Action
Research Method
Dissertation
A fast track route to success
The MBA Programme is a tailor made route that enables students to convert their CIMA, ACCA & CA qualification to a UK master's degree in Business- a fast track to enhanced career opportunities: based on the average pay for jobs requiring finance qualifications around the world, it has been observed that a recognised MBA is by far the most lucrative. CIMA/ACCA/CA equips you with the adequate knowledge of Finance and Accounting and skills to land in a rewarding job in finance and the MBA will allow you to progress further in your career to a top managerial job role. In this light, your CIMA/ACCA/CA qualifications complemented by the MBA will help you become the leader you were meant to be.
University of West London: "The Career University"
University of West London (UWL) is ranked a Top 50 UK university (Guardian University Guide 2019) and has maintained its standing as the No. 1 Modern University in London and is placed at No. 4 in London overall. *A modern university is a university created in, or after, 1992. UWL was ranked No.1 modern university in London when compared to all other modern universities ranked in the Guardian University Guide 2019 (GUG). The GUG does not itself rank modern universities separately.
UWL offers challenging and innovative academic programmes closely linked to employment with very high employment rate estimated at 98 percent of its graduates in employment within six months of graduating. The lat1est National Student Survey (NSS) confirms the University of West London (UWL) as the best modern university in London recording 85% for overall student satisfaction.
UWL is one of the top ten institutes in the UK for employability (Higher Education Statistics Agency-HESA): "we are the Career University and we work exceptionally hard to support our students and get them into rewarding and fulfilling employment… We offer career focused teaching developed for today's job market, impressive links with industry, and outstanding support…," says Professor Peter John, Vice Chancellor-UWL
Studying at ANC
Excellent services of a team of lecturers who possess a fine blend of the right industry expertise together with a solid academic background
Up to 20% of teaching covered by Visiting Faculty of UWL
Students get the first hand information on applying the theoretical knowledge in the real world business
Networking opportunities with corporate and industry leaders
Courses are taught through a combination of lectures, tutorials, seminars, small group sessions, practical experience, and workshops.
Students are given every opportunity to produce the best research dissertations in line with the UK Quality Code for Higher Education
Access to the UWL's online library and make use of Blackboard's virtual classroom
In summation, the advantage of transferring your CIMA/ACCA/CA qualification into an MBA is that it will give you a great grounding in business and finance. The skills gained from the MBA is complementary to CIMA/ACCA/CA qualifications, and the combination will strengthen your CV to give you a competitive edge in the job market and take your career to the next level.
For more information, contact 0777 23 70 77 or  0777449966
No. 308, R.A. De Mel Mawatha, Colombo 3
322, Peradeniya Road, Kandy