Two queens and the battle for thrones
'Mary Queen of Scots'
View(s):
Theatrical visionary Josie Rourke's feature film debut with a powerful dramatization of the incredible life of 'Mary Queen Of Scots', based on the groundbreaking book "Queen of Scots: The True Life of Mary Stuart" by Dr. John Guy is now being screened in theatres in Colombo and suburbs.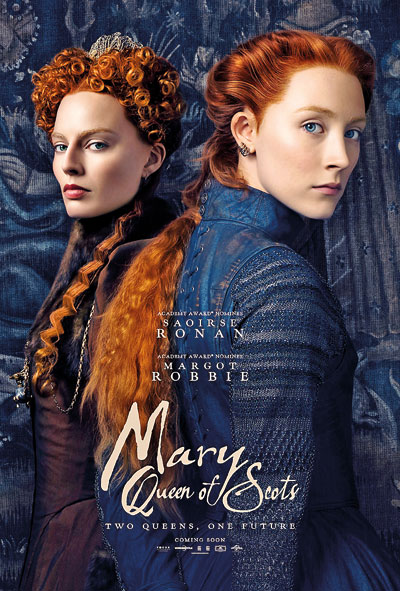 Uncovering new evidence about Mary and Elizabeth, the film retells the story of these two Queens in a way that speaks to the experience of women in the modern world. Born a Catholic at a time of religious turmoil, as an infant Mary is sent for her safety to Catholic France. At 15, Mary marries the heir to the French throne. Queen of France at 16, at 18 Mary is widowed, defies pressure to remarry and instead returns to her native Scotland to reclaim her rightful throne. In Mary's absence, Protestants have gained control of Scotland, and her half-brother, Moray, has ruled in Mary's place.
The powerful John Knox leads Scotland's Protestants and believes that a woman monarch is against nature and God's will. In England, Mary's cousin Queen Elizabeth faces pressure to marry and produce an heir. In Scotland, Mary faces conspiracy, civil rebellion and a hatred of women that brings her sexual conduct into constant question.
Mary has, by birth, a rival claim to Elizabeth's throne. The two Queens have a unique fascination with each other: only they can understand what it is like to rule in their land as women. Mary offers friendship and a treaty that settles their competing claims, but the bloody and intense politics of their courts keeps them apart.
Mary defies her advisors and England's will to marry and produce an heir to both kingdoms, her son James I. Following his birth, there is again the possibility of alliance and peace, but Mary's enemies are too numerous, and Elizabeth witnesses, with mounting horror, the cruelty, conspiracy and violence of Mary's court. Both women make very different choices about marriage, children and leadership. Through those choices, each woman has been immortalized by history.
Universal Pictures presents, 'Mary Queen Of Scots' stars Saoirse Ronan, Margot Robbie, Jack Lowden, Joe Alwyn, Martin Compston, Brendan Coyle, David Tennant, Guy Pearce, Ian Hart, Gemma Chan, Ismael Cruz Cordova and Adrian Lester in the stellar cast.
"When I first started speaking about the film, I talked a lot about Michael Mann's Heat," Rourke continues. "In some senses, our film echoes that dynamic. Then of course, in Heat they have that massive scene together, a proper big scene with two great actors just going for it," she continued.
This film is now being released at Colombo City Centre, Liberty by Scope Cinemas, MC Cinemas, Empire and Savoy.
Compiled by Susitha Fernando