The face behind 'Meraki United'
Joshua Surendraraj chats with self-taught animator/ artist Randy Chriz Perera
By Joshua Surendraraj
View(s):
From being an intern at a media library of a television network, to starting his own production company Meraki United -the story of the self-taught animator/ artist Randy Chriz Perera is one that speaks of perseverance, fuelled by a passion for art. This week, the Mirror Magazine decided to catch up with the face behind 'Meraki United'.
To Randy, his biggest achievement in life was being able to transform his passion into a career. The discipline and work ethic he's built over the years, helped him achieve a relatively rapid growth both as an artist and a person.  Even as a child, Randy had in him the almost addictive need to create. As he grew up he wasn't satisfied with the work that he did at his day jobs. "It was restricted, hurried and delivered on necessity than inspiration. So I had to keep creating in my spare time," he tells us.
He would draw on countless note books, be it during a meeting or whilst on the bus. Randy would earnestly observe people and environments, while he travelled. And every time he could possibly think and make an artistic discovery, he tried to do so. Back then there weren't many schools, where one could learnt digital art. Randy tells us that even today, the process of learning such skills is very costly. "I surely couldn't afford that, so like any other guy in my time I did commerce for A/Ls and thought I'll take a job in a bank."
Luckily for him though, his uncle, a reputed banker, but an artist deep inside, advised him to pursue his passion. So Randy, armed with his drawings, visited a reputed ad agency in search of work. But, he was refused the job on the basis that he needed to know how to work with art on a computer.
"Hopes shattered, "as we didn't have such luxuries at home," he then took on an internship. At the television network, he was exposed to a world of content and was able to draw inspiration on a daily basis. Randy maintained his own note books, filled with material that he gathered from the videos he saw. "I would draw the characters and copy their quotes.  I even made little drawings on the labels of the tapes, and this is a touch the producers there loved."
After winning the hearts of producers and DJs, he then volunteered to draw items for the pogrammme's set for Valentine's day etc. Randy would also leave random drawings on tables , hoping people would see them. Surely enough these got noticed and sooner, he was asked to do a caricature for news. Following this, he got hired as the first graphic designer for the network's news arm. "They gave me a month to get acquainted with digital drawing and asked me to visit the production team and learn from them." But Randy soon found the team was too busy to teach him.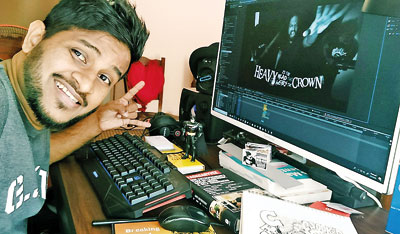 So he'd sit behind them and watch them work. Later, when he had access to the internet and after YouTube eventually launched, he was able to expand his skills rapidly. Since his younger days, Randy loved art that was detailed, vibrant and fun. He used to attempt drawing cartoon characters, while watching them on TV. Aside from this, he also loved analyzing the caricatures in popular international magazines. The art in comic books also occupied a key place in his heart.
As the digital era expanded, social media exposed him to the artists of the world. "I started following quite a few artists and drew inspiration from their work, he tells us. "Just letting your mind flow freely will reflect something from within. To tap into my best creativity, I need to put in my heart and soul. It doesn't come effortlessly," he tells us as our conversation moves to his work.
Randy often finds it necessary to do some free-hand work to break the intensity of the bigger work. Hence, he draws quick doodles or random caricatures very often. But most of the bigger projects often require a more intense involvement. Today Randy does a variety of work that involves animation or illustrations. These include projects as diverse as doing VFX for movies to drawing wall murals; but the process is pretty much the same.
He always finds himself injecting a dose of himself into his work, though he doesn't often actively decide to do it. Sometimes clients come to him, specifically for his style of work. In this sense he is rarely forced to do anything entirely outside his creative zone. At times Randy would also intentionally include an element with a hidden meaning. "I'm not too sure if this is a common habit among artists, but I guess there is a thrill to it."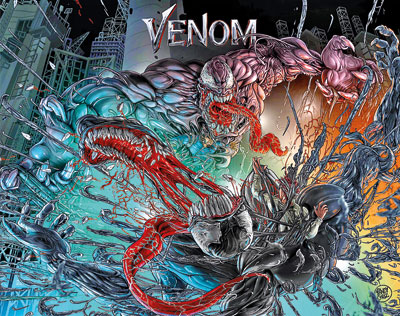 Randy often works with his wife Portia. "She and I make a brilliant team, her talents and mine complement each other so well that the two of us easily make up for an attractive creative package," he tells us. Like most artists, Randy also finds the financial obstacles as the most difficult to tackle. "Education in this field is expensive, jobs in this field pay very little, and the risk of going off on your own and finding financial stability is hard," he says.
But the trend seems to be changing for the better, he explains adding that one can always use social media to keep advertising their work and open doors both locally and internationally.  Today Randy would give any upcoming artist the same advise his uncle gave him years ago. And that is to actively pursue your inner most calling.
"If you have no such calling don't worry take a job as anything in a place where you see yourself growing and take it from there."
We end our chat with Randy reminiscing that one needs to pursue their skill with hunger, as much as possible. "I kept drawing and drawing and drawing whenever I could. I never "settled" with the level of work I mastered, I'm still far from settled. There is so much more to learn and improve."