On a blue crusade with a message in a cube
By Yomal Senerath-Yapa
View(s):
The moment of epiphany for Swiss artist Harald Reichenbach was when he came upon a kilometres-wide area of ocean strewn with plastic waste. It takes a mountain dweller and an artist to see the full depravity of so much precious virgin sea being raped. His pained imagination set to work, and the G-Cube was born.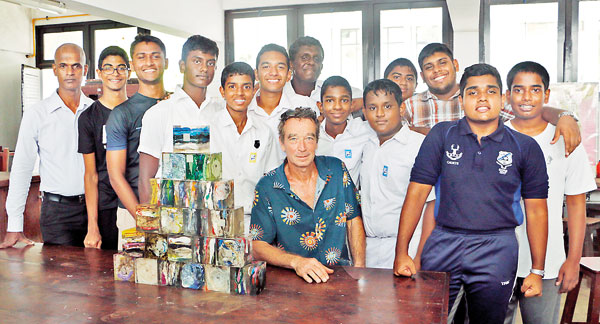 It is a truly inspired idea: to mould beauty out of garbage, in order to raise money and awareness to battle ocean and beach pollution. In the science lab of S. Thomas' Prep. School, Kollupitiya, Harald is surrounded by the senior students as he teaches them to craft this cube as an objet d'art. Earlier, the students had collected garbage from the beach and the sea. Using one of the mobile compactors brought by Harald (he has two in his boat), the garbage is compressed into a square cube 9.8 cm in length. This crude waste cube is then conserved by casting it into a cube of resin. Each G- (for garbage) Cube is classified and catalogued by an engraved plaque which is cast together with the cube.
Colombo was the second port of call in Sri Lanka for Harald, in a crusade that began in September 2017 from Marseille in France. Sailing in a spacious boat, he and his team cast anchor at numerous ports- many of them islands. They made their way from Gibraltar, Spain, stopping among many other ports in the Caribbean, the Galapagos, Tahiti, Tonga, Australia, Indonesia, Malaysia, Thailand and the Andamans before reaching Galle.
In each port, they would enlist local support- schools, environmental organizations and government departments. Each cube is created using the beach and ocean garbage of a particular location- which is photographed and documented.
It is not just a matter of keeping the seas aquamarine. The pollution of seas by waste is an urgent global problem. This blue crusade- which will take two years- was all fished out of Harald's imagination. He had long been uneasy about the path modern art is taking- being transformed into an elitist realm where the name of the artist surpasses and eclipses the importance of the art itself. Harald consequently got into social sculpture, because he wanted his art to have a direct impact on society at large rather than be open to a select coterie.
His travels have opened his eyes to how rampant this form of pollution is. Though he has sailed some 20,000 nautical miles and landed on many islands with no people, he has still to find a beach without garbage. The G Cube helps in several ways to make things better. 150 cubes made during the voyage will be sold- one cube at 800 Swiss Francs. They will also send back to Switzerland, a thousand cubes which will be combined to make a behemoth cube of one cubic metre.
There will be a final exhibition that will tour cities with the G cubes, the photographic documentation of sites and a documentary made about the project. It is important that the big cities get to know about the pollution because they are the most responsible Harald feels.
"The garbage on these beaches cannot be entirely blamed on Sri Lanka- because a lot of it comes from outside. In the Galapagos, which is a highly protected environment, 70% of the garbage had floated from Asia. The industrialized cities should be told 'you produce the most garbage. You produce plastic. You are responsible so you should help'."
It has been a great adventure for Harald and his crew. But there is vision beyond the voyage itself. The profits from the sale of cubes will go towards projects enabling far-flung communities to recycle for themselves, where presently they are unable to do. The circumnavigation and the final exhibition will create an economic value for the cube for the future.
The G Cube Association states: "the basic idea of G-Cubes is as a scavenger/collector of waste and as a processor of garbage into G-Cubes. The waste pays for its own disposal. When we have this circuit of waste collection in operation, we are on target to our goal."