A tribute to a man with a living legacy
Vinodh Senadeera ( June 11, 1973 –January 16, 2019)
View(s):
They say, "A good teacher is like a candle – it consumes itself to light the way for others". While this saying is perhaps overused and has become a cliché of sorts, it was but very true of our dearest teacher, Mr. Vinodh Senadeera. His commitment, passion and love for his work and students certainly consumed him, little by little, and as it consumed him, we grew. We grew to be punctual, committed, professional and passionate, and one can only hope that we are even one tenth as good as he was in every aspect.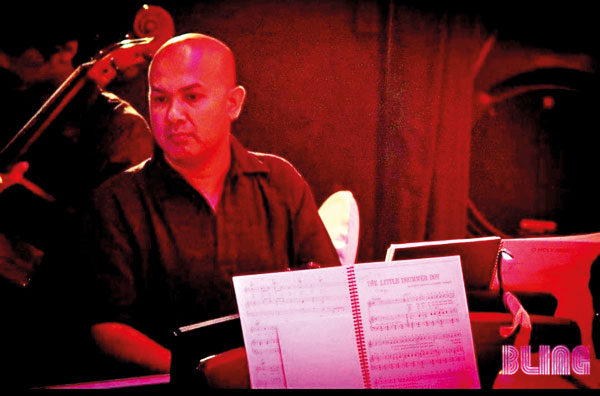 I first met Vinodh Sir as a participant in his Thomian production, Christmas Perpetua at the age of eight. I still clearly remember his professional demeanor and commitment to the production. I remember how he lost his cool with the lighting suppliers and replaced the supplier a couple of days before the show. I also remember the beautiful carols we learnt such as Sweet Bells of Bethlehem and Have Yourself a Merry Little Christmas. I still remember the portrayal of the Christmas story in that production which began with the fall of Satan among flashing lights and beautifully and artistically clad angels. This is just one testimony to many memories he has given us over the years, and to me, the first of many that followed.  Sir was my guru – my theatre director, my choirmaster, my teacher and my mentor.
As a choirmaster, Sir taught us not just to sing, but to sing with meaning and reverence. For him, every word was important, every comma was meaningful. In addition to the traditional practice hours of Tuesday, Thursday and Friday, Sir included practices on Sundays at 6.30a.m. before the Eucharist. He ensured that the choir could sing for the entire carol service without a single sheet of paper, including the choir leader. Such was the dedication he expected from his students and no one dared to fuss, no parent dared to complain. His choristers would recall how when the practice did not go as planned, he thumped the keys on the piano or organ and his yells echoed throughout the Chapel. Nevertheless, we all admired him greatly; we appreciated his commitment and professionalism.
Vinodh Sir was a splendid teacher. He was both dreaded and admired. Not many teachers can have the same juxtaposed effect. Many students would recall his colourful shirts with unique patterns, which mirrored his unique personality. When he taught Jane Eyre for O' Levels and we read about Miss Temple, I realised the subtle importance of a teacher's appearance which Sir took seriously. He had his own set of phrases and vocabulary, as often told by many in the last few days, utterly unorthodox and politically incorrect. Yet, no one can escape them quite like he did; no one took offence in what he said. His lessons were soulful; they often left us thinking for days about something he said or the way in which he interpreted a text. He always had a way in which he could make a lesson memorable. Sir was incredibly critical and expected very high standards from his students and no one had the heart to disappoint him either. Sir always shared his honest opinion; yet, he never failed to commend when necessary. I cannot help but think of all the critical comments he would have written on the margins of this tribute if he could and how he would have rolled his eyes and called this "utter rubbish". And this time I would certainly miss his text message the following day, appreciating the sentiments.
Discipline was primary for Sir in anything he did. As Headmaster, he was always in the corridors, yelling across sections, ensuring everyone was in order. He could be heard across the quadrangle and he could certainly discipline his section and the one next door. Sir always put things right. A student could not attend school without an excuse letter for the previous day's absence; a student could not take part in a tournament without having attended school, and when a class would throw rockets at the ceiling fan, he would make them go through an entire year without one. Sir did not care who the student was – everyone was the same before his eyes.
As said by many recently, a tribute would  be incomplete if his love for food was not mentioned. He was the best cook many of us knew. Whenever you visited him at home, for production work, for additional lessons or just a casual visit years after leaving College, he always had a treat for us. Such was his hospitality. As one of his closest friends reminded me, he would never share his secrets. If you ask him for the recipe, he would change the topic. His casts always longed for his iced coffee because there was nothing quite like it.
Sir did not want a single student to be left out. Though one dreaded, he could always be questioned and he was always willing to answer. No financial constraints could leave a student out of a production. He would always have their backs, and often at the cost of paying for costumes from his own wallet. Such was his generosity. He supported many children to pursue their dreams because he believed in them and in the power of education. He was more than just a teacher.
In everything Sir did, his focus was his students. He never saw his work as opportunities for him to gain popularity. In fact, he never wanted popularity. He would always disappeared after a show or a carol service and always had an excuse to not attend functions. His rules and yells were not a way to lord it over his students; they were only ways in which he ensured that we always followed the correct path.
Any student who associated him closely would say that he was a father figure to them. He certainly was. For me, he was the reason to study English Literature at university and there was no better tribute to pay him, than to partially dedicate my thesis to him. God was kind enough to let me present it to him a week before his passing. I know it made him immensely happy and he was so humbled by it that he texted me the next day saying how proud he was. I hope he knew how much he meant to so many of his students. This was evident in the amount of flowers that showered, the tears that were shed, and the silence that followed upon receiving the news and the postings on social media, even by those he suspended or took harsh decisions against. These are what he would call a "tamasha" – but one well deserved. He certainly left a mark to be remembered by.
He was the epitome of dedication and professionalism for us. His love for the stage and music cannot be put in words. Many memories flow in as I recall those days with Sir. He did not take any work lightly. Anything he undertook, he did with commitment and good intention. This resulted in many either learning to emulate his good qualities or leaving altogether.
Sir's untimely passing has denied the opportunity for so many students to learn under his tutelage. Yet, we take consolation in the thought that God has plucked him out of this world and placed him where everything he ever loved – music, drama, food and literature are abundant.
S. Thomas' was certainly his first love and first home. Sir always returned to her with a happy heart and he most certainly would have done it again if time permitted him. He lived out the motto – esto perpetua, faithfully, and was always there for the school to count on him. Sir was the reason behind many friendships we formed at the school by the sea; he was the reason we called it home, and he was the father we all loved and respected. As long as his students live, he will forever live in us, through us and among us.
"What we have once enjoyed deeply we can never lose. All that we love deeply becomes a part of us." – Helen Keller.
May his legacy live forever!