Cabinet not informed of cancellation of 4 Airbus leases- Cabinet Secretary
By S. Rubatheesan
View(s):
Secretary to the Cabinet of Ministers, Sumith Abeysinghe testifying before the Commission of Inquiry (CoI) appointed to investigate alleged irregularities within SriLankan Airlines Ltd (SriLankan), SriLankan Catering Ltd (SL Catering) and Mihin Lanka (Pvt) Ltd (Mihin), from January 1, 2006 to January 31, 2018, on Thursday, said the previous management did not inform the Cabinet of its decision to cancel 4 Airbus A350-900 leases commissioned by SriLankan in 2016, and the consequent penalties the carrier had to bear. And no further relevant/related instructions or undertakings were brought to the notice of the Cabinet since then.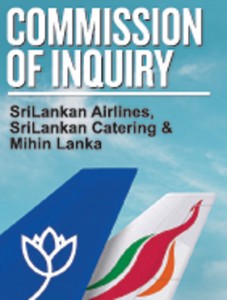 Following are highlights of the evidence presented to the CoI.
 In 2016, Srilankan's new management terminated the previous management's lease agreement signed with the manufacturing company, to lease 4 A350-900 aircraft, at the cost of penalty charges amounting to US$ 170 million to SriLankan.
 Last week, BoC Offshore Branch Manager Upul Kumara Dias said that, SriLankan borrowed over US$ 100 million since 2014, with much of it being granted on Overdraft (OD) and Letter of Comfort (LCom)- a short term debt assurance.
 Mr Dias said US$ 32.5 million was granted to Srilankan in 2016 to pay penalty charges for cancelling Airbus 350-900 leases. SriLankan also sought another loan of US$ 35 million from PB (the People's Bank), citing similar reasons for urgent credit facility.
 As of now, Srilankan has taken 3 LKR loans totaling Rs 12.9 billion, and 3 US$ loans totaling US$ 100 million. By end January 2018, Srilankan had paid only the interest on the above loans.
 Most of the loans taken by Srilankan were merely on Letters of Credit (LC) from the Treasury, while the BoC demanded Letters of Guarantee (LG) from the Treasury, before granting any fresh loans to SriLanka. The loans were granted on the basis that SriLankan is also a government institution .
 Srilankan sought multi credit loans from the Bank of Ceylon (BoC) and Peoples' Bank (PB) for its operations, claiming the loans will be resettled when a Public-Private Partnership (PPP) takes over the administration in the future. The CoI was told that, a committee was appointed to formulate a report on how this PPP mechanism would work, but the report is yet to be shared with the lending banks.
 SriLankan's Senior Manager, Revenue Accounting, Upekha Abeysekera said SriLanka had reimbursed Rs 24 million to the Sri Lanka embassy in Russia, for the publicity related to the appointment of the General Sales Agent (GSA) for Russia, as recommended by the then Ambassador to Russia, Udayanga Weeratunga.
Though the official procedure is for the GSA to bear the cost of publicity, unless it's a joint publicity event organized by Srilankan. Srilankan paid US$ 184,000 for the event.
 When SriLankan decided to appoint a GSA for Russia and Ukraine, then Sri Lanka's Ambassador to Russia, Udayanga Weeratunga recommended and insisted that a particular company be appointed, to which SriLankan agreed, without following any kind of due process.
"There are no circulars nor anything in the manuals at SriLankan, where a diplomat's recommendation of a GSA can bypass existing procedures. Throughout my experience, I have never come across such instances," said Srilankan Industrial Manager Ms Shiromi Cooray.
The CoI comprises Retired Supreme Court Justice Anil Gooneratne (Chairman), Court of Appeal Judge Gamini Rohan Amarasekara, Retired High Court Judge Piyasena Ranasinghe, Retired Deputy Auditor General Don Anthony Harold and Sri Lanka Accounting & Auditing Standards Monitoring Board Director General Wasantha Jayaseeli Kapugama. The CoI hearings will continue tomorrow.
Following summons served by the CoI earlier, former Chairman Ajith Dias, former Director Nihal Jayamanne and another former Director and former High Commissioner to UK, Chris Nonis gave statements to the Criminal Investigation Divisions (CID) Investigation Unit.
On Tuesday, former Defence Secretary and founding Director of Mihin Lanka, Gotabaya Rajapaksa, and former CEO of Mihin Lanka, Sajin de Vass Gunawardena came before the investigation unit.