Aussie police probing how well loved Lankan Uni student became radicalised
By Dinoo Kelleghan in Sydney
View(s):
Friends, colleagues stunned that the cherubic-faced Mohamed Kamer Nizamdeen is charged with planning bloody atrocities
Police say the PhD student is affiliated with the IS but are not charging him with being a member of the terrorist organisation
He acted as a lone wolf, allegedly using his campus activities as a cover
Counter-terrorism police in Australia are investigating how Sri Lankan student Mohamed Kamer Nizamdeen, an attractive poster boy of the prestigious University of NSW in Sydney, became apparently radicalised and allegedly schemed to attack the Australian prime minister, foreign minister, NSW premier and members of the public.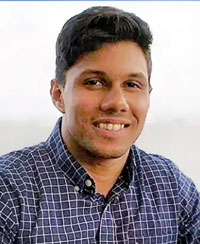 The threats against Australian political leaders, contained in documents allegedly belonging to and prepared by Nizamdeen, 25, are "graphic" and have references to Islamic State, news reports said. Police say the PhD student is affiliated with the IS but are not charging him with being a member of the terrorist organisation.
"From the documentation, we believe he would affiliate with ISIS," NSW Acting Detective Superintendent Mick Sheehy said at a news conference after Nizamdeen's arrest on Friday.
The papers also allegedly outlined plots against Sydney landmarks including the Opera House, along with police and train stations.
A police source told 7 News Nizamdeen's alleged diary entries are "vivid", "disturbing" and "full-on".
Nizamdeen appeared briefly in court on Friday, charged with collecting or making a document which is connected with preparation for, the engagement of a person in, or assistance in a terrorist act. He will face court again on October 24.
Nizamdeen's wide smile flashes out from numerous photographs found on the university website, social media and other websites, and friends, neighbours and former colleagues at the University of NSW are stunned that this innocent-looking, cherubic-faced man is charged with planning bloody atrocities.
"Everyone says it, but he's such a normal guy – I never would have expected it," one friend told media.
"He was a nice guy, easy to approach, a little reserved but easy to work with …. Nothing [told] me in any way that this guy was trouble," Carlo Bruzzese, a colleague who witnessed the police raid on Nizamdeen's university office, said.
Police claim the Sri Lankan operated as a lone wolf, allegedly using his campus activities as a cover.
Nizamdeen was well networked into the university, where he studied, worked and mentored students, and through projects that brought him plaudits by UNSW – all such material has now abruptly disappeared from the university website – he developed working relationships with NSW police, with whom he was photographed, and contact with a state minister. He apparently has a current project going with NSW police.
In 2016, Nizamdeen and a group of students collaborated with NSW police and the NSW government to create an app to help foreign students protect themselves against fraud when they arrived in Australia.
The articulate and confident Sri Lankan was the star of promotional material about the project and was named UNSW Hero of the Week. A university press release – vanished since Friday – about the app, called ALICE (Artificial Learning Intelligence for Centralised Education) quotes Nizamdeen at length and alone among others involved in the project.
He warns students to be alert to cyber security threats, saying they could be "vulnerable and open to theft", and in a later interview he says, "Success for me, being happy, doesn't always have to be about money, it's not about the high-ranking job. Success is if you're comfortable with where you are."
Police are investigating what Nizamdeen did on several trips out of Australia, mostly back home to Sri Lanka but also to the United States and, according to one online CV, Tunisia, which is a hotbed of IS activity. His financial transactions are being tracked.
"At this stage it appears that this is an individual operating on his own," NSW Acting Detective Superintendent Mick Sheehy said.
"The charges laid against this person are serious and should not be underestimated," Australian Federal Police's Detective Superintendent Michael McTiernan emphasised.
Psychologists have been called into the investigation to help determine whether Nizamdeen intended, and was capable of, carrying out the threats detailed in the material attributed to him.
His arrest came after a colleague in the university's IT business team found a notebook allegedly containing details of an ISIS-affiliated terrorist plot planned for Sydney in the next few months. Police were informed and on Thursday night raided the university's IT offices, where Nizamdeen worked. His arrest at his rented apartment followed hours later, and mobile phones and computers were seized.
In Sri Lanka, Nizamdeen worked briefly on projects at Triad Pvt Ltd and at Brandix before coming to Australia in 2013 to study. He obtained a BCom in Information Systems and International Business at UNSW. He was due to renew his student visa this month. Police have applied for a Criminal Justice Stay visa in order to prosecute him.
Nizamdeen's social media entries show a young man who enjoyed himself with friends and has a sense of humour. His impressively-written LinkedIn CV states that he is interested in animal welfare, the environment and science and technology, and that besides IT subjects he has also studied Shakespeare.
He looks carefree in almost every photograph and there is nothing that shows a dark side although it is all to easy to ascribe a sinister meaning to aspects of any person's life. His Instagram account has a greeting taken from the famous line in the Batman film, The Dark Knight, where a psychotic terrorist known as The Joker fires a shotgun to get people's attention and says, "Good evening, ladies and gentlemen, we are tonight's entertainment!"