Dinosaurs fate may befall Scout Masters too: Scout Chief
View(s):

"In the 21st century, Alibaba.com has become the biggest trader in the world. They have no storage. Another one is Amazon.com . It too has no storage. So, you Scout Masters (SM) too, should be different from others. We are now in the era of cloud technology. We are part and parcel of it. Unless you adapt to the needs of today, you will end up like dinosaurs."

So said Chief Scouts Commissioner Meril Gunathilaka addressing the Media Workshop conducted by the Sri Lanka Scouts Association (SLSA) Media Unit, held at the Mirigama Lee Dasanaike -Scouts Training Centre, on Feb. 24, 25.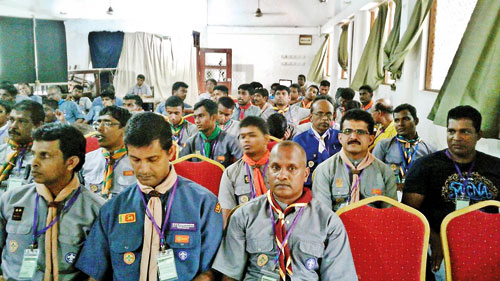 This was the first time such a Media Workshop was held with the participation of about 73 SMs – ADCs and others involved in Mass Media. A notable feature was that, there were participants from as far as Jaffna, Trincomalee, Batticaloa, Mannar and Nuwara Eliya. The purpose of this Workshop was to form Media Units in each Scouts district, to give wide publicity to Scouts' events in the district.
A reputed journalist Sarath Godakanda Arachchi, addressing the participants, said, "You have gathered here to work as Media Personnel at district level. Therefore, you should identify your own potentials. You should remember that, this is a turning point in your life and not a bed of roses. Being journalists, you have to face both, brickbats and bouquets. However, if you are armed with moral values, you are well protected."
"All of you may not pass the exam, but when you fail, try again and again. One short message may destroy the good image of this large movement. So, be prepared to face such situations too," he further said.
It was well organised, with reputed Media Personnel such as Yasarath Kamalsiri- Sirasa Media network, Nuwan Kodikara -Silumina Newspaper and Provincial Journalist Jude Samantha.
At the end of the 2-Day Workshop, all the participants were awarded Certificates by the Chief Commissioner
K.L. Richard Walter Perera