US donates Rs. 350 million in flood aid
View(s):

US Ambassador to Sri Lanka Atul Keshap joined President Maithripala Sirisena to announce donations of approximately rupees 350 million (US$2.3 million) in humanitarian assistance from the United States government and people to help victims of flooding and landslides in Sri Lanka.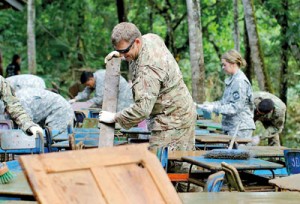 The aid will be used to provide safe drinking water, hygiene kits, emergency shelter material, home repair kits, and critical health care services to stave off diseases. A portion of the assistance will be provided through Sarvodaya, a Sri Lankan non governmental and charitable organisation, the US Embassy said.
'ÄúAmericans and Sri Lankans have shared a deep bond throughout the history of our two countries,'ÄĚ said Ambassador Keshap. 'ÄúThe people of both countries have always stood side-by-side in times of need.'ÄĚ the Embassy said. The assistance will be provided through the U.S. Office of Foreign Disaster Assistance (OFDA), part of the United States Agency for International Development (USAID). Since 2001, OFDA has provided approximately rupees 19 billion ($125 million) in disaster assistance and for disaster risk reduction to Sri Lanka.
In addition to the relief supplies, disaster experts from USAID/OFDA and the Department of Defence's Civil Military Support Element (CMSE) attached to the US Embassy are helping organise US response efforts, conducting damage assessments, and working with Sri Lankan government officials and humanitarian partners to evaluate needs on the ground. US Army engineers and Reserve Officer Training Corps (ROTC) cadets are cleaning and repairing flood damage at schools in the Kalutara district in coordination with CMSE, the Disaster Management Centre, and local officials. Families of the US Embassy community have also provided personal donations to Sri Lanka Unites, a youth-led organisation.