Troops came out for relief and rescue
View(s):

Not since the 2004 tsunami had the Sri Lanka Army deployed such a large number of men and machinery to deal with a natural disaster.
Last year, when floods engulfed the Western province, the army marched out 14 battalions for relief and rescue operations. The number rose this year to 18 battalions (including three infantry brigades). The entire engineer brigade and one armoured regiment were on the ground. Ten logistics platoons were deployed just for the clean-up.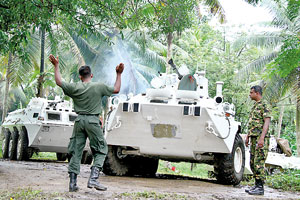 Commandos were sent out during the first fraught days. Soon, there were soldiers running cook houses and medical camps. Others carried out administration. Even where camps were themselves cut off by rising waters, the troops came out for relief and rescue operations. For the first time, the army also rolled out a large fleet of BTRs and WMZs or armoured personnel carriers. The BTRs are amphibious. These were assigned to Matara, Ratnapura, Agalawatta and Galle. More armoured vehicles were on standby in case the Kelani River overflowed.
Earthmovers, excavators, loaders, cranes, backhoes and trailers were also raced to the ground. In areas where navy vessels were not available, Army Commander Lieutenant General Crisanthe De Silva ordered boats to be hired from fisher communities. 'ÄúUnfortunately, in good times, District Secretaries, Divisional Secretaries and Grama Niladharis are intolerant and don'Äôt want to see a uniform,'ÄĚ said Major General Sudantha Ranasinghe, Special Forces Commander (West). 'ÄúWhen they are in trouble, they want help from us.'ÄĚ
'ÄúThe attitude towards the military should be good in fair or foul weather,'ÄĚ the third most senior officer in the Sri Lanka Army said. He also advocated for every police station, military camp, district and divisional secretariat in disaster-prone areas to have at least two boats, a backhoe and a frontend loader each–at the ready.
One must not wait for a flood to look for boats, Major General Ranasinghe continued. There must be a plan. And the relevant offices on the ground must have power sources, strong halogen lights, flat-bottom boats with 40-horsepower engines (that can navigate the strong currents) and life jackets. Hazardous areas have already been identified. 'ÄúGive it to them now,'ÄĚ he said. 'ÄúThese people are not asking for rockets.'ÄĚ
The Sri Lanka Navy knew from around May 17 that the situation could get worse, said Lieutenant Commander Chaminda Walakuluge, Navy spokesman. Eight days later, the Disaster Management Centre asked for assistance saying there will be flash floods. And till May 28, the Navy worked on humanitarian assistance and disaster relief.
Around 120 teams with 1,400 personnel were on the ground. Each team had one boat and worked in seven affected areas. Twelve boats were even taken by air by the Sri Lanka Air Force to places where they were needed. 'ÄúThe navy is conscious of adverse weather reports,'ÄĚ Lieutenant commander Walakuluge said. 'ÄúFrom May 17 we experienced heavy rain and we knew from last year'Äôs experience that flash floods were possible.'ÄĚ They pulled troops out from the North and East and were ready by May 25, when the call came.
But like many others, the navy had not expected the disaster to spread across so many districts. Navy personnel carried out underwater operations to unclog bridges and ensure smooth flow of water. They also reinforced bunds with sandbags, working day and night. In February, the navy commissioned a marine battalion in anticipation of increasing natural disasters. It also has a Rapid Response Rescue and Release Squadron (4Rs) and Rapid Action Boats Squadron. As part of disaster preparedness, it acquired mobile water purification plants and pumps.
One of the most challenging tasks the Sri Lanka Air Force faced was transporting 30-40 horsepower fibreglass boats by air to affected areas. 'ÄúThese boats had a tendency to rotate and spin around while the aircraft is flying,'ÄĚ said Spokesman Group Captain Gihan Seneviratne. 'ÄúBut we transported them to inaccessible areas despite the high element of risk. And it was the first time in history that we had done this.'ÄĚ
By May 31, the air force had transported 90 casualties and a large number of service personnel as well as nine bodies, 12 boats and countless stocks of relief items. At the height of the disaster, an average of 10-11 helicopters were in the air. 'ÄúThe entire air force was committed to this,'ÄĚ he said.