No hiccups at Cycling T'Cup
By Susil Premalal
View(s):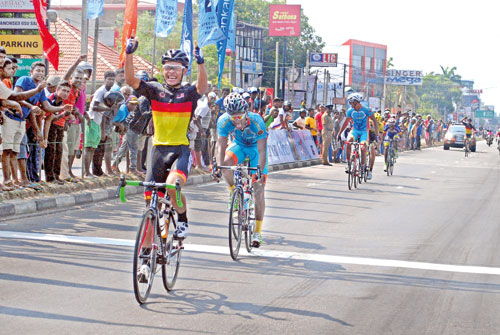 The Sri Lanka T'Cup concluded with a note as the best organised road cycling event in South Asia as per comments made by UCI Chief Commissaire Jamaludin Mahamood of Malaysia. The race ran from East to West Coast of Sri Lanka, starting from Pasikudah to Mahiyangana and second stage from Mahiyangana to Kandy, final stage Kandy to Negombo covering a distance of 340KM capturing beautiful landscape with 18 hair pin climb and descend, racing on all types of terrain, a race with multifaceted benefits for sport of cycling and tourism in Sri Lanka.
The Prize giving ceremony attended by the Minister of Sports was held at Hotel Goldi Sands, Negombo, overwhelming support given by minister of sports paid dividends, it is a matter of time that Sri Lanka T'Cup will be recognised in the Union Cycling International (UCI) calendar of events. Mahamood praised the effort, team work and expertise of the organisers Lanka Sportreizen for a well-conducted event.
Summarising, the three-day cycling tour Managing Director Thilak Weerasinghe said "it is a pioneering effort by Lanka Sportreizen but we are not taking all the credit it is a game plan initiated by veterans in the field with the unstinting support afforded by Minister of Sports. I am happy that Sri Lanka T'Cup Cycling Event captivated all walks of cyclists and will be an event recognised as an international race in the CFSL calendar.
"We take pride in organising this event to international standards with the participation of UCI commissaries and our aim is to get the recognition of the UCI next year and like the Colombo Marathon make this an attractive event with many more foreign teams of repute bidding for participation. We as event organisers will keep the momentum by boosting further the image of Sri Lanka as a safe and secure tourist destination for sports. To promote Sri Lanka as an ideal destination for Recreational Activities including Cycling which is very popular in European as well as Asian countries, to unearth the talent of the Sri Lankan cyclists by exposing them to get hands on experience riding with International Riders" Weerasinghe said.
"Being the first cycling event in Sri Lanka to be held to international regulations and standards, the T-Cup also saw for the first time the participation of professional foreign cyclists. Thirteen teams in total took part in this inaugural edition. The race a learning curve for the Sri Lankan riders in all aspects of the game and proved beyond doubt our riders have the ability to be in the bunch, yet to win we need to have a different game plan, team work brings glory," said Amal Suriyage, a veteran in the field of cycling commenting on the race.
"The Cycling Federation of Sri Lanka should be happy to get the first international event in their calendar. It was a fantastic experience to all and Bianchi who handled the Neutral Services for the first time in an event of this nature will learn from the hiccups especially when driving on public roads and to be giving services to teams who are sometime descending at top speed of 90RPM and to keep pace with winding roads like the 18 hair pin bends was adventuress," he further added.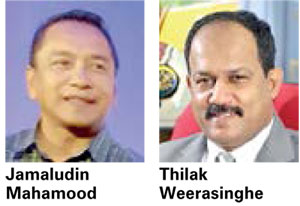 Proved to be the case with the superior preparation and experience, overseas teams came to the forefront in the first two legs. Six foreign teams in the caliber of CCN from Holland, National team from Malaysia, SCF from Singapore, Go for Gold from Philippines, SSGC Club from Pakistan, BDC Club from Bangladesh and eight local teams vie for honours including Sri Lanka Army, Air Force, Navy, Police, Ports Authority, Dehiwela-Mt. Lavinia Municipal Council, Sri Lanka Telecom and the Bianchi team. The able guidance of Technical Director of the Event, N. Karunaratne, UCI Commissaire (International) with the foreign panel of commissaries did a good job under very tiring situation of controlling and running the event on public roads, with the expertise and support of Sri Lanka Traffic Police team. All air tickets for all the foreign teams provided by SriLankan Airlines, prizes for daily winners – Sprinter, King of Mountain, Tour Leader etc. Prizes for Overall Winners, Special Prize for the Best Sri Lankan Rider, Total Cash Prize US $ 20,000.