Lasith continues to build on his popularity
Dialog 4G-the Sunday Times Most Popular Schoolboy Cricketer of the Year 2017
View(s):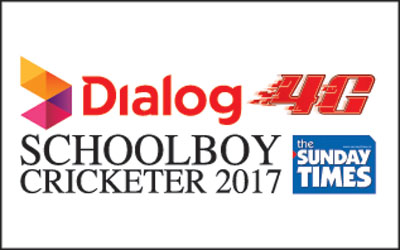 Lasith Croosepulle of Maris Stella College Negombo continues to lead the All-Island Schools segment for the third week running in the Dialog 4G-the Sunday Times Most Popular Schoolboy Cricketer of the Year 2017.
As the competition completes its 17th week Lasith had added 8070 combined votes, the highest among contenders for yet another week, as his tally swells to 119916. He stands 11677 ahead of Navindu Nirmal of St. Aloysius College Galle.
Navindu added 5064 combined votes to his tally, taking the count to 108239. The race now is clearly between Lasith and Navindu and with eight more weeks to go till the end, it could be anybody's call.
Mohamed Najath of Zahira College has relatively downed his pace and the input has slowed down. His weekly collection has declined and this week he only received 598 combined votes.
Pulitha Yasas Sri Sarathchandra of Sri Sumangala College Panadura continues to dominate the Emerging Schools category while the International Schools category is still led by Shimraz Shahil of Alethea International School.
The full list will be pruned down to the Top 15 from this week and by end of May it will be shortlisted to the Top 10.
Important
Coupons of the competition will be published in the Sunday Times, the two English dailies, the Daily Mirror and DailyFT, and the two Sinhala dailies, Daily Lankadeepa and Ada. Coupons will run for 26 weeks with the final week set from July 2. Readers could vote for their favourite schoolboy cricketer and take them to the winning post during that period. Online voting could be done through Dialog Axiata's digital online voting system Portal to vote for the Most Popular Cricketer via www.dialog.lk/cricket. The count of week 17 of digital voting was monitored and approved by auditors Pricewaterhouse Cooper.
All-Island Schools
Lasith Croosepulle (Maris Stella College) 119916
Navindu Nirmal (St. Aloysius' Galle) 108239
Mohamed Najath (Zahira College) 60172
Charana Nanayakkara (Thurstan College) 10432
Santhush Goonathilake (St. Peter's College) 9001
Romesh Nallaperuma (S. Thomas' College) 6413
Dinitha Basnayake (St. Benedict's College) 5985
Helitha Vithanage (Royal College) 1804
Mohamed Rifaz (Presidents College) 1325
Lakshina Rodrigo (St. Peter's College) 1205
Nikesh Anjana (S. Thomas' College) 956
Sahan Suraweera (Ananda College) 688
Dileepa Jayalath (Ananda College) 531
Hareen Buddhila (St. Aloysius College) 489
P.A. Dananjaya (Richmond College) 291

Emerging Schools
Pulitha Yasas (Sri Sumangala Panadura) 2736
Sahan Perera (Christ King Pannipitiya) 249
Imesh Basnayake (St. Peter's Gampaha) 238
Gimhana Dhanushka (Piliyandala Central) 130
Nipuna Ransika (P. de S. Kularatne MV) 98
Methushan Thilina (Kegalu Vidyalaya) 84
Raveen Yasas (Devapathiraja Rathgama) 44
Suminda Lakshan (De La Salle Mutwal) 43
Hirusha Mendis (Siddartha Central Balapitiya) 32
Tissara Dilshan Jayananda (National School Polonnaruwa) 8
Shrushee Adhishtana (St. Bernadette) 1

International Schools
Shimraz Shahil (Alethea International) 300
Tariq Haniff (Wycherley International) 1

Readers prizes go to: 1. H.M. Ariyaratne, 122/17, Ganewatte, Lewalla, Kandy, 2. Nathan Amath, 40/41, Katuwawela Road, Maharagama, 3. Yasiru Dilshan, 426/2, Araliyagahawatte, Dorape, Angulgaha, 4. Ajith Aberatne, 50/1, Siripa Road, Colombo 5.